The Kurds are not a nation and are without a state.  Ethnically Iranian and mostly Sunni Muslim, they live among mountains where Europe and Asia meet south of the Caucasus.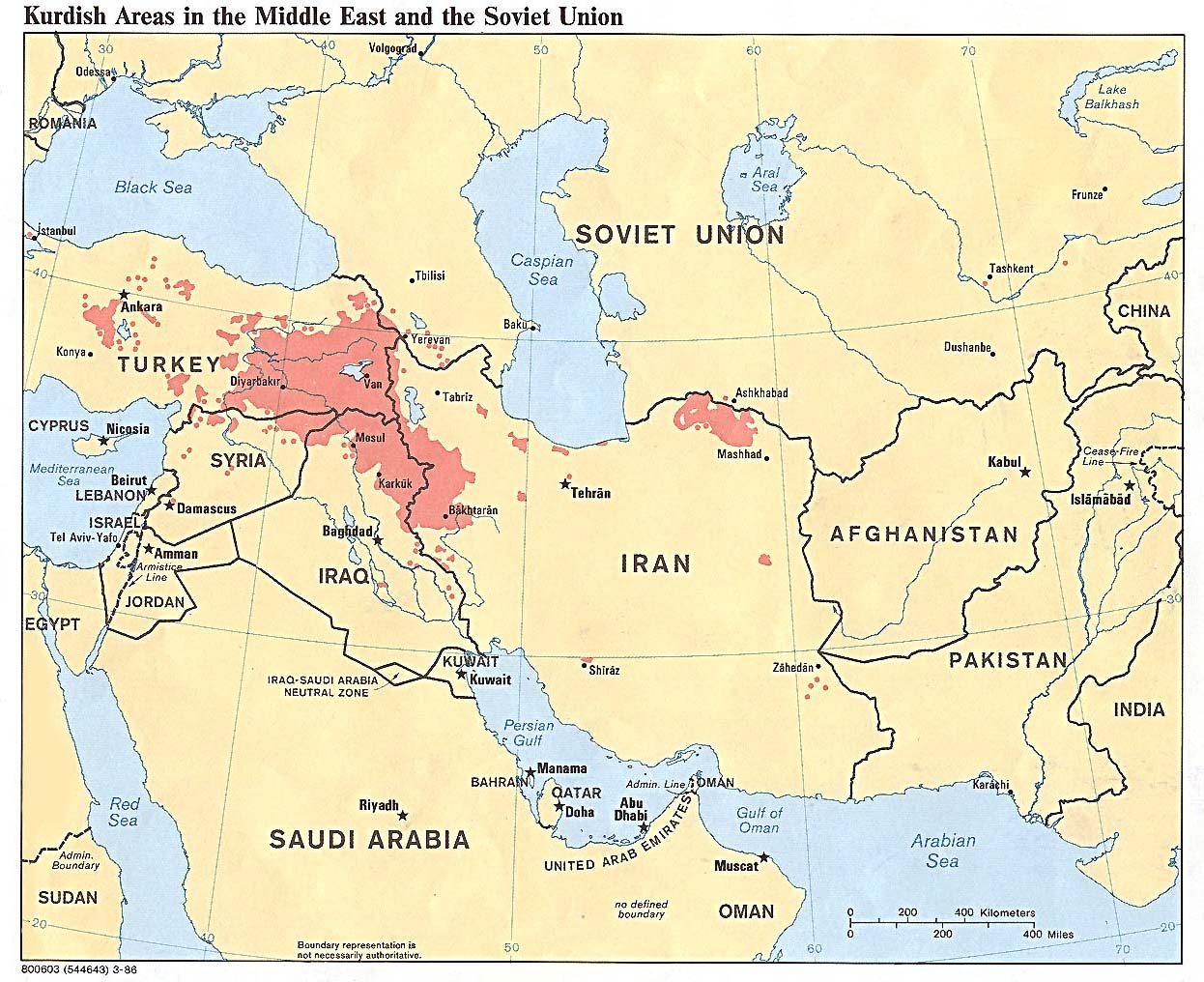 About half the 28 million Kurds live within Turkey's borders, 6 million in Iran, 5 to 6 million in Iraq, and close to 2 million in Syria.  They form about 18% of Turkey's population, 10% of Iran's, 15%-20% of Iraq's and 10% of Syria's.
Where Kurds live is a battleground at the ever-changing border of great empires based in Turkey, Russia and Iran/Persia.
Ottoman forces that threatened Persia in the 1530s were deterred with a scorched earth campaign in which Kurdish settlements of every size were laid waste, crops were destroyed, resistors were massacred, and all others were relocated.  Destruction of the Kurdish area continued into the 1600s.
Over the centuries and as the fortunes of the great empires changed, Kurds fought sometimes alongside Ottoman forces, sometimes with Iran, sometimes among themselves, and most often against domination by any foreign power.  They remained a tribal people with principalities in present-day Turkey, Iran, Iraq and Syria.
The Ottoman Empire's 1829–1879 centralization campaign had little impact on those Kurdish principalities.  Although flickers of Kurdish nationalism sprang up toward the end of the 19th century, the Kurds never united.
Turkey's Kurds tried to establish autonomy in 1880.  The central government welcomed it at first, hoping to counter a potential Armenian state under Russia.  But they suppressed the uprising when they recognized that Kurds and Armenians, the first state in the world to adopt Christianity as its official religion, had always co-existed quite well.
Unlike Kurds in Turkey who consider themselves different from the majority, Iran's Kurds did not.  They were treated as part of Iran's Islamic majority, unlike Armenian Christians or Jews.  The central government was concerned about Ottoman invasion, Britain's advance from India and Russia's from the north , not differences among fellow-Muslims.  While the majority of Kurds in Turkey, Iraq and Syria are Sunni, they are about evenly split in Iran between Sunni, Shia, and Sufi.
Kurdish nationalism began to grow in Turkey at the beginning of the 20th century because of Ottoman oppression of minorities and WW1's devastation.  Much of the Kurdish area was laid waste by advancing and retreating troop forces and the Ottoman government drove out an estimated 700,000 Kurds, almost half of whom perished.  They also killed or drove into the Syrian desert a million or more Armenians between 1915 and 1916.
After WW1, Turkey's Kurds became subject to aggressively enforced secular rule.  Kurds to the south fell under France in newly established Syria and under Britain in newly established Iraq.
To protect its new colonial possession, Britain advocated independent and allied Kurdish and Armenian states as a buffer against Turkey and Russia.  That idea died when Greece and Italy invaded Turkey and its Kurds joined the battle against the Christian invaders.
In 1920, Britain, France and Italy agreed to establish "a scheme of local autonomy for the predominately Kurdish areas" but Turkey's government was strong enough by the following year to block it.  Then Britain abandoned the idea of a "quasi-autonomous" independent Kurdistan in Iraq in case the French established one in Syria.
Britain next encouraged Turkey's Kurds to rebel but they stopped that when France ceded its lands north of Syria, which gave the Turkish government a base from which they could easily invade Iraq.   In 1923, Britain signed a treaty with Turkey that made no mention of Kurds.
But Britain treated Kurds in Iraq well, giving Arabs and Kurds equal rights, Kurdish and Arabic languages equal legal status and dividing the country into Arab and Kurdish regions with separate administrative policies and practices.
When Iraq gained independence, however, the central government set up a unified state dominated by Sunni Arabs that suppressed Kurdish rights, militarized Kurdish regions, and destroyed Kurdish villages, especially where oil was found.  There has been pretty much constant strife in Kurdish Iraq ever since.
Suppression of Iraqi Kurds increased further under Saddam Hussein.   During the 1980-88 Iran-Iraq war, half a million Kurds were sent to detention camps in southern and eastern Iraq, villages were razed and Kurdish towns were attacked with chemical weapons.
After withdrawing its forces in 1991, Iraq's government imposed an economic blockade on Kurdistan which the UN embargo on Iraq made worse by halting Kurdish trade with other nations.
But Iraqi Kurdistan had achieved de facto independence.
And Kurdistan is now a somewhat functional democracy.  Turkey is becoming its closest ally, major oil companies have made deals with it, and a pipeline to Turkey with a capacity of a million barrels a day is due to come online within a couple of years.
Turkey is also potentially a supporter of a self-governing Kurdish state in Syria.
Kurds only ever wanted to be free from oppression.  Turkey's Sunni Kurds got on well enough with Christian Armenians, and Iran's mix of Sunni, Shia and Sufi Kurds were treated as equals by Persia's Shia rulers, so Kurds can coexist.  They have, however, been greatly abused, violently suppressed by Ottoman Turkey's Sunni rulers, driven out by Iran in a scorched earth campaign, massacred by Iraq's Sunni regime, and more.
Their latest battle is against an ever-shifting set of gangs, the worst of which, ISIS, is employing extreme terror to institute what they say will be global religious rule.  Their objectives certainly include temporal power…
What should we do?  Is the solution a nation state whose territory includes all Kurdish areas now in Turkey, Iran, Iraq and Syria?  Should we work to establish that Greater Kurdistan?  And should we then supply it with weaponry to defeat any future threat?
Given what nation states have done in the past, that does not look to be the best idea.  A better approach will emerge when this research is complete.