What Doma has achieved is amazing!  I began sponsoring the education of this gifted young Nepali woman from a low-caste, very poor background  in 2007.  Today, she is studying at Hampshire College in Amherst, MA and she is on track to graduate on May 19, 2018!  Thank you so much, everyone who participated.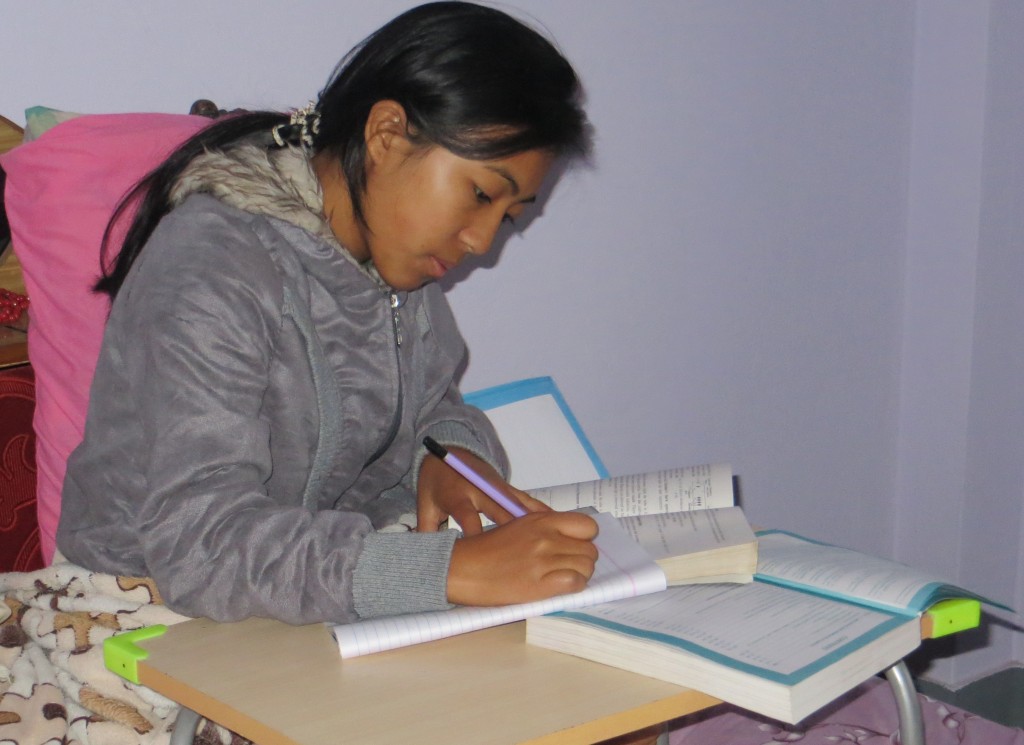 Can you imagine the life of Doma's mother, Niran?  She was married off when she was 15 like most young girls in Nepal's high hills.  She was still only 15 when Doma was born.  She had no schooling and spoke only her tribal language when her husband brought her to Kathmandu.  She was abused and soon abandoned by him, and yet, working as a hotel maid, she sacrificed everything but the cost of rice, beans and a tiny rented room to give her daughter an education.
Niran had taught herself English by the time I met her at the hotel where I began staying in 2003 for annual Himalayan explorations.  By 2007, after Nepal's civil war ended and the Maoists began unionizing, I was friendly with the hotel owner who told me he had been giving Niran extra money for Doma's schooling but must now treat all his staff the same.  He asked if I would take over.  My wife had met Niran and was also attracted by her intelligence, humor and good work, so we agreed.
Doma tells her own compelling story in these college application essays:  In What I Learned from my Mother she writes, "in a community of well-educated, wealthy students, I realized there is actually no limit to what I can do."  Doma's Common Application Essay tells how she grew ever more determined to "learn so I can be part of the generation that transforms Nepal."   My college recommendation tells more about their struggles and Doma's self-transformation.
Hampshire College, is part of the Five College Consortium so she can also study at Amherst, Mount Holyoke, Smith, and UMass.  Hampshire's entrepreneurship program is perfect for her intent to build a business in Nepal.  A quarter of Nepal's economy is remittances from Nepalis working as laborers overseas — Doma is determined to create better jobs for them in Nepal.
Hampshire has given a $40,000 per year financial aid package, the most they've offered any international student, but their anticipated family contribution of approximately $23,371 per year plus travel, books and etc is more than I can ask my family to give.
My wife and I will contribute $6,000 per year for four years, and have already deposited the full $24,000 in Doma's college bank account.  Please join us in helping her realize this opportunity for which she and her mother worked so long and so hard.
We don't often get the chance to help someone so deserving to transform their future.  Please be generous and also invite donations from others you believe will be inspired by this exceptional young woman.
Join this inspiring journey!  Click on the Donate button below to make a one-time or recurring monthly contribution online through Paypal, or mail a check to Martin Sidwell, 105 Goldenville Road, Gettysburg, PA 17325 for deposit in the Beneficiary Account Doma Ghale at Bath Savings Institution, or make a bank-to-bank transfer to that account.  Thank you from the bottom of my heart!
Financial aid, donation and expense data are on the Accounting page that I update monthly.  Narrative evaluations of Doma's course work and other notes are on the News page and there's information about existing donors and donations.  Donors receive a monthly email and links to videos of Doma's Nepali dance performances and interviews about her progress.