Buddhists vow to take refuge in the Buddha, in Buddha's teachings (the Dharma), and in those who commit to act on them (the Sangha).  The teachings are programs that train us not to harm others, to grow more kind.  The Buddha is our kindness role model.
Before I knew what the refuge vow is, my reaction was negative.  "Take refuge?  Never!"
Why?  Because just as our experiences when we are two, three and four years old are formative, so is what we experience when we are minus two, three and four.
When I was minus four, Winston Churchill inspired those I grew up among with these words: "We shall fight on the beaches, we shall fight on the landing grounds, we shall fight in the fields and in the streets, we shall fight in the hills; we shall never surrender."  I grew up equating refuge with surrender and considering surrender unthinkable.
But surrender has a different meaning in the spiritual and physical worlds.
Some Christian denominations require one to explicitly surrender worldly ways and be "born again."  In the New Testament Jesus said: "No one can see the Kingdom of God without being born again."  The Apostle Paul defined the Kingdom of God as: "Not a matter of eating and drinking, but of righteousness, peace and joy in the Holy Spirit."   All Abrahamic religions speak of this spiritual kingdom.  The Quran refers to Abraham seeing the "Kingdom of the heavens."
But if you are raised right, your first birth may be almost enough.
Doma grew up knowing she is Buddhist but with almost no formal teachings.  She was taken to some when she was four or five but nothing later.  Her mother recommits herself to Buddhist ethics every morning and offers water and incense at a shrine in her room, but she has had no teachings.  Despite having so few formal lessons, Doma easily understood Phakchok Rinpoche's teachings last month.
One evening Rinpoche asked us to say what difference Buddhist practice has made in our lives.  I spoke of empathy for friends and family and indifference to others before I began the practices, then a growing compassion that now arises automatically even, to some extent, for people I dislike (I am also training not to make such judgments).  Others said similar things.
Doma did not speak.  I asked her why.  "I was thinking what I would say but I grew sad because all those people felt bad about themselves before they became Buddhist.  I am so lucky because I always knew to be compassionate."
It's good nevertheless to make an explicit commitment to transform our behavior, so, along with four others, Doma took the refuge vow.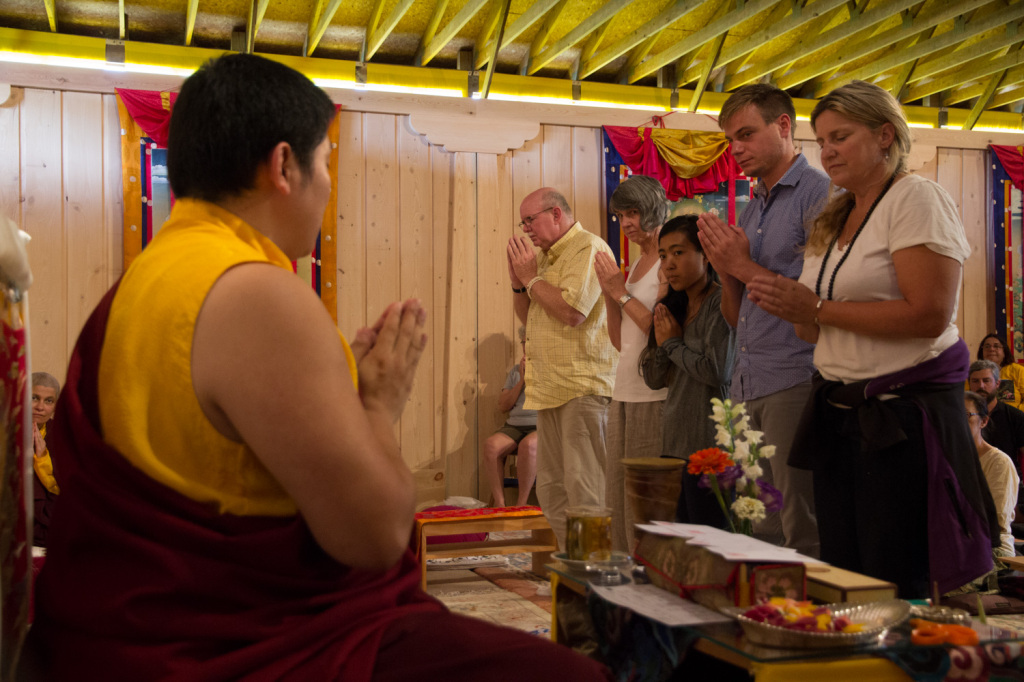 To symbolize what you are abandoning, Rinpoche clips a little of your hair.
Because you are making a fresh start, you receive a new name.
And the ceremony ends with Rinpoche casting rice to bless the efforts Doma and the others committed themselves to make.
(Photo credits: Matt Goult.  Thank you so much, Matt!)