"Please briefly elaborate on one of your extracurricular activities or work experiences."  Several colleges asked variants of that with limits ranging from 75 words to a page.  Here's one of Doma's longer responses:
+++++++++++++++++++++++++++++++++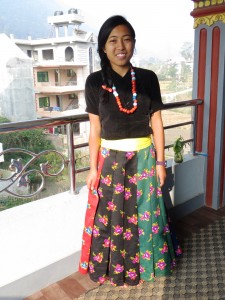 "Dance like there's nobody watching," William W. Purkey taught. That is the mantra I repeat before every performance. My first was when I was four and I have been dancing ever since.  The music comes on and the moves just flow out of me: it's amazing.
In my younger years I mostly did folk dances of my Tamang caste and other indigenous people. Later, I started doing modern and classical dances. My first experience in front of a huge crowd was in an inter-school competition when I was five.  Our group was awarded first prize. Since I was the tiniest, I was in front throughout the dance and everyone noticed me. It was so much fun.
Later, when I was at Budhanilkantha School for the equivalent of Junior and Senior years in High School, I participated in the inter-college 'Kaleidoscope' competition that is held every year in National Academy Hall.  It includes dancing, singing, a fashion show, kite making and debate. We did Indian classical dance in class 11 and a modern dance in class 12.  It was a great opportunity to represent our school at the national level and meet many different people.
In my senior year at Budhanilkantha School, the Head of my Choyu House assigned me as cultural captain, an honor and responsibility I very much wanted. For the annual dance competition for juniors, it was my job to decide the theme, compose both modern and folk dances, prepare props and choose only eight of the forty dancers who wanted to participate. I wanted to join them in the performance but I could only watch. The announcement of the result made me burst into tears: 1st in folk dance, 2nd in modern dance, and an overall trophy. The performance and the applause ended long ago, but my joyous feeling is still lingering.
The second great event that year was an hour-long 'cultural program'. To show diversity, we included a musical skit as well as modern, classical and folk dances – a total of eleven items. We couldn't use our study hour for practice, so I had to choreograph and teach the dancers from 9 pm until midnight. We all worked hard, all the dancers cooperated well and the audience very much enjoyed our program.
My friend posted this video of a performance I choreographed for Monday Assembly at Budhanilkantha School. I based the dance on the tradition of Sherpa people who, like my Tamang caste, came to Nepal long ago from Tibet. Because the dance has parts for both girls and boys but Choyu is all girls, some of us dressed as boys. I am the shorter of the two girls in red tops who enter from the left; then I dance in the center.
Dance always matches my mood. Most of my times are good. Then it expresses my happiness. In bad times, dancing helps me find who I am when I lose myself.