This was a fun and busy month introducing Doma to life and friends in coastal Maine and helping her prepare for Hampshire College.  Our world and ways here are so different from life in Nepal.  I am not surprised but I am greatly impressed by how calmly and happily she adjusted.  In this post I'll try to give a sense of what we've been doing (you can click on the photos to see more clearly).  At the end are descriptions of  her first semester classes.
The ocean was quite a surprise  
but Doma soon grew accustomed to the ever-changing tides. 
"There is so much jungle," she said,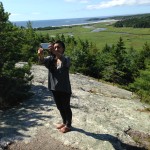 and everything is so clean!" 
Some foods were familiar, like these cakes.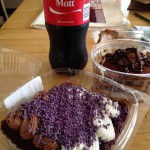 but lobsters that "look like a scorpion" were not.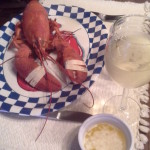 I was ill-prepared for shopping but blessed by friends like Kris 
who provided guidance about both fashion and food. 
Getting the rest of her inoculations was no fun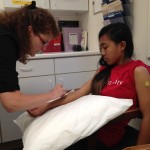 but life improved greatly once she got a laptop
She enjoyed meeting our neighbors, other friends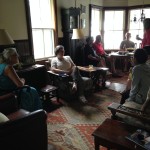 and Patty's delightful dog, Maya.
Later, Doma renewed her Buddhist vow to live a good life
and my teacher, Phakchok Rinpoche, led us in happiness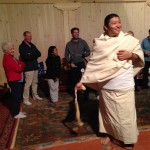 then I took selfies while she checked in to her room at Hampshire College.
Hampshire is a traditional Liberal Arts college in that students must take a wide variety of classes in their first couple of years but different in that study and reflection lead to action, to projects.  Doma's classes in her first semester are:
How Things Work: How things work is a first-year Physics course, using easier mathematics (algebra through pre-calculus) to study the full range of its topics. It introduces students to college physics, projects, and science through study of ordinary objects. Principles flow from everyday applications in mechanics, electricity & magnetism, electronics and optics. We steadily build an individualized project, learning stages of research and write-up that are needed for any intellectual investigation. This course covers the five elements of a complete Natural Science experience, including quantitative and verbal skills, the methods of scientific inquiry, and the importance of social context, all as applied to the topic of each student's choice, thereby addressing crucial first-year program goals.
Dancing Modern I: This beginning level modern dance technique course will introduce students to "modern" and other dance technique practices. By practicing in-class exercises and phrase-studies, students will refine bodily awareness and articulation, hone spatial and rhythmic clarity, develop facility in perceiving and interpreting movement, and practice moving with our dance musicians' scores. We'll also consider what movement principles and priorities underlie the techniques we employ, and compare them to those of other dance styles and cultures. How do these influence the dances that result? Going a step further, we'll examine the final products of dance practice, the dances themselves; students will learn to read and analyze choreography in performances from a range of dance styles and cultures. Students will be expected to grapple with the studio work with commitment and rigor, view performances live in concert, and think in movement, style, and written word.
Global Poverty: Theories and Practices: Poverty action and alleviation are terms that have been used in relation to how we imagine engaging with the so-called "Third World." This course seeks to analytically engage with poverty practices utilizing different models and paradigms of poverty alleviation around the world. Furthermore, the investigation of poverty alleviation will be situated within a larger historical context of 20th and 21st century international development. While global poverty action and alleviation has been propagated through state-led International development projects, the course also seeks to examine the role of non-governmental organizations, social movements, private corporations, and philanthropic foundations all aimed at tackling and eradicating poverty. The course also examines the ways in which poverty is concentrated in urban settings. While most of the course content is situated in the "Third World," case studies on poverty and inequality in the "First World" will be examined as well interrogating normative notions of the "Third World" and "First World."
Introduction to Social Entrepreneurism: Students explore themselves, talents, motivations and dreams to realize new ways to address social needs and change through enterprise development. Grounded in experiential learning, this class is a balance of theory, hands-on learning, best practices and skills building. Students actively engage in creating a social enterprise. Class includes case studies, guest speakers and a possible field trip. No prior entrepreneurship or business experience is necessary. All students will complete and present an enterprise concept plan.
This week Doma and other international students are being introduced to everything Hampshire.   
She is having fun making new friends but eager for start of classes on September 3rd.