This month was thought provoking.
June 26 – to my family
I was surprised when I tried to use the spirometer the ALS At Home study gave me along with other tools to monitor my health.  To use it I must blow through a tube at the end of which is a fan to measure the strength and duration of my out-breath.  I knew it would be hard to stop some of my breath from escaping around the tube because my lips are so weak.  What surprised me was discovering I can no longer take a deep breath or exhale forcefully.  My diaphragm is weak.
When I was thinking about it a few days later I remembered having to pause to catch my breath when I was using the cross-trainer.  The first time it happened was less than three minutes after I started.  I had to stop and pant for a minute or two.  After that I was careful not to push myself when I started and I worked my way up to 30 minute sessions that were fairly vigorous.  I imagined the problem had been weak leg muscles that rapidly regained strength.
Now I realize my diaphragm was already weakening.  That was over three months ago.
It looks like my breathing muscles are on the same trajectory as my mouth and throat muscles followed.  There was a long period where the decline was quite slow, then the pace accelerated.  Or maybe the weakening didn't accelerate but just reached the point where the result was a serious loss of function.
There are external devices that enable one to keep breathing when the diaphragm can no longer do the job.  When they no longer work you can have a tube installed in your throat and have air pumped in and out that way.  I'm guessing life would continue to feel worth living with an external device although it would severely limit what I could do.  I don't think I'll want the throat tube but I'll keep an open mind and see how I feel as my symptoms develop.  The advanced directives we signed years ago specify no heroic measures to preserve a non-functional life.
I continue to feel blessed to be alive now with you as my family.  I paused work on the summer kitchen so I could sheet rock the porch wall with its new windows and I'll start installing the trim today.  It looks much better already.  Next month I'll go for three weeks of teaching and practice in Cooperstown, NY and when Felicity returns from celebrating Megan's 90th birthday at the end of August we'll go on a road trip in the RV for a month or two.  The adventure will continue.  We don't know for how long but we never did.  That's in the nature of adventures.
July 1 – my current thoughts
It's a blessing that ALS progresses slowly, doesn't impact cognitive function and that my only pain is from biting my cheeks and tongue.  I have time to notice the results of losing muscle strength, and reflect on the implications.
Wearing shorts these days, I notice muscle twitching in my legs, like eddies in a river.  My leg muscles are still my strongest ones but the motor neurons that control them are dying.
An apocryphal and a true Buddhist story have been on my mind.
The Buddha, on his travels one day, met an old man beside a river.  "I'm so happy to see you again, master," said the man.  "I have practiced and practiced since you taught me so many years ago.  Finally, I succeeded!  Yesterday I walked across the river."  "Oh, you poor man!" the Buddha exclaimed.  "There is a boat just round that bend.  It would have taken you across so easily."
I never wanted to do miracles.  In High School my life's goal was to attain wisdom, but how to start?  Decades later I started trying to become less selfish.  Now I just want to grow more aware and more kind.
The true story is about a revered Tibetan master who had diabetes.  Leading a ritual practice one day, he picked up his damaru drum that you hold with thumb and first finger.  His fingers could no longer hold the drum upright.  What did he do?  He laughed.
Acceptance of negative circumstances is not doleful for those who have sufficiently trained their minds.  Surprises of any kind are an occasion for joy.  That's worth practicing.
Where I am now, almost all the time, is in interested equanimity.
Earlier this month our middle son was married in a beautiful ceremony framed by events to celebrate the occasion.  Their photographer captured it perfectly.  It was a joyful time that also provided me  an insight.
Some who die in villages in the Himalayas are said to cause trouble, especially those who die in an accident.  They don't realize they're dead.  They want to communicate just like before but they can no longer be seen, heard or touched.  Nevertheless, their family members feel their attempts to communicate.  I didn't believe that explanation.  I figured the trouble arose in the minds of the grief stricken living and wondered why it was attributed to the dead ones.
I saw why at the wedding when I experienced a weak form of what the troubled dead are said to feel.  I can communicate one on one by typing on my phone but that's not effective in a group.  Because I cannot drink or eat by mouth, I could only watch others.  To a much more limited extent I was like the dead villagers, present but separate.     It was an interesting feeling.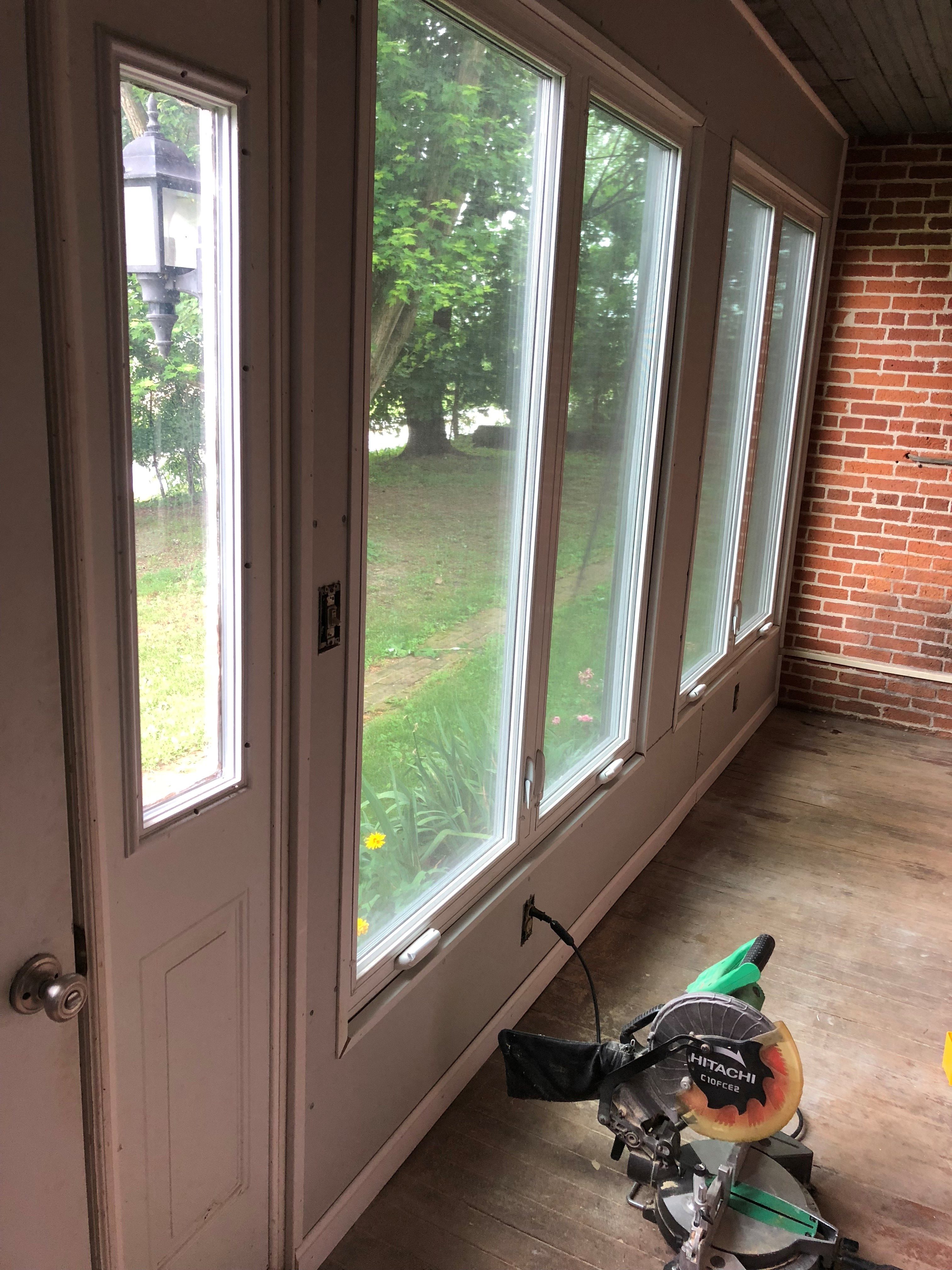 Meanwhile, I'm so lucky that I can still do things!  The porch looks so much better already, our terrific painter will hide the gaps, and then it will be perfect.