In summary, Gallup writes:  "almost half of Americans today hold a belief, at least as measured by this question wording, that is at odds with the preponderance of the scientific literature."  What are they talking about?  "The 46% of Americans who today believe that God created humans in their present form within the last 10,000 years is little changed from the 44% who believed this 30 years ago".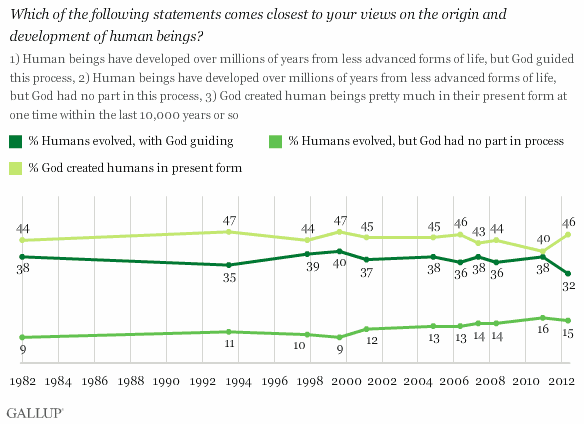 The existence or not of the creative entity we call God is unprovable.  Many folks are encouraged by their belief in God to do good.  Some throughout history have felt justified to torture others who do not share their belief.  Fervent belief is the problem.  That can lead to believing others should be forced to the same belief.
It is not necessarily a problem that: "78% of Americans today believe that God had a hand in the development of humans in some way".  It is a serious problem that so many Americans reject "the preponderance of the scientific literature".  This is not the only science being rejected.
How can it be that almost half of all Americans reject tools for understanding the world?
Our educational system is failing disastrously and I do not at all understand why.   I've joked about its pretensions but there was after all some merit in my alma mater, "Richard Hale's Free Grammar School for the Deserving Sons of Impecunious Gentlefolk, Founded in 1608" and there must be something different about the schooling of my fellow citizens who do accept facts and believe in reasoning.
I'll try to say what was good about my school experience.  The British school system drove students at an early age to study either science, popularly considered to depend on reasoning, or arts, defined as nonscientific knowledge.   I was fortunate because I resisted being driven in that way; I studied both physics and literature.  I was also fortunate not to resist my English teacher's insistence that I understand both what I read and how the language worked.
And, although physics did not yet cover quantum theory (matter and energy have properties of both particles and waves and physical systems can only have properties like energy in discrete amounts or quanta) I did get enough of an overview to see how science progresses.  Imaginative leaps verified by experiment enable theories that don't explain all the facts to be replaced by ones that explain more.
I was taught how to use all humankind's thinking tools.  I learned to value reason, inference and intuition.  I learned not to imagine any theory to be a final explanation.  I was encouraged to question all theories and evidence.  I was taught, in other words, how to investigate, how to learn.
Also, my parents taught me to work hard, practice and be persistent.  No question, it would have been better to try harder but that's a different issue.