We're close to the shore of Lake Superior again tonight but we're now in Wisconsin.
The sand that grows scrubby pines close to the bridge where lakes Michigan and Huron meet and one crosses the bridge to Michigan's Upper Peninsula soon turned more like Maine, forested hills and swamp.
We decided against the boat ride yesterday and went to the beach instead. The lake water is so clear and the only waves are wash from the sightseeing boats. So peaceful. The lake shore is limestone worn into strange shapes by the storms.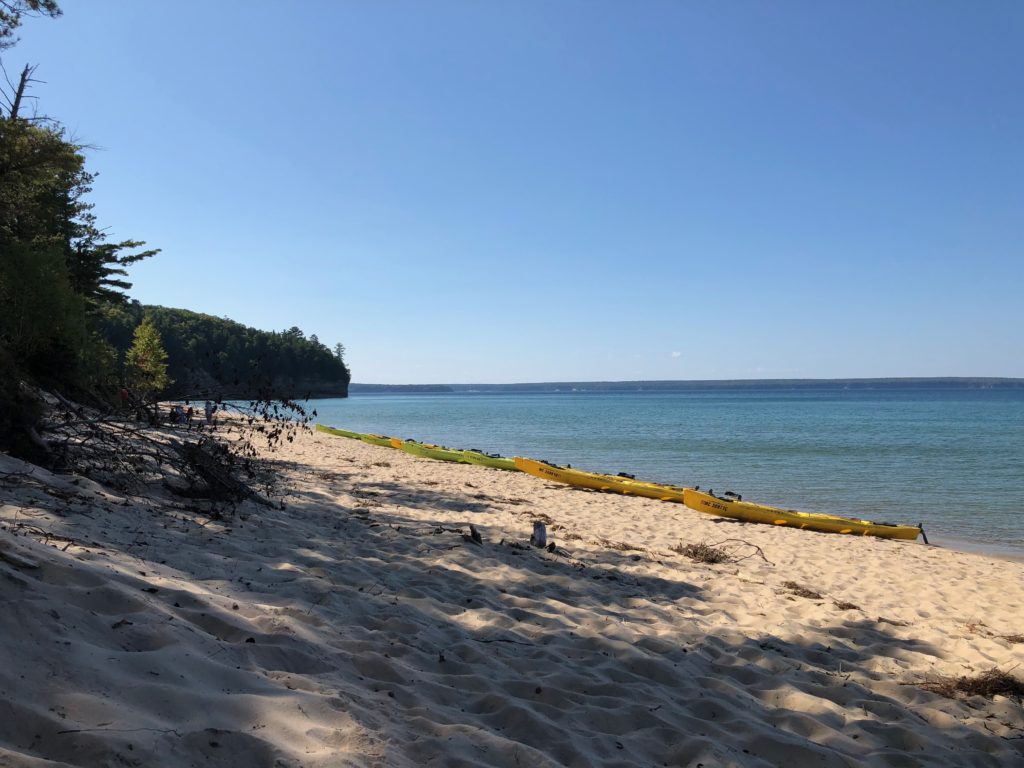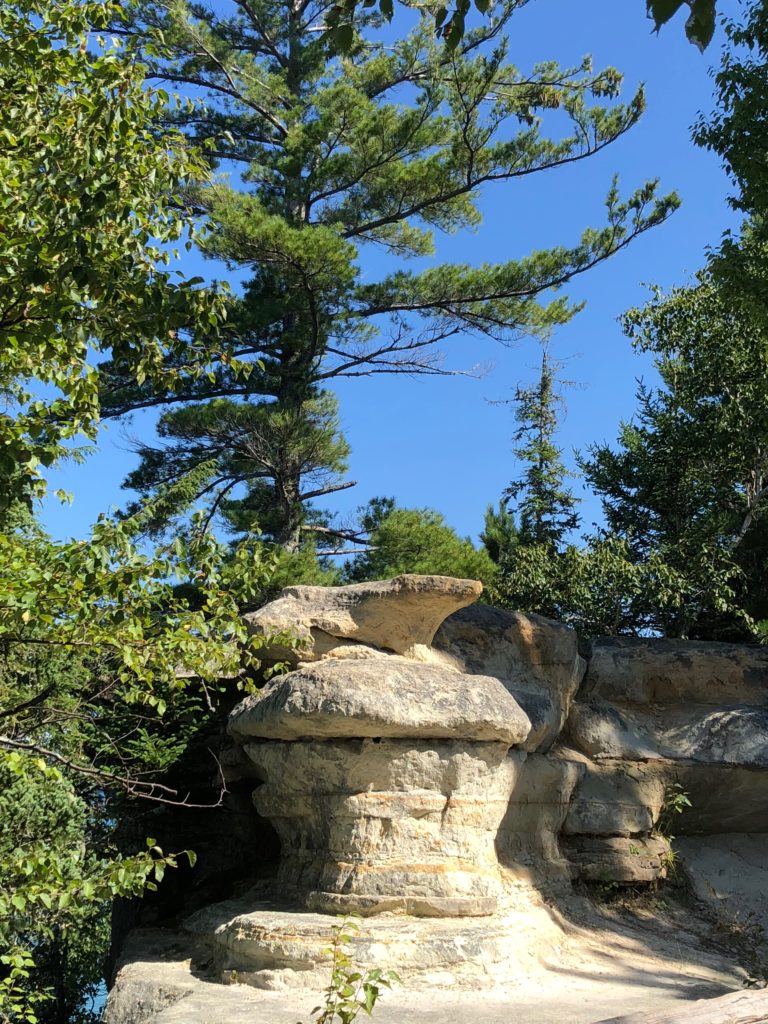 On our way today after going straight when we should have taken a right, we stumbled on the Michigan Iron Mining Museum. Fascinating.
We learned about the man who came looking for copper and was shown a mountain of iron by a native American who considered the Mountain's spirit so powerful that he would not go too close. The prospector was thrilled by the sight.
Getting iron ore from there to factories further south was difficult but pretty soon the mountain was gone and they were blasting tunnels below ground. It was very high quality ore.
Surveying the Upper Peninsula was also a challenge since it was entirely covered by dense forest and swamp. Making it more difficult, the iron ore deposits played havoc with compass readings.
Mining here is now on a giant scale and nobody is living as the native Americans did. Few if any would want to. Native Americans are operating casinos, the tourism market is strong and the mining company must renovate the land they despoil.
Another thing we learned at the museum is why pasties are a feature in this part of the world. It was impossible to get enough Americans to work in the mines so waves of immigrant laborers were brought in. First to come were miners from Cornwall, England where the tin mines had recently been exhausted. Cornish pasties that were their staple diet proved to be a big hit with everyone.
Based on the past 24 hours my advice for others with a feeding tube is to puree favorite foods as an occasional treat. The 3 oz of smoked fish I ate last night were still giving me pleasure this morning so we bought 3 lbs more.
In other news my dribbling is definitely growing less. It occurred to me to wonder if that makes it less likely that my next incarnation will be as a dog? Felicity said she will bring it to my attention if I start sniffing posts.
Next Day – We drove up the west coast of Lake Superior, stopped at Meyers Beach, continued on to Duluth, MN then drove west to Bemidji.
It was a splendid sunny day, around 80 degrees. Felicity painted two fine watercolors at Meyers Beach while I did a rugged two mile walk through white birches, maples, poppels and pines to view sea caves and a rock bridge.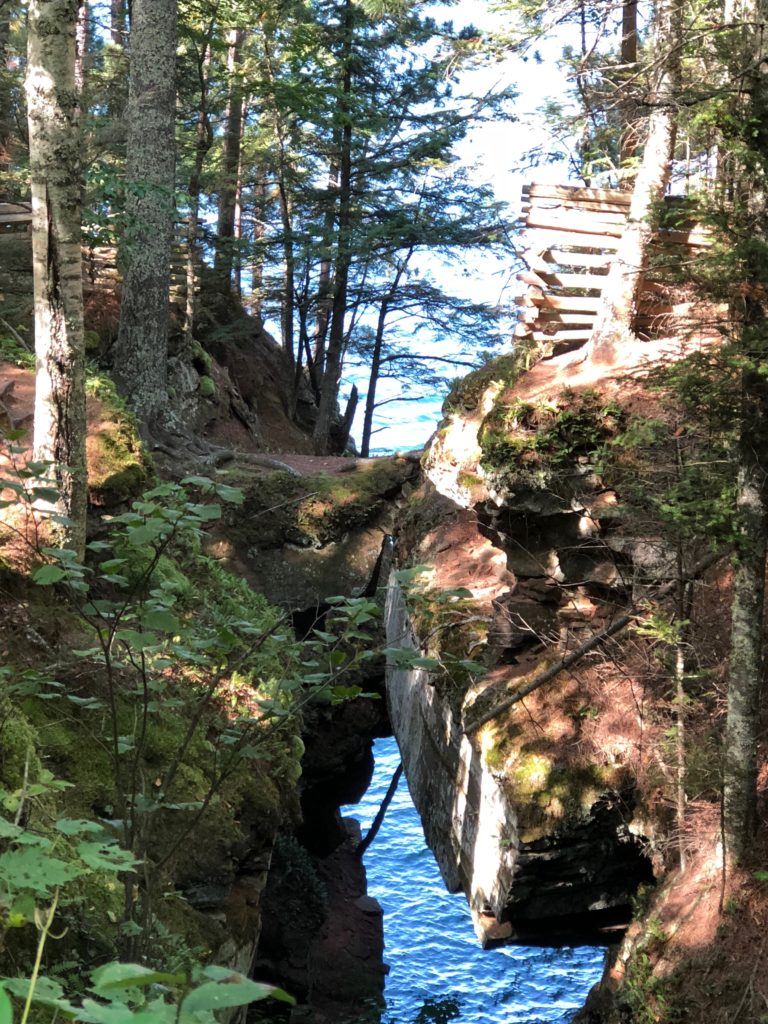 It seemed quite a long way to the overlook but I was pleased to find I was not short of breath. My breathing was normal on the two mile walk back, too, but my legs felt tired.
I remembered my first trek in Iceland while I was still piloting a desk. By the end, my thighs had given out entirely. My hamstrings were not completely exhausted though so I was able to shuffle backwards up the steep inclines.
On the outward walk I heard only the tree tops moving in the breeze. Coming back I heard what sounded like the growl of a bear. I was so hoping to see one but I didn't.
There's little but trees and occasional small cattle farms to be seen from the coastal road to Duluth. It must be a long way to school and that's likely the only place kids would see friends. It must be even more isolated in winter and they are long up here.
The road west to Bemidji is also mostly through forest and it's mostly very flat. At one point small dead pine trees stretched far to the south. I think they drowned. A couple of small rivers showed the water table to be very close to the surface and the ground was densely covered with rushes. I imagine drainage was never good and something changed to slow it even more.
Today I understood what triggers my coughing and I made a start on a solution. My nostrils grow more restricted over the course of the day because I can't blow my nose. By afternoon my mouth drops open to get more air and that triggers coughing.
Pressing a thick tissue against my lips forced me to keep breathing through my nose for a couple of hours but so much catarrh built up on the back of my throat that in the end I began coughing continuously. Using the Bullfrog machine (it blows air hard into my lungs then sucks it back out making me look like a bullfrog) when we got to the campsite pretty much cleared that problem.
Tomorrow I'll try spritzing my nostrils with water to clear them at least partially at lunch time then I'll try to keep my mouth closed all day and bullfrog when we stop for the day.
Next day – We liked Bemidji but this is when I discovered that my energy reserves are now very low.
We drove south to see the head waters of the Mississippi, which drains out of Lake Itasca. The Mississippi starts on the right of the rocks below.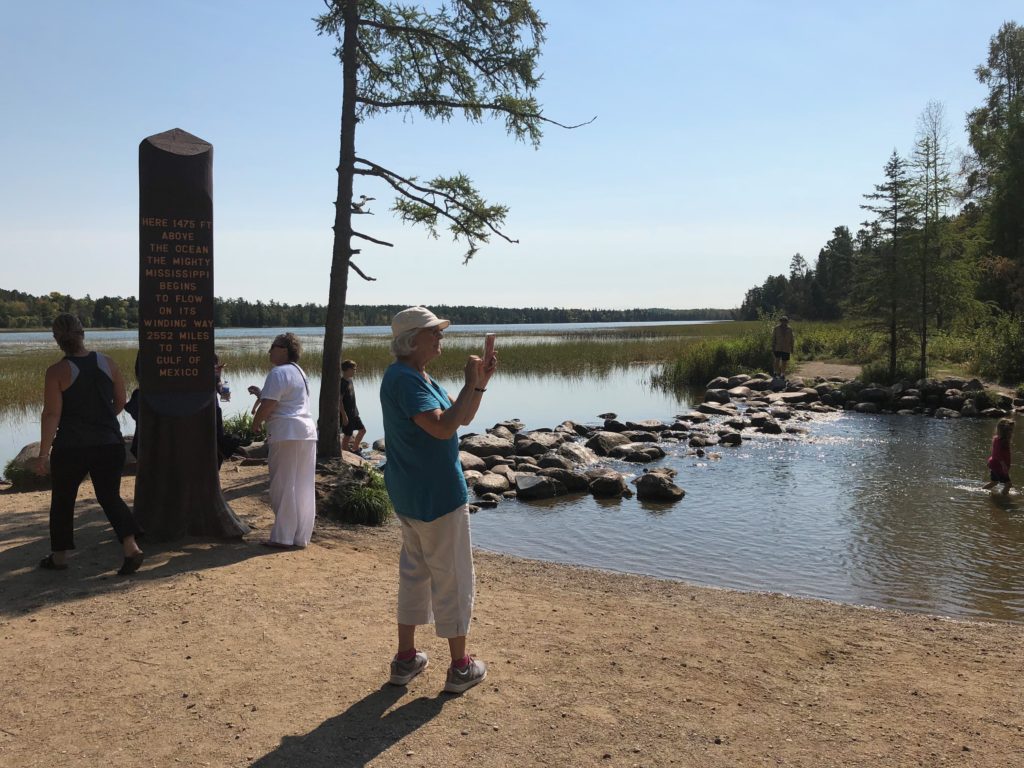 Felicity had bought tickets to see a performance of "A Streetcar Named Desire". I felt exhausted and the botox injection to my mouth has now completely dried up my saliva. We returned to the campsite so I could rest, stopping only to buy anti dry mouth remedies. I tried the spray too enthusiastically then slept all afternoon.
I had enough strength to drive to the theater but then it seemed wiser to stay in the RV so I wouldn't make noises or have coughing fits in the theater. It was a good call. I slept through the entire performance, which Felicity says was excellent.
Then I slept soundly all last night.
Next day – I feel good again. We set off for North Dakota. The view from the road is of trees interspersed with beef cattle farms. The land is flat with many small lakes. It reminds me of Sweden where I spent as much time as I could working. It was never enough. I see why folks from there, Denmark and Finland liked it here.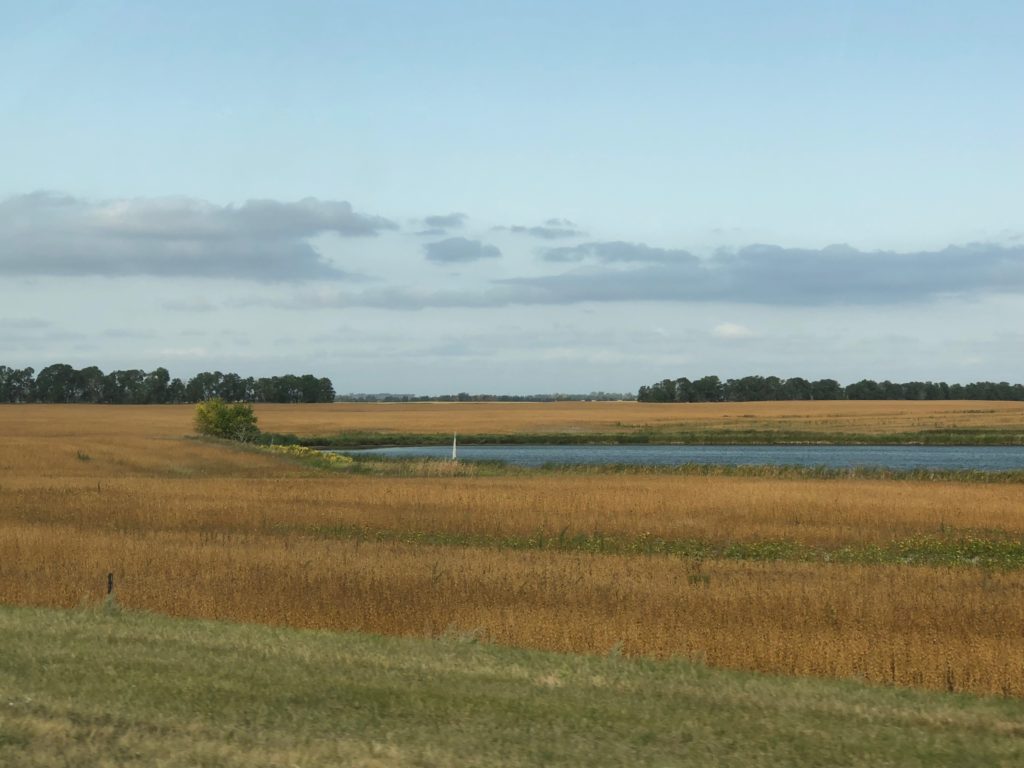 As we proceed west the land grows even flatter and much more of it is farmed, chiefly grains and hay at first, then more diverse arable crops. Sugar beet is popular. We also pass an asparagus farm and one that raises "exotic meat" including ostrich.
We stop for gas and coffee, then at a hardware store. Everyone is so friendly, so different from New England where we lived so long.
Now almost all the land is farmed. Only the areas of standing water surrounded by bullrushes are not farmed. It looks rather like Essex on England's southeast coast which is also flat and in places waterlogged.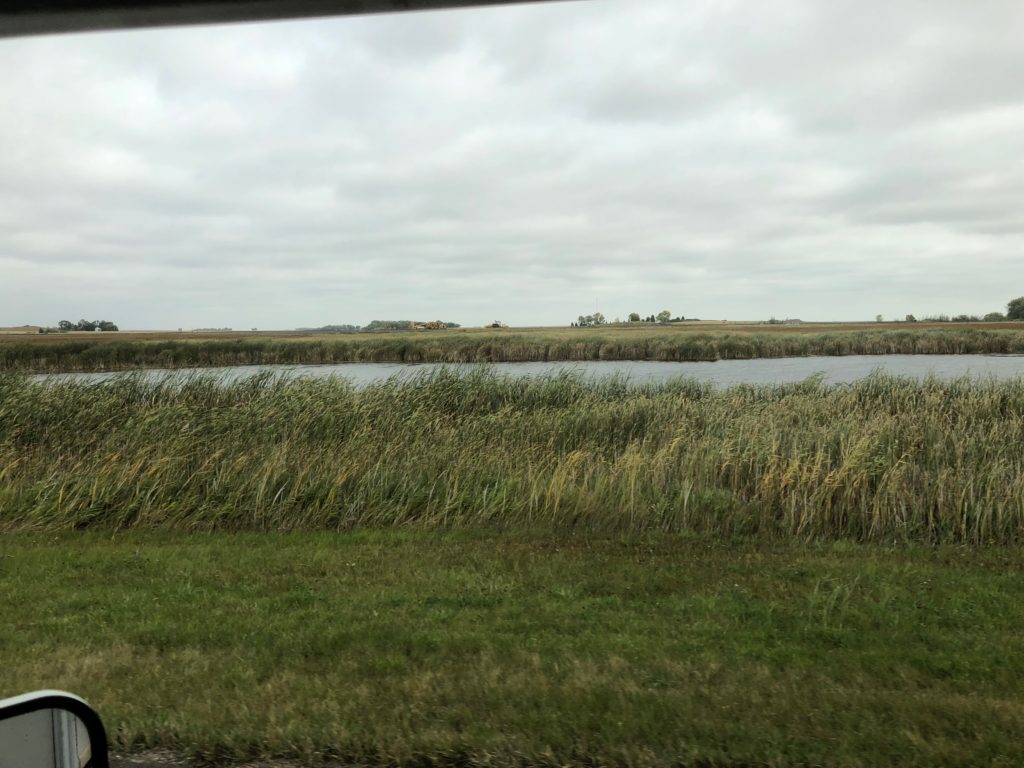 Further on still the fields are gigantic, stretching all the way to the horizon. The most common crop is soybeans. The soil does not look very fertile. Again there are plentiful areas of standing water near the road.
We stop for the night at Devil's Lake. The approach to the state campsite is a road across the water making me think lake is a more dignified name than is warranted. At the campsite, though, guys are preparing to haul their fishing boats away so the water is evidently deeper here.
And now it's time for smoked fish and a fragrant beer 🙂 There's a strong and gusty wind but we're well protected by trees.