Such a beautiful day! Felicity is enthralled by the beauty of a shrub beside our campsite. Its leaves have turned golden yellow highlighting its bright red berries. She can see them, a bear would see them but I can't because I'm red green colorblind. I can relish the leaves nonetheless. Yellow is exceptionally vibrant to my eyes.
I set the GPS for Lone Butte so we will leave Route 5 and head over the mountains on Route 24. It's the kind of back road favored by the Zen & Motorcycle Maintenance man, an area where you can be with trees, grass, wildlife, lakes, the sun's rays and the play of the wind.
It's so beautiful up here. But where isn't beautiful? Beauty is an idea my mind attaches to what it happens to like. And why does it like this?
Because it's wild? Because there are such strong contrasts, such surprises?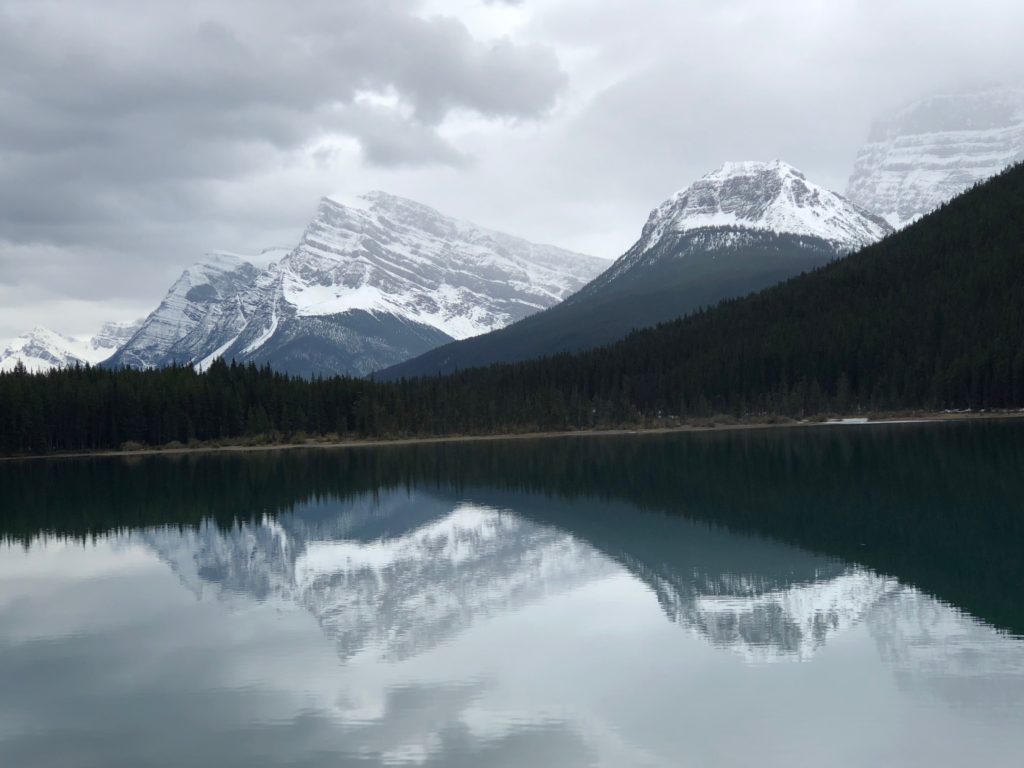 The Zen & Motorcycle Maintenance man writes that it's a different experience on a cycle from being in a car. Yes, a car is an hermetically sealed container to get you from point A to point B. I enjoyed my convertible so much because it did dependably get me from A to B, until it caught fire, that is, but it didn't separate me from the world. I felt the sun on my body, the energy in the air, I heard bird song.
Traveling in the RV is different. It is a conveyance but it is also now my home. I could pull off the road and be home here in the mountains.
We join Route 97 heading south. Now we're in a very wide valley, a plain with mountains blue on the horizon. Dark green Lodgepole Pines interspersed by yellow Aspen stretch as far as the eye can see.
What's growing here are rocket ships about to blast off into the heavens, frozen in that moment and recolored green. Tall, narrow, broadening only slightly from nose to base because they will travel so fast.
It's a self arranged mass of rockets that after just a few moments would burst into brightly colored light as their matter is liberated into energy. Already they are highlighted by the brilliant yellow display of other fireworks, the aspens.
We continue on. These steep climbs are tough on Henry — he began life as a Ford but Felicity thinks of him as Dorothy. He keeps trying to stay in too high a gear so I keep pounding the accelerator pedal to force a downshift.
Further on, the valley narrows. This is dry land, the steep hill sides only dotted with small pines and sprinkled lightly with dry grass. There are a few small farms with irrigated hay fields.
The hay is being bailed very green. It has to be harvested now because snow will come soon. I wonder how they store it? If you stacked it in a barn it would heat up and, when dry enough, catch fire. I used to worry about that each time we got a new load of hay for our sheep.
The valley opens up a little. Here the river has cut a deep narrow channel through the alluvial deposit. Strips on either side are being dry land farmed. The colors are less dramatic but it reminds me of Upper Mustang near Nepal's border with Tibet.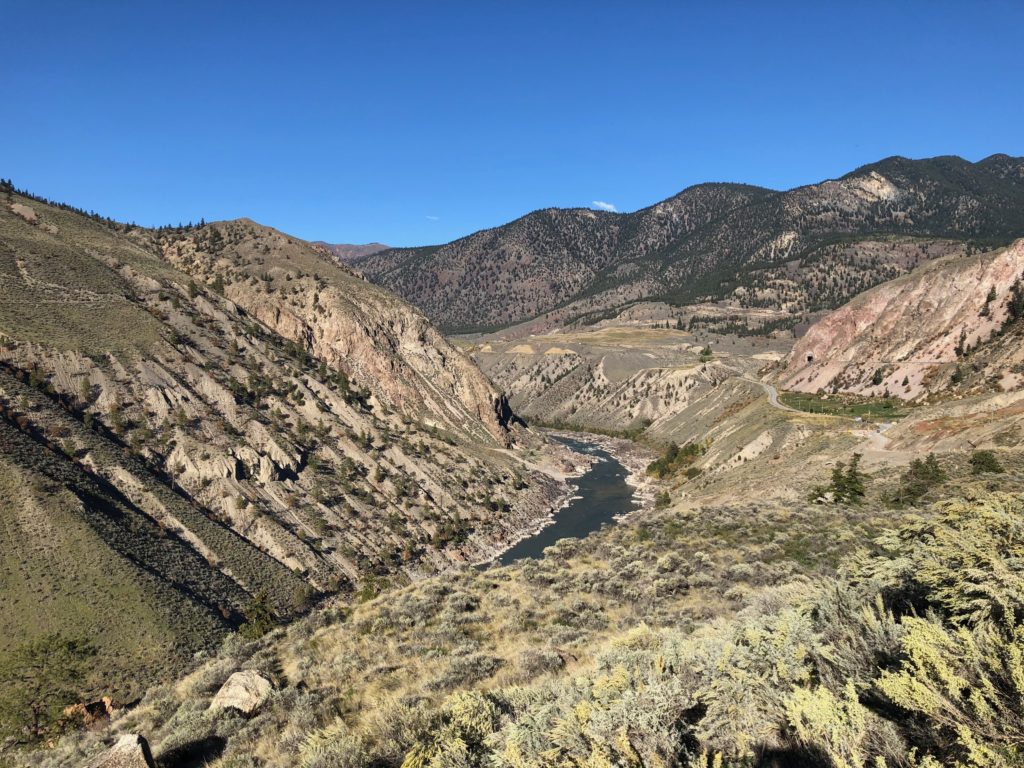 We arrive at a lake at whose exit is a great logjam and stop to take pictures. A young First Nations Canadian also stops. He walks out on the logs to the center, stops still for a time, then returns. He grins at us and says: "I couldn't help myself".
The sun is low now and the light is starting to go as we reach Pemberton, which my Buddhist friend Robert told me is his favorite alpine village. It would be a very fun place if we could still enjoy restaurants and bars but they're not practical with my feeding tube.
No campsite is still open here. We consider spending the night in a motel but decide to drive on to Whistler. The winter Olympics were held there.
It's been a long day and it's almost dark when we reach the campsite. We've been so lucky to have such perfect weather today.
Next Day – we were indeed lucky. It's raining steadily and forecast to continue all day. We'll stay here and rest until tomorrow.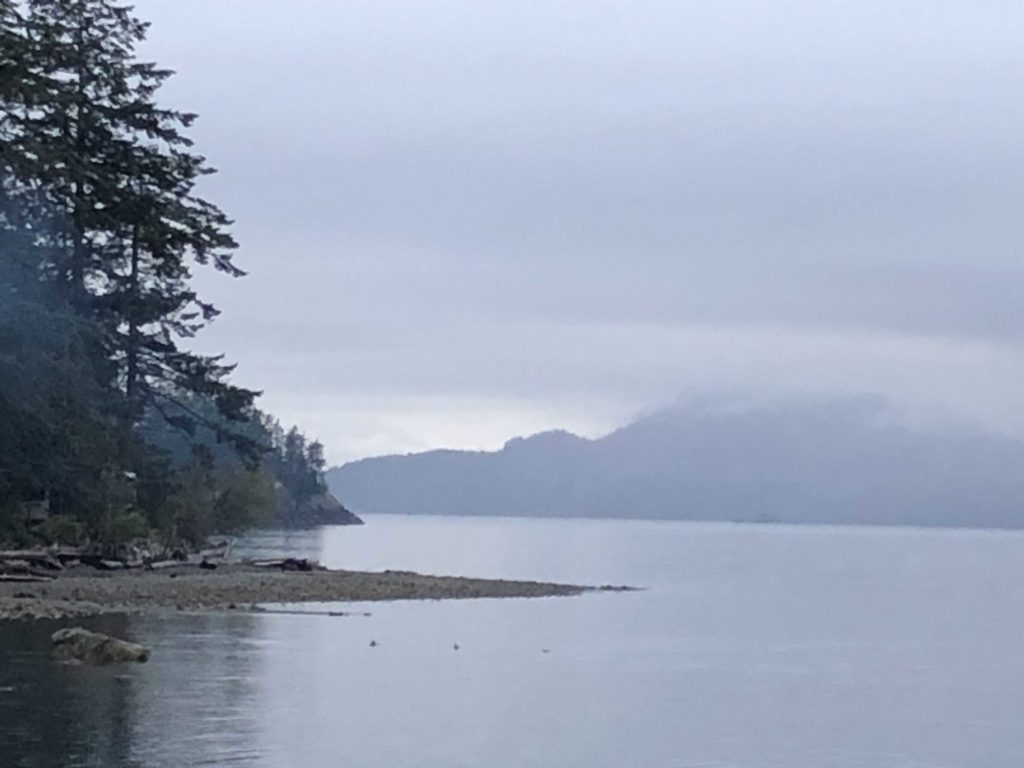 I'm still very much enjoying driving. It's both that I enjoy it in itself and while doing it I feel the way I always did. I start coughing by the end of the day and my body is weaker but it doesn't feel that way. I'm not upset when I get short of breath walking either. It helps me recognize how blessed I've been and still am to have this human body. 
Next Day – Running fast across the snow, building speed to leap over the boulders, I slipped and flung myself off my bed down onto the RV floor. Not the best way to wake up.
It was a disturbed night. My nostrils were so blocked I had to remove the BIPAP. I don't know if saliva is a separate problem. I still have to take some meds to avert drooling but not too much or my mouth gets parched. I think one tablet per day instead of three is right but it's not clear what time of day is best. I took it with my evening meal yesterday.
It's still raining this morning. We left Jasper just in time because it's snowing hard there. The rain stops just before mid-day. We were going to stay here but we decide to go on. I forgot to mention the elk we saw in Jasper National Park.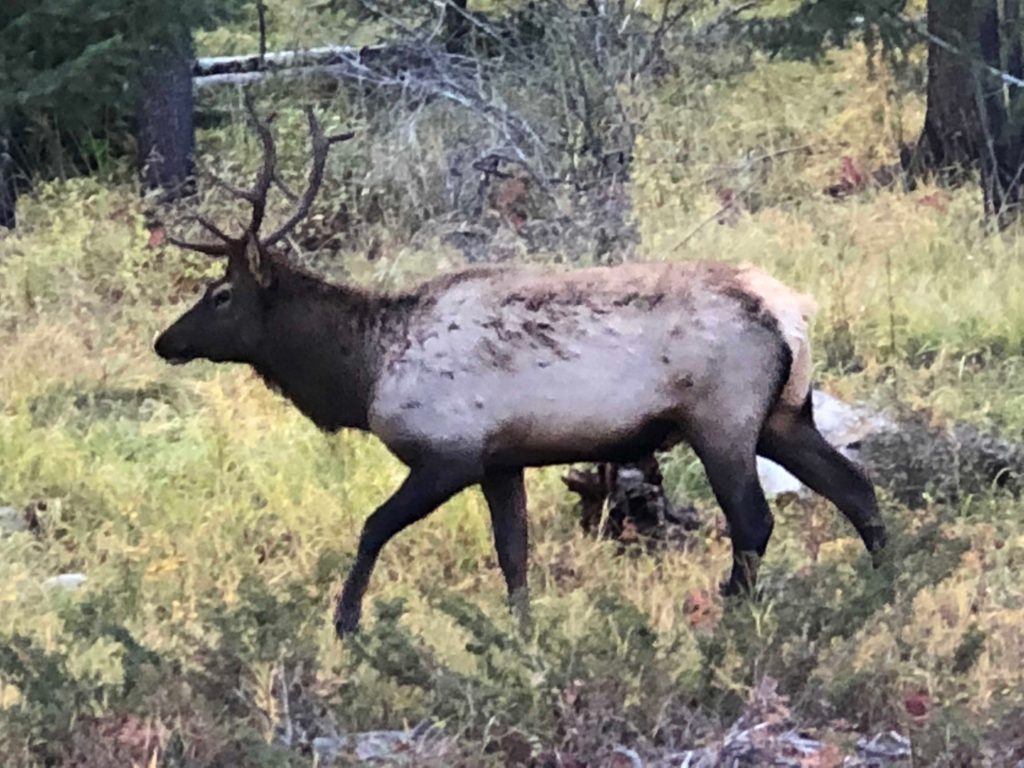 The GPS shows me a good bookshop in Whistler. I brought dharma books with me but I haven't felt able to read them. I get a couple of Philip Kerr's new Bernie Gunther books.
I'm feeling tired. Probably because I didn't sleep well. Maybe also because we're now in an environment I like less, a temperate rain forest. And no doubt partly because I'm anxious about Henry. There's a powerful vibration now when the engine is revving low.
Felicity finds a spectacular waterfall. Next she suggests a mine museum with an underground train ride. I'm not enthusiastic, still feeling tired, but I sign that I'd like to go because Felicity wants to.
It turns out to be the last guided tour of the day and we're the only guests. Our guide who grew up in England is theatrical, knowledgeable and enthusiastic about everything to do with the mine and it's history.
This mine was primarily for copper, which doesn't come in chunks like coal but has to be extracted by crushing the rock and sluicing out the copper in a giant bubble bath. The mine operated from 1904 to 1974. They dug 150 miles of tunnels and extracted an enormous amount of copper in that time.
I feel less tired by the end of the tour. Tiredness is a physical phenomenon but it's also an emotion, a habit that's triggered by a concept.
Our guide recommends that we camp at Portreau Cove. There's no site available but we can spend tonight in the parking lot and move to a waterside space tomorrow.
Next day – I slept well for over ten hours. Terry, the President of Dun and Bradstreet to whom I reported directly for a while, came to visit. My strategy report was fine, he said, but the cover letter's tone was a bit insulting.
I read what he pointed to and agreed with him. I was surprised because it was not something I'd written. How had it happened? My family tried to help solve the mystery. Mark was especially creative and diligent, making many intriguing suggestions despite that he was only six.
One of the kids eventually found a hand written draft of the cover letter and I recognized the writing. It was my trekking friend, John,. He had come on a visit and must have tried to be helpful.
While I was investigating the mystery, Terry noticed that our stair wall plastering was not done well. He got tools from his trunk and began a masterly job of re-plastering. He was very pleased when the mystery was solved. He just wanted to be helpful. I was intrigued by how differently he was behaving from when he was in his office. 
Coffee with breakfast this morning is delightfully fragrant. I usually just have formula flavored with Felicity's sausage spice mixture but today feels special for no particular reason. Every day is special really but we usually don't notice.
The reason I haven't been able to read dharma books and have only done a couple of practice sessions is that I can only do them when I'm alone or with others doing the same thing. That wouldn't be so if I'd already done more practice. I can reflect, though, and that's even easier now I can't talk.
One thing I've been reflecting on is the controversy over the nominee to the Supreme Court. He used bluster in response to allegations about sexual abuse when he was a student. He looked angry and sometimes tearful, and was belligerent while not answering questions directly. His supporters say he was right to be angry because his character was being attacked.
But Buddha taught us that anger, along with desire and indifference, poison our mind. Those emotions, which arise from preconceived ideas, prevent us from seeing clearly. We notice something and instead of looking carefully and perceiving what it really is, we react as we always do to our idea of what it is. Anger is never a good thing. Nor is greed and neither is indifference.
And now I sit comfortably in the RV watching waves crash on the shore a few feet away while Felicity looks through the window and paints.
It's still a temperate rain forest but I'm happy. Felicity says it's ridiculous that it keeps raining. How can she paint outside in this weather? But she's happy, too.
The rain stops. It's still cold but we go for a walk. There are a few ducks and sea gulls but no seals are visible. Now back in the RV I sit happily in the warmth, sometimes reading, sometimes resting while Felicity goes out with her paints.
When she grows too cold to go on painting Felicity lounges by the sea in a comfortable chair. She gets our Japanese neighbor to take her picture with her phone. Eventually the cold is too much and she comes inside and posts pictures on Facebook.