The thing about a wasting disease like ALS is you never know if today is the new normal or an aberration. We're accustomed, if we're lucky enough to have a healthy body, to thinking that if we feel a little low today we'll feel better again tomorrow. The long term ALS trend is you'll keep feeling worse but on any given day you really might feel better than the day before.
I was very tired yesterday. Could the slightly lower oxygen level in the air a mile above sea level be affecting me? Who knows? This morning I'm happy to find I have what is my currently normal level of fatigue.
Felicity didn't feel good and slept poorly last night so we set off late. The road to Jasper is spectacular and we keep stopping to take photos. These mountains were pushed up between 70 to 80 and 35 to 55 million years ago when tectonic plates piled in from the west under the plate that was already here. I imagine an aging Tyrannosaurus gazing where the horizon used to be and saying "Eee, when I were a lad..."
There's a toilet at one of the places we stop with a man about my age waiting. His back is a little bent. His arms are shaking spasmodically and hard, his hands flailing back and forth. He looks painfully cold and perhaps he does feel cold but it's Parkinsons Disease. I want to give him a hug but would he understand? Since I can't talk I couldn't explain if he didn't understand my gesture.
I wondered if I'd have the urge to climb the mountains or hike among them and if I'd feel disappointed that I can't. I didn't. I think I didn't have the urge because we were driving not walking and also because they're of a size where there's no doubt they could be climbed. The Himalayas are quite different, vast, not on a human scale.
Further on, though, the valley is narrower and its entire bed is a jumble of small rounded rocks. The surge of water through here when the snow melts must be amazing. It reminds me of trekking up the Kali Gandaki river bed toward Upper Mustang in Nepal. All of a sudden I do have the urge to do that again and I'm happy to find I'm not disappointed that it won't be possible.
Further on still I'm excited to see a glacier with a perfectly shaped moraine. Felicity is excited by a waterfall.
We've driven slowly and stopped often so it takes far longer than scheduled to reach Jasper. Felicity finds a great campsite at Whistler just short of town. The woman who checks us in tells us where we can go in the morning to have a good chance of seeing bear, elk and moose.
Next day – Gentle rain all night. We're both off to a slow start. I'm not motivated by the prospect of my breakfast rigmarole and make some coffee. Excellent. Now I can tackle breakfast with equanimity.
After booking a second night here we drive into Jasper for milk and drinking water. It feels like a village and is much more appealing than Banff. There are many people even though it's the end of the season. I imagine this would be a fine place to live if I was still strong.
We head out on the road we were advised to take, the road to Lake Maligne, and soon see an elk pottering about in the middle of the road. They sure are big. It continues to look around, bends to lick the road surface, then takes another look at the lines of cars building in both directions. Eventually it ambles nonchalantly up the bank and looks back as the cars move on.
We see no more animals on the way to the lake where Felicity goes for a short walk. After enjoying watching a group of Japanese joyfully raising their hands for birds to perch on I plod back to the RV for a rest remembering my grandfather's visit when I was seven. It's my only memory of him and it's no more than a two second video. We had gone for a walk and I was amazed that anyone could walk so slowly. He died a few months later.
The only animal we see on our way back to Jasper is a red squirrel but on the outskirts a female elk is grazing. I cross the road to take pictures.
We go on a little and there's a buck lying in the middle of a meadow digesting his evening meal and observing all the people taking his picture.
A little further on another buck is still grazing. Another is a hundred yards away. The bucks keep themselves to themselves but females are grazing together several hundred yards away.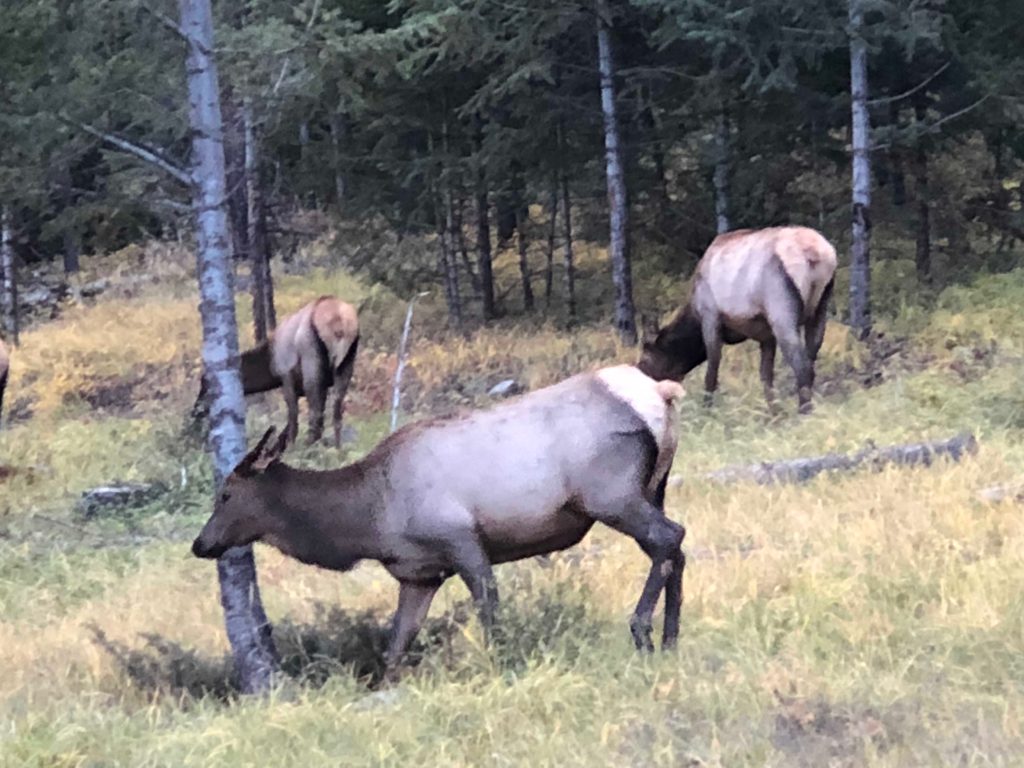 The elk seem entirely comfortable with cars and people nearby. Bears are not so we don't see any.
Next day – We set the GPS for Clearwater on the way to Kamloops then drive in to Jasper for propane and gas. That takes us off the route so the GPS tells me to make a U-turn and when I don't do that to go left, and so on and so on.
Felicity says she could never live here: "The mountains are beautiful but there's no horizon and there are so many people. So many people!"
It's a magnificent day. The colors are spectacular. Road signs tell us we must have winter tires and have snow chains after October 1st. It's September 28th today.
We cross the Continental Divide, drop into the sandy valley and after a while head south down the valley. There are big signs for a river safari to see moose and bear. I point to one as we pass and look questioningly at Felicity. "I thought about it but I don't think so".
Later she says: "I do want to see a bear but it's not Spring so they won't be coming to the river for fish". A while later she says: "I do want to but it's probably closed".
So I pull into the dirt track when we get there. I'd like to see a bear in the wild but I'm not feeling up to a river trip. Felicity books herself a ticket then gets food while she waits for the ride to start.
Felicity texts that a bear emerged from the trees opposite the restaurant, looked around, inspected the river, then went back into the trees.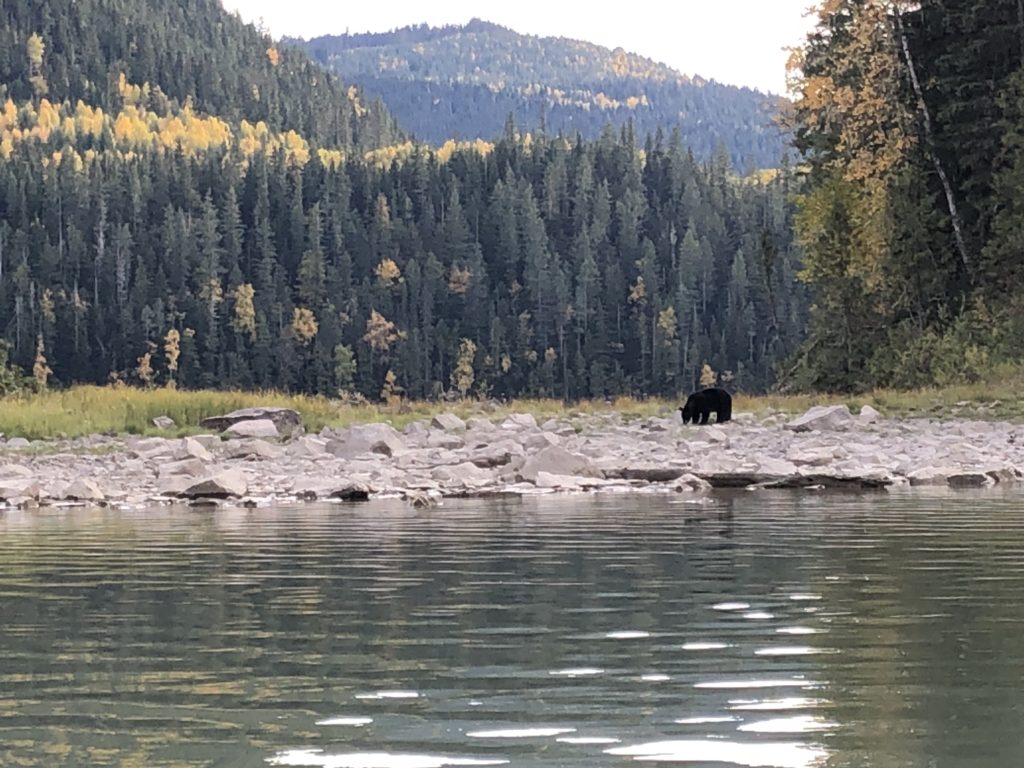 I potter about then remember my friend Harold gave me an audiobook of "Zen and the Art of Motorcycle Maintenance". He wondered if I would write something similar about this trip. I enjoy the first chapter but it seems quite different from anything I might think or write. He seems to feel superior to his friends who don't want to tune their own machines.
Felicity's father liked the book and he thought everyone was his inferior. He could be very condescending. Our attempts at conversation were not very satisfactory. I'm eager to see how the book develops.
The safari is a huge success. Felicity sees a bear, learns much about them and their lives, and also sees a waterfall. I'm delighted it worked out so well.
Next Day – It's windy and cold outside this morning. The RV'S central heating is a blessing.
We take a scenic and circuitous route to one of the areas of — I was going to say dry land but there seems to be none around here, so better to say land higher than the ocean. We will meet cousin Alison there.
We'll arrange that for tomorrow because we're long overdue for a shower. There are showers at most campsites but the weather has made getting to them unappealing. A motel sounds better for tonight.
Nothing to report about today's drive. I couldn't look around because there was too much traffic on the highway and the minor road was too windy. Henry enjoyed the highway. He tries too hard on hills to stay in high gear.
Felicity finds a B&B. She's excited by the advertised spa bath but it turns out to be the same shape and size as a regular bathtub. I suspect she was imagining a hot tub.
The floor seems to move as I sit here in our room. Living in the RV has the same effect as living on a small boat for a few days.
Next day – I greatly enjoyed the spa bath and I'm enjoying feeling clean. There was something about the bed though. I felt twice as heavy as usual and my monstrous body weight caused painful pressure on my hips. I had to keep moving, which was hard, in order to avert bed sores.
Felicity is told at breakfast that we should have booked the ferry. One of the two boats ran aground yesterday so only one is running today. The earliest slot available is 7:30 tonight. She books it but we hope there'll be a no-show for an earlier one. We arrive shortly after the boat leaves and are booked onto the next one.
Felicity walks around enjoying the ocean view. I listen to more of Zen and etc. I'm starting to get the idea now.
Port Townsend where the ferry lands is an appealing town. It's quite small but it has at least three large bookshops, one of which I explore while Felicity visits the museum. She learns that many hippies moved here as tech wealth made San Francisco increasingly gentrified and expensive. That explains all the VW beetles.
We haven't heard from Alison but there's no hurry. I come back to the RV for my formula. Felicity goes to a Fifties Diner overlooking the water. As she walks back she meets Alison.
Alison is the daughter of my dad's sister, his only sibling and one of the only two of his relatives we saw most years. Happy memories. She grew up to be among the most universally capable, kind and fun people I've ever known. It's so good to see her again.
As we set off to camp for the night I notice a Jiffy Lube that is still open. I've been hoping to find one. We have to wait quite a while because only the manager and one tech are still working and the van they're working on needs a lot done.
When my turn comes I type "It's been a long day for you guys. Thank you for staying for me." The manager says I made his day. I'm glad it occurred to me to express my thanks. How much happier we'd all be if we thought of thanking each other more often.
Next day – Yesterday was sunny, a beautiful day. It's raining again this morning. We drive south to see Mount St. Helens tomorrow.
It rains the entire way, sometimes intensely. The wind is strong and gusty and much of the route is a narrow winding road. I have to pay close attention the whole time so I can't say much about the scenery. The leaves have turned on a few trees. The dead ones are covered with Spanish moss.
I'm preoccupied by the Kavanaugh nomination. Republican leaders will force him onto the Supreme Court despite that he lied under oath and he is judged unsuitable by retired Republican Supreme Court Justice Stevens, 12,000 law professors and so many more.
The Republican leaders don't care about the character of the man, only the positions he will take, positions he refuses to acknowledge but which his record makes clear. This is not the America I thought I was joining.
Next day – it's damp but not raining. I slept well but with long wakefull spells fretting about the damage being done by our corrupt and bigoted politicians. I download my absentee ballot.
The Jiffy Lube manager's granpappy lost the ability to speak or eat but he'd already lost the use of his legs by then. Maybe it was just the tone of his voice as he told us but granpappy felt such a sweet name. As I'm about to sign a birthday card for Eleanor I almost rename myself. I'll sit with it longer before deciding.
Adding coffee to my breakfast formula was an inspiration. Because the formula is less viscous, it drains into my stomach faster, and there's that wonderful fragrance. My entire body is already infused with sausage spice so I lost nothing by replacing it with coffee for once.
We head for Mount St Helens where I learn that it has erupted massively many times and recently enough to give rise to native American legends. One is that Coyote first made a snow mountain he named Tahoma, which we call Mount Rainier, then went south and when Tahoma was no longer visible made a mountain that he named La-We-Lat-Klah meaning "smoker". It was renamed in 1792 by the British explorer George Vancouver to honor his friend Lord St Helens.
The mountain is quite young, formed less than 40,000 years ago. In 1480 it erupted much more massively than recently and again two years later with about the same force as in 1980. Another spell of activity began in 1800 with an eruption similar to the latest one which cut it from 9,677 feet to 8,363 feet and left a 1 mile wide horseshoe shaped crater.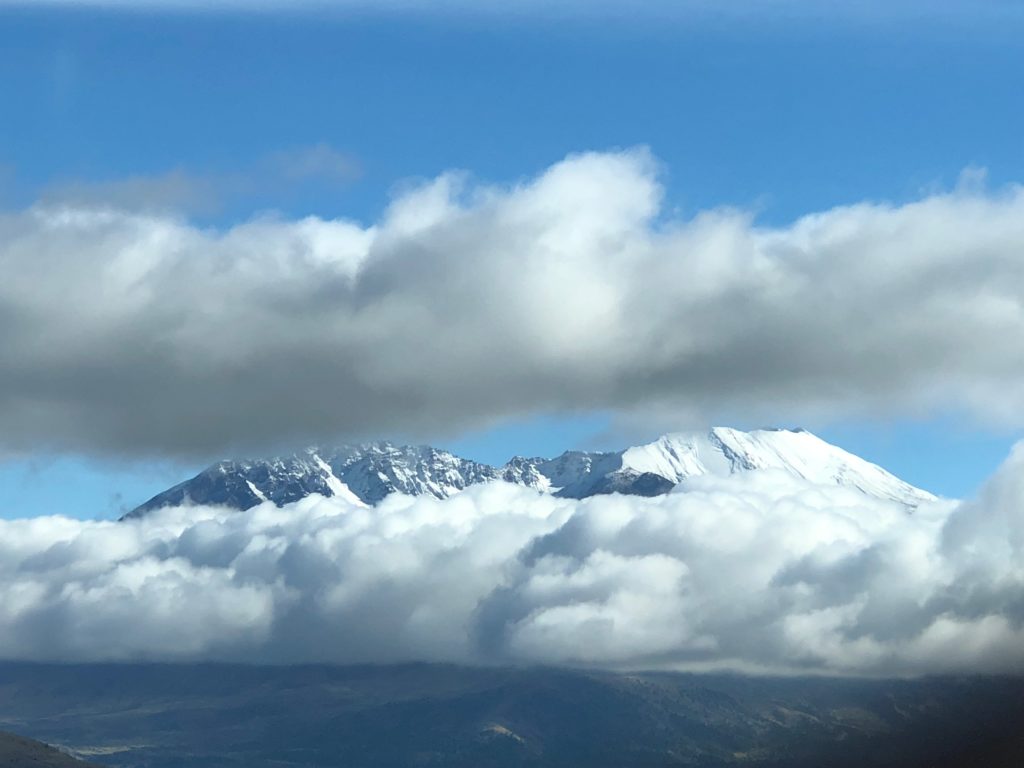 All this activity results from the Juan de Fuca tectonic plate driving east under the American plate while the Pacific plate drifts west away from the Juan de Fuca. We must expect more eruptions here along with earthquakes further south.