President Obama's $583B final military budget is being sold on the premise that we are in a "new strategic era" challenged by Russia, China, North Korea, "Iran's malign influence" and Islamic State terrorism.
We will therefore increase our military spending in Europe from $789M to $3.4B with "more rotational US forces," "pre-positioned" weaponry and "infrastructure improvements" in response to "Russian aggression" in Ukraine and Syria, and our $71B research budget will establish "arsenal planes" to overwhelm air defenses, swarming micro-drones to be deployed from high-altitude aircraft, and much, much more.  We will also spend $40B over five years to enhance our submarine fleet.
What?  We are the ones who provoked "Russian aggression in Ukraine", we are deeply complicit in the Syrian nightmare and we are fighting alongside "malign Iran" against the Islamic State.
Quadrupling our forces near Russia's borders will restart the Cold War.  Western military power has not been so close to Russia since Germany's 1941 invasion that left 10 or 20 million Russians dead.  Russia must avert any risk of that happening again.  What will they do?  Move forces near their borders.  And presumably increase spending on nuclear arms to match our plan to spend $1,000B+ on them over the next three decades.
So why are we doing all this?  Because restarting the Cold War, perpetuating violence in the Middle East and fomenting it in the Far East will continue to grow the weapons market.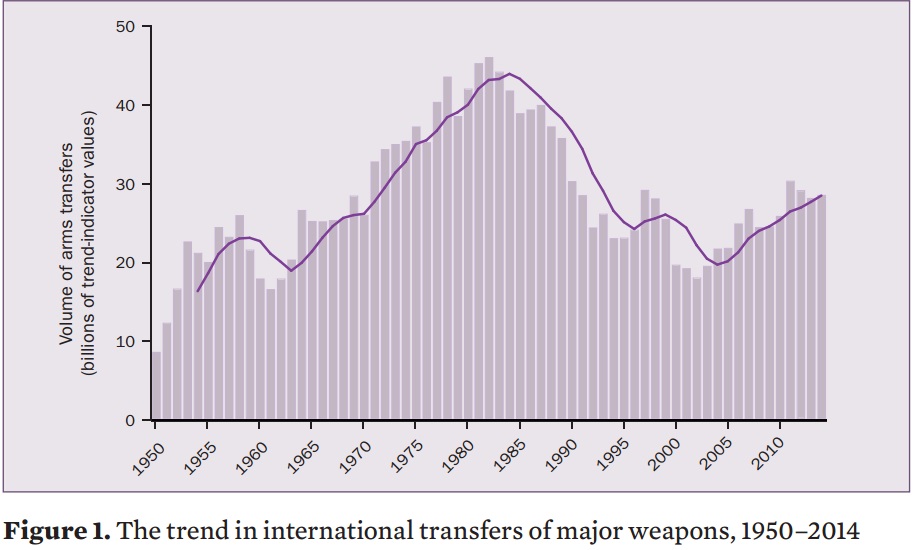 And why are "we the people" willing to spend so much to counter threats whose reality we do not question?  Because the mainstream media swamps us in fear, politicians keep telling us to be afraid, and the economy of local communities like mine depends on military spending.
How much do we spend?  Our fiscal year 2015 federal budget totaled $3.8T or $12,000 per person.  Social Security and Medicare, which are funded by dedicated taxes, are each around 23% of the total.  Around 29% or $1.11T is for "discretionary" programs that are authorized by Congress each year.
New military spending of $598B accounted for 54% of the discretionary 2015 programs, a further $160B of the overall budget was for veterans benefits, half or more of the  $229B in payments on debt resulted from wars on Iraq and Afghanistan whose cost we borrowed, and it is estimated there is another $50B+ of covert action and surveillance spending hidden in other areas.
That's almost $1T of military spending or $3,100+ per person every year.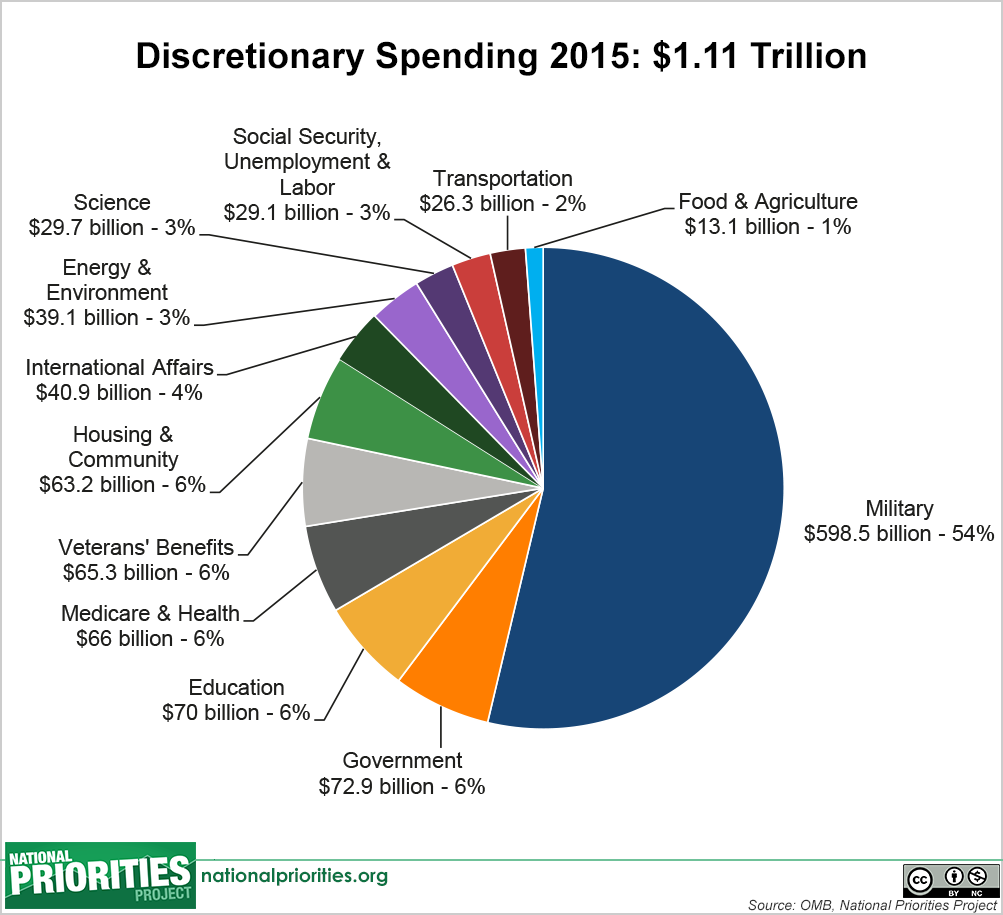 I'm not saying we should eliminate military spending — we should spend less.  We would spend much less if we thought realistically about the threats we're told necessitate this year's spending.
We've been led to believe something very odd.  The Dalai Lama puts it well:  "Since armies are legal, we feel that war is acceptable; in general, nobody feels that war is criminal …  In fact, we have been brainwashed.  War is … tragedy and suffering."  He continues:  "although I am deeply opposed to war … it is often necessary to take a strong stand to counter unjust aggression."
How much less would you spend on our military, and how would you use those savings to make the world happier?