Most of us think beheading is barbaric and are horrified by 1,000 lashes and ten years in prison for a website advocating free speech.  We abhor child marriages and are appalled that women anywhere should need permission from a male guardian even to travel.
Sweden's foreign minister recently denounced those policies and acts by Saudi Arabia as extreme violations of human decency.
She went on to say it would be wrong for Sweden to continue military cooperation with such a regime.  European Union countries had after all in 2008 established a Common Position on arms exports making "respect for human rights in the country of final destination" a precondition.
The Saudi regime's response was to withdrew its ambassador and stop issuing visas to Swedish businessmen.  Its allies condemned Sweden's 'unacceptable interference in the internal affairs of the Kingdom of Saudi Arabia.'  The United Arab Emirates withdrew their ambassador, too.
How would the Swedish government respond?  Sweden sold more than half a billion dollars worth of arms to Saudi Arabia from 2011 to 2014 and the Saudi regime is expected to buy 52% more arms this year than last.  Would Sweden give up such a huge opportunity?
And the impact could be much broader than Sweden's arms exporters alone.  Denmark was hit with a major international boycott when a Danish newspaper published Muhammed cartoons in 2005.
Lobbying by Sweden's business leaders began immediately.  Thirty chief executives signed an open letter saying that breaking the arms trade agreement 'would jeopardize Sweden's reputation as a trade and co-operation partner.'
Sweden's king called the foreign minister to his palace and told her to back off.  The Constitution grants him no power, but…
And the Saudi regime positioned the minister's denunciation of their human rights abuses as anti-Muslim hatred.
It looked like business priorities would trump human decency.  But, after no doubt agonized debate, the Swedish government announced the cancellation of its military cooperation with Saudi Arabia.  And a couple of weeks later Saudi Arabian media published a fabricated apology by Sweden along with the news that its ambassador would return.
This is a heartening story for anyone who thinks beheading and so forth is barbaric.  But it was little reported in Europe and almost not at all here.  So we must also note a couple of other things.
First, our US government supports the Saudi regime not just because we want their oil but because since we destroyed Iraq, it alone balances Iran's power in the Middle East.
Americans fear Iran.  We do not remember overthrowing Iran's democratically elected government in 1953 and replacing it with the Shah's dictatorship.  All we remember is the theocratic regime that overthrew our friend the Shah holding our Embassy staff hostage.  We imagine an Iran that we have always treated well but which is our mortal enemy for religious reasons.  And our ally Israel considers Iran an existential threat because it supports its Shia fellows, Hezbollah and Hamas, working for the Palestinian State that Israel's newly re-elected leader declared he will resist to the end.
Second, Sweden's admirable decision removes a competitor for Saudi Arabia's arms purchases.
This March 2015 Stockholm International Peace Research Institute report notes that we delivered major weapons to at least 94 countries in 2010-14.
The world's largest importer, India, increased its purchases by 140% from 2005-2009, chiefly from Russia.  The second largest, Saudi Arabia, increased its purchases  by 400%, supplied chiefly by the UK (36%) and the USA (35%).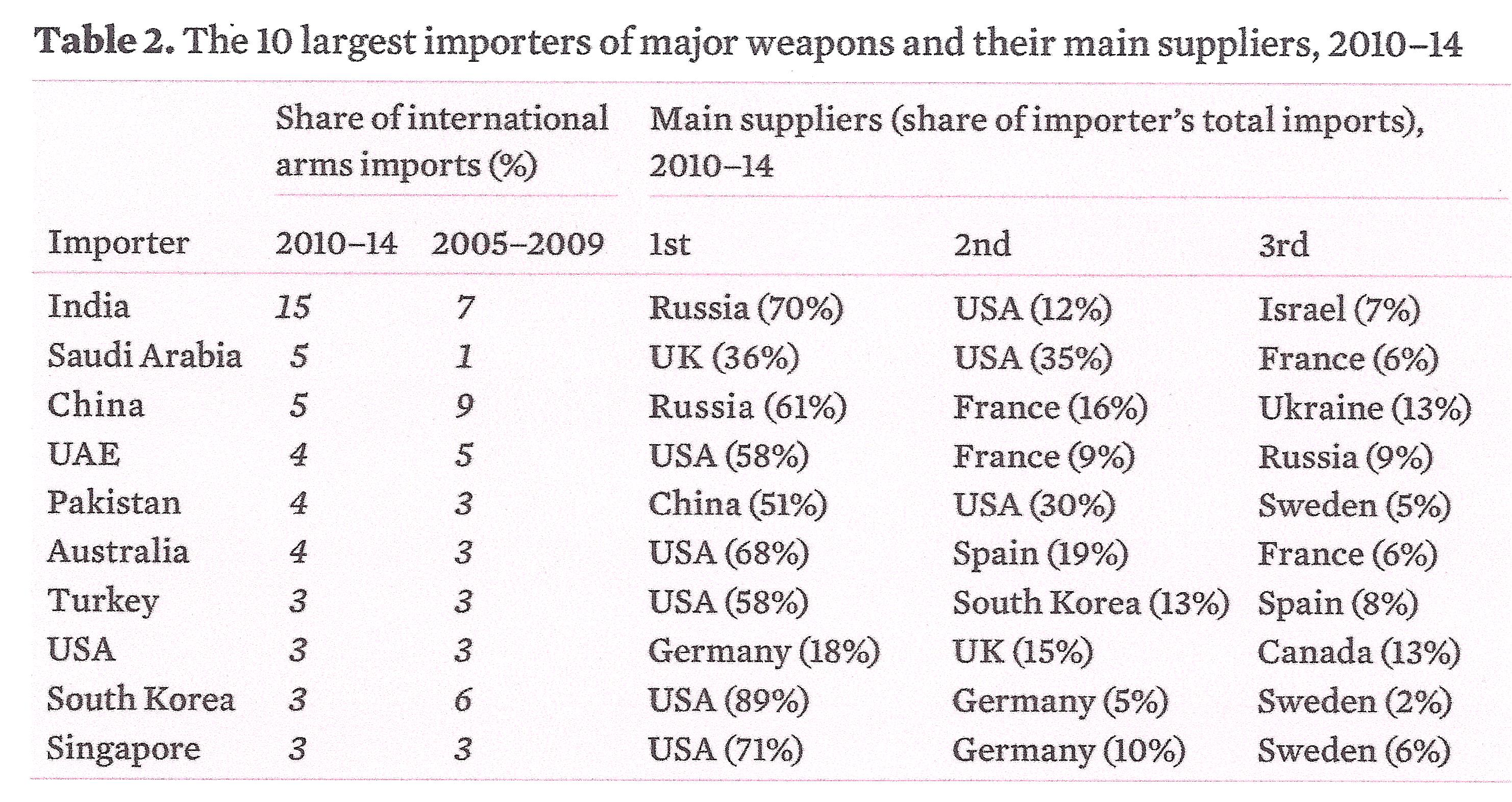 We delivered $8.4 billion of arms to Saudi Arabia and their Iran-facing neighbor United Arab Emirates last year, up from $6 billion the previous year.
A growing share of big fast-growing markets is what every business leader wants.
The Swedish government decided human rights trump what arms business leaders want.  My government is sticking with the opposite decision.