I wrote in Ignorance, Fear and Imaginary Facts that we imagine facts to support what we fear, and that one of the things we greatly exaggerate is the number of immigrants.  I said that's a problem because politicians tend to focus on what we believe, not the actual data.
So, what have they done based on our fear of immigrants?  First, a reminder.  We imagine that 32% of our population are immigrants while the actual number is 13%.  This means we have 60 million imaginary immigrants in addition to the real 41 million.
Sixty million is a lot of imaginary people!  It's enough that we'd expect some big actions.  And even though 60 million people are imaginary, we caught 1.6 million entering illegally in 2000 and we do not know how many are already here.  There really is cause for concern.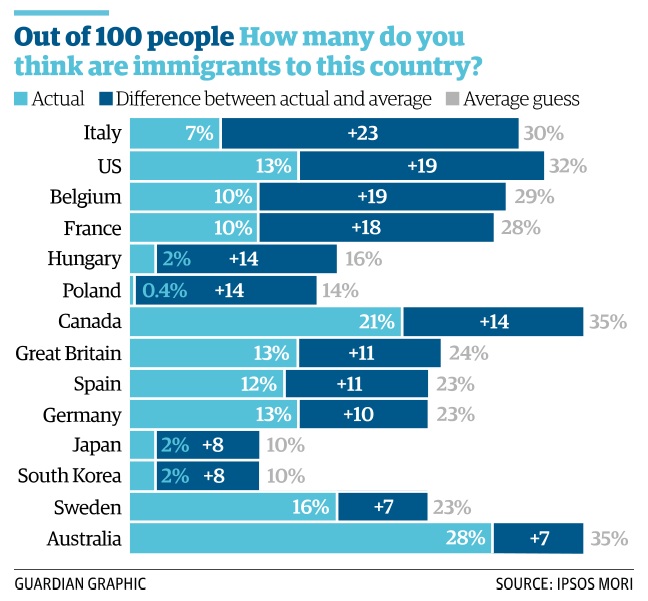 But what do we mean by "immigrant"?  Everyone was an immigrant when the Constitution was established in 1787.
Our first citizenship law was established in 1790.  Any "free white person of good moral character" who lived here two years and in the same place for one could apply.  The requirement was increased to five years in 1795 with a three year wait, and in 1798 to 14 years with five years notice of intent to apply.
All children born here have been considered citizens since 1868 and African Americans could become citizens since 1870.  Asians could live here then, but not become citizens.
The first law restricting immigration was passed in 1875.  It prohibited any Asian coming to be a forced laborer, any Asian woman who would be a prostitute, and anyone who was a convict.  The labor provision was largely ignored but the ban on female Asians, especially Chinese, was heavily enforced.
Then the 1882 Chinese Exclusion Act prohibited all immigration of Chinese laborers (it was only repealed at the end of 1943).  Chinese immigration that started in the 1848-1855 California Gold Rush had continued for huge labor projects like the Transcontinental Railroad, but then came the 1870s post-Civil War economic slump.  Chinese workers were blamed for depressed wage levels.
We began deporting those who entered the country illegally in 1891, a year after the Wounded Knee Massacre near the end of when our ancestor immigrants finished dispossessing the Native Americans.
Small-scale deportations began five years before we dedicated the Statue of Liberty with its poem, "Give me your tired, your poor, / Your huddled masses, yearning to breathe free."  We did little to stop illegal immigration, however, until Congress established the Border Patrol in 1924.
Our main focus until the 1950s was Canada.  The first large-scale deportation of illegal Mexican immigrants was Operation Wetback in 1954.  It was not until the 1990s that illegal immigration became a big issue.
At the start of the Clinton administration, Border Patrol had 4,000 agents.  That more than doubled to 9,000 by the end of his administration.  Border Patrol's enormous growth followed 9/11.  It doubled again to 18,000 agents by the end of the Bush administration and to 21,000 in Obama's first term.
When the Department of Homeland Security (DHS) was set up following 9/11, Border Patrol was reestablished as part of Customs and Border Protection (CBP) with a $12.4 billion annual budget and a staff of 60,000 that includes 46,000 gun-carrying Customs officers and Border Patrol agents.
We have spent over $100B on border and immigration enforcement since 9/11.
CBP is by far our largest federal law enforcement agency.  Its 250 planes, helicopters and drones make it the largest law enforcement air force in the world, as big as Brazil's entire combat air force.
Border Patrol's growth was far too rapid for quality hiring, and it has not been well led.  Until March of this year, it went five years without a Senate-confirmed leader.  An average of almost one CBP officer per day was arrested for misconduct between 2005 and 2012, and Border Patrol agents have shot and killed almost 50 people since 2004.
Not well led?  In Obama's first year, Border Patrol was ordered to change its definition of "corruption."  There would be "mission-compromising corruption," e.g., bribery, narcotics- or human-smuggling, etc. and "non-mission-compromising corruption," e.g., sexual or other assault of detainees or theft.  Only "mission-compromising" incidents were to be reported to Congress.  That did not cut corruption but it did cut the statistics by almost a third.
Border Patrol's leader since March has his work cut out, and the October federal budget funds 2,000 more CBP officers, the largest single increase Congress has ever passed.
But no matter how successful BP's new leader is, stopping people from entering illegally is only half the battle.  We should also make it easy to identify illegal immigrants and promptly deport them.
The high likelihood of being promptly deported would be the greatest deterrent against attempting to enter illegally.
That would require some form of national ID, which advocates of civil liberties oppose.  Because the Constitution grants all rights to the States that are not specifically granted to the Federal government, driver licenses and other identification cards are issued by each State separately.
The REAL ID Act of 2005 established standards for state-issued identification documents to make them acceptable for restricting entry to DHS headquarters, nuclear power plants, and other restricted federal facilities, and eventually to restrict boarding of federally regulated commercial aircraft.  Only 21 States were compliant at the beginning of 2014.
The REAL ID Act is not aimed at identifying who is and is not eligible to live and work here.  The State driver license and other such databases are neither uniform nor interoperable, and that is how State government officials and civil rights advocates want it to stay.  The States want to retain their prerogatives.  Civil rights advocates fear government abuse if we are all recorded in one big database.
There certainly is potential for abuse.  Hoover's FBI kept files on enormous numbers of people he considered suspect and all of us are now in the NSA's database.  Our emails, texts and phone calls are searched and stored.  Our travels probably are, too, if we carry a smartphone.  Our activities are captured by surveillance cameras and presumably searched with facial recognition software.
But civil rights advocates are misguided.  We already have far less privacy than we imagine, and we are rapidly losing more.  The protection we need is around the use of data.  We need to protect ourselves directly against government abuse and corruption, not hobble its ability to protect us.
What we need is a dependable way for everyone who has the legal right to live and work here to prove that, and for the form of proof to be very hard to forge.
Our passport system may be a good starting point for the identification documents all legal residents should have.   More than a third of Americans (35%) now have a passport.  That is up from 6% twenty years ago and passports issued since 2007 contain chips that enable facial recognition.
We could establish a system for checking who has the document and deporting those who do not.  We don't consider it abusive that we must carry a driver license whenever we drive a car.  It would be little more burdensome to carry an identification document at all times.
What have I left out?  Stopping illegal immigration is not enough, we must also establish a just and effective way of deporting those who are here illegally…  Oh, yes, we must also decide who we want to have immigrate and make it easier for them to do so.
We no longer want other nations'  "tired, poor,  huddled masses yearning to breathe free."
Actually, as well as not wanting them, we also want to get rid of those like them who are here legally.
The US Conference of Catholic Bishops denounced Ryan's proposed 2012 budget, which the GOP House passed, because it "fails to meet the moral criteria" of the Church, failing to help "the least of these as the Christian Bible requires: the poor, the hungry, the homeless, the jobless."
Ryan is still chairman of the GOP's House Budget Committee with more power now the GOP controls the Senate.  We are not likely to get a more Christian budget or immigration policy any time soon.
Our fears will be used to legitimize more violence.