I never met a mountain I didn't like. Maybe it started with the picture of Switzerland on my bedroom wall when I was a kid. It was the only thing, apart from her traveller's trunk, that my mom kept from before she married my dad.

She was working in Italy as nanny for a marquesa whose husband was a diplomat. She had to leave when he was assigned to Berlin. Marjorie, her friend from the orphanage where they grew up, visited her. I wonder which of them had the idea of going to Switzerland. It could have been my mom or the marquesa may have suggested it.

Or maybe it was Marjorie. She became a teacher then headmistress and always went traveling in the long vacations. Africa was her favorite by the time I was grown up. "Saw a camel" she wrote from Egypt.

I think my own relish for travel originated in curiosity stimulated by tales of adventure and was amplified later by wanting to get away from what felt like incarceration in the small town to which we moved from farming country when I was eleven.

It's very windy this morning. It's been so all night, the rv shaking in the gusts. I slept very well after Felicity recommended Nyquil as I struggled to breathe. My nostrils were blocked so hard I doubt I could have freed them even if I could still blow my nose. Thank you, dear Felicity!

We drive south past signs warning of flash floods along miles of flat desert sprinkled in some parts by mesquite, more liberally in others by sage brush, occasionally by both and sometimes by nothing.

Mountainous hills rear up on the plain. The mountain ranges are far to the east and west. Some are sharply defined in the strong sun, others rounded. The wind is still strong and gusty. We had to stop early on because the front roof hatch was blowing open. I removed the screen and Felicity tied the hatch down tight. The winding mechanism is worn. I wonder if I could replace only that.

We stop at Baker Market for gas, a few supplies and firewood. Felicity gets me a face mask that we hope will keep the air flowing into my throat moist. A man tells her he comes through here every week making deliveries and always eats at the Mexican restaurant next door. It's the best restaurant for miles around. So she gets a couple of tacos to go. They're only $1.99 each and are excellent. I add an extra helping of curry powder to my formula.

Now we chug east up, up, up to a Joshua Tree forest at 4,000 feet, continue over the pass a few hundred feet higher then make the long descent to Searchlight where we turn south again. I'm feeling good. The mask is helping and I got 11 hours of good sleep last night after several poor nights. So we'll go on for another hour or so to Needles and camp there tonight.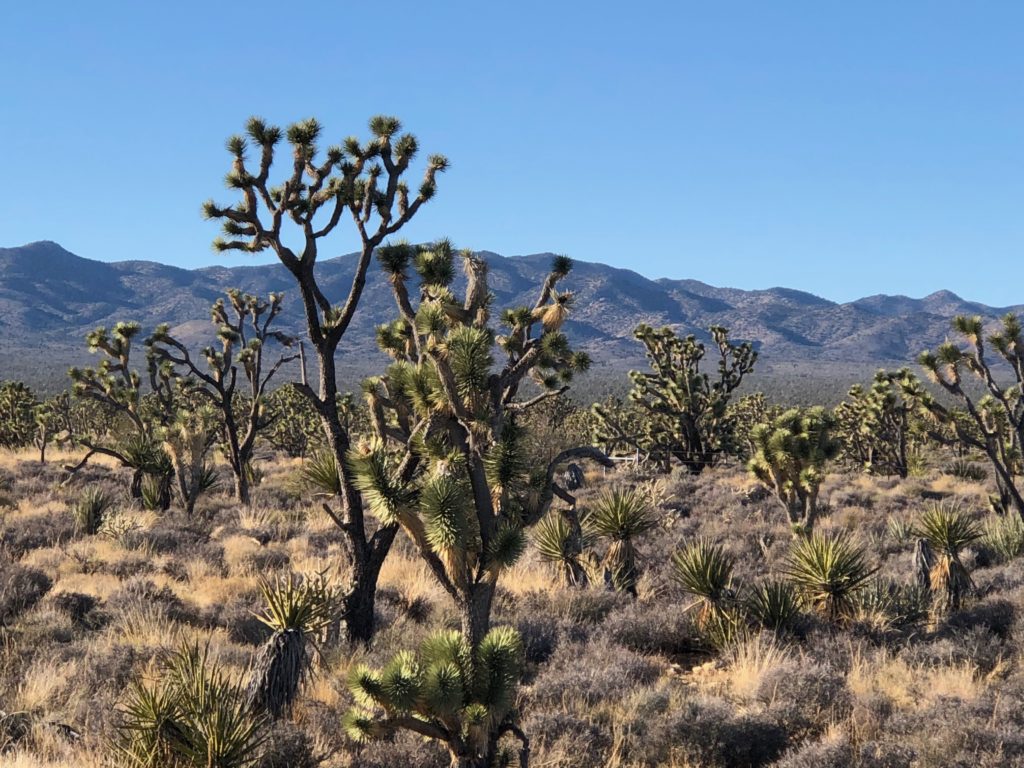 We wanted to go to Santa Fe but it's too late in the year. Nighttime temperatures are too low. We'd be ok in Henry's centrally heated cabin but his water systems would freeze.

Next day – I'll try growing a short beard. It's difficult to shave because the skin is so floppy. I might look better, too.

The GPS first routes us along a dirt road to a very low underpass below the railroad, then through town to an 8′ one, and then Felicity seizes the map and gets us out of Needles at last.

We drive south then southeast through higher and wider desert. There are occasional wispy trees up here among the sprinkling of low growing mesquite. Every so often a tract of land is for sale. Who would want it, and for what?

I feel a bit crabby this morning. The mask may be helping because I'm not coughing but air blows up under it into my right eye which already feels irritated. I have my usual choice of biting the inside of my mouth or letting it fall open and dribbling but I'm conscious that neither option feels good. That doesn't usually bother me. Perhaps not practicing every day is finally catching up with me.

Mark noted that I mention my symptoms from time to time in these emails but I don't say how I feel about them. That's because I almost always just notice them and don't feel judgmental. They're just changes. This morning is an exception.

We pull over onto a wide area of the hard shoulder for lunch. We're driving across wider and wider sandy desert. There are mountain ranges in the distance but almost no variation in the land around us.

We drive on and turn east toward Phoenix on Highway 10. We pass a couple more cattle concentration camps. The low roofs that keep the sun off have big fans just under them which must mean it's not always as windy as it is again today. It seems utterly perverse to keep cattle in this climate. I wonder why it makes sense.

My right eye is quite painful. There's a walk-in health place close to where we camp so we'll go there tomorrow.

Next day – My eye doesn't hurt this morning so it would be premature to get it looked at. We'll keep track of it today.

I feel better overall. I woke twice during the night with nostrils completely blocked and had to remove the BIPAP for a while. Maybe it's the very dry air. I slept long nonetheless after replacing the BIPAP when my nose cleared enough. I felt tired throughout my body when it was time to get up and yet I felt like getting up.

Now I've had breakfast and rested to let it settle I feel good. Perhaps having coffee in my formula this morning but not yesterday is a factor. Whatever the causes I'm enjoying the sun and feeling blessed to be alive.

We decide to go for some culture today. We'll visit Frank Lloyd Wright's home north of Phoenix. Felicity books a 3 pm tour so we'll have time for lunch when we arrive.

I tried wearing sunglasses instead of my spectacles this morning because I'm suspicious about the right lens. My distance vision is fine so driving is no problem. My eyes do feel more relaxed.

A practical issue for ALS patients and their care givers is that new health problems could be unrelated or result from the progression of ALS. I assume new symptoms are unrelated unless the opposite seems obvious. That's easy for me because I always did think I would recover from illness without needing to take action. I got away with it because Felicity is better educated about the body and she overrode my unwise optimism when necessary.

Taliesen West is utterly different from Falling Water. That felt conceptual and cold, not a comforting home. This is space that results from living here by someone who really knew his craft.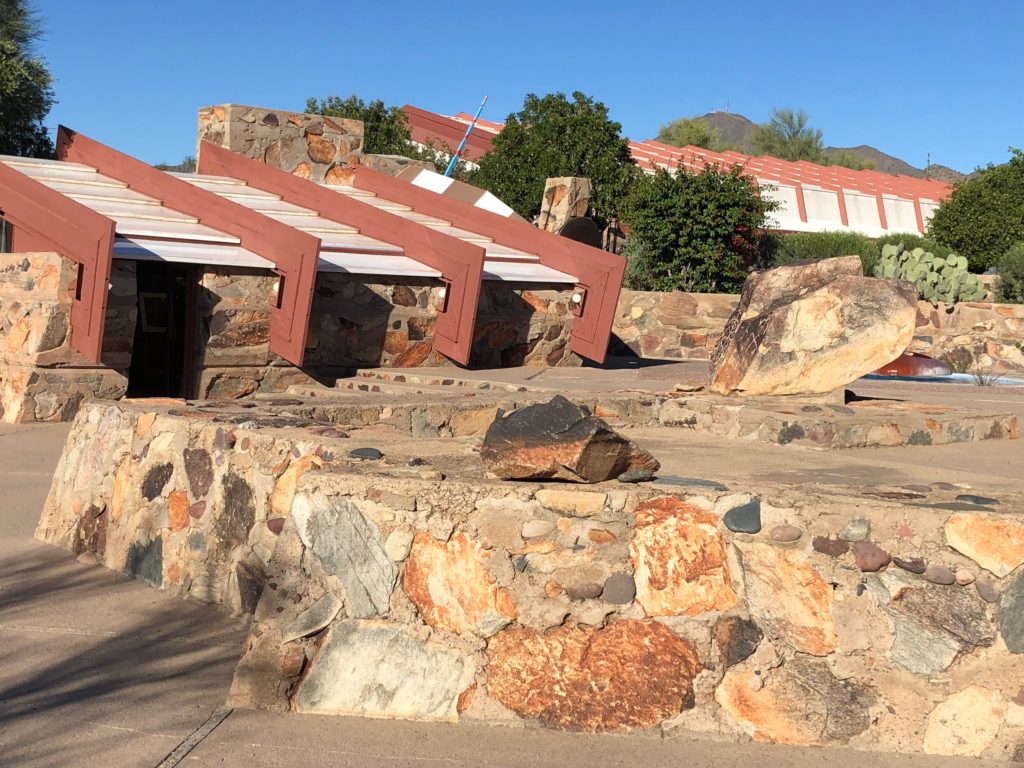 The entrances and connecting passages encourage you to pass quickly through to living spaces with ceilings that are not too high, carpeted floors and walls off which sound does not echo. They are spaces where you'd be content to be alone or be happy with others. Many people could be in the larger spaces with no need to talk loudly to be heard.

The house does not feel separate from its surroundings. It arises from them unobtrusively. I love this place.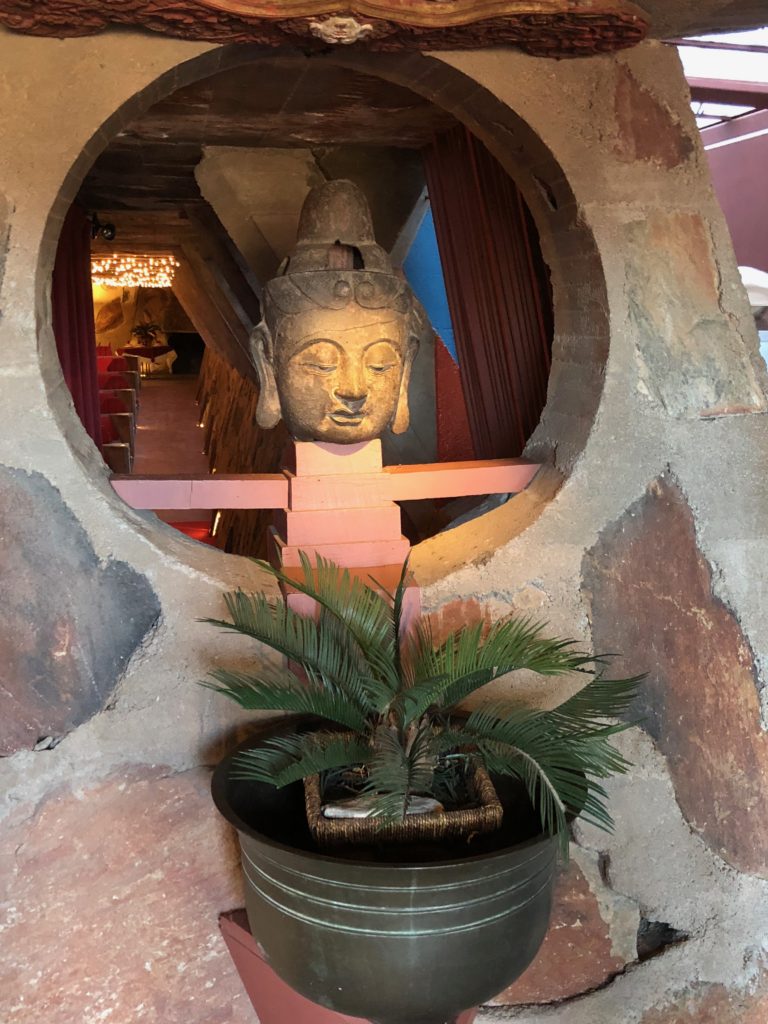 A Tibetan Buddhist long trumpet stands next to the piano in one room. Our excellent guide who knows so much about Wright is happy to know what it is when I ask if he had other things from Tibet. She tells us about the Buddha he brought with him every time he moved between his northern and southern homes.
I ask which biography of him she recommends. Ada Huxtable's is her favorite. I buy a copy.

We drive on to camp at Apache Junction east of Phoenix. Tortilla Flat is not far from here. I'll have to reread Steinbeck.