We head south on Route 90 then Route 67 to Presidio on the Mexican border. The land opens out more and more and becomes grass land. This is not grass as we who live where it rains think of grass, though. It's brown and grows maybe a foot high in wispy patches.

There are a few cattle so it's possible For them to live here but no cow would choose to do so. I take that back. Cows in a concentration camp would relish this freedom. 

Presidio was a bustling small town when Felicity was here a decade or so ago. There was a lot of toing and froing with the small town on the other side of the river. It seemed more like one town then than two.

We're here in part because Felicity wanted to go back to the restaurant where she enjoyed tacos and the company last time. It's different now.

She sits at a table behind two Mexican women who get up and go for salad. An Anglo man comes in and sits at their table with his back to Felicity. "Excuse me. Excuse me" she says but he seems not to hear. The women come back. He seems not to notice. They pick up their glasses and move to a different table as he stares at his cellphone. The waitress moves the rest of their stuff to the women's new table. He orders waffles.

We drive southeast alongside the Rio Grande through a jumble of mountains heavily eroded by humongous floods. Gravel plains are covered with creosote bushes all the way to Terlingua Ghost Town where a bar on a boardwalk faces a dirt parking lot full of assorted vehicles. On the boardwalk are chairs, a man with a guitar and a bunch of folks ready for a good time. It's Saturday night.

Just down the road is BJ's ramshackle Campground. It seems to be the permanent abode of most others here.
Beside the road into Terlingua are some magnificent Texas Longhorns.
Next day – We drive into Big Bend Park, a huge, beautiful array of many kinds of mountains. Different colors, different shapes rising from some flat and mostly undulating gravel plains with washes at the low points. There's not much vegetation apart from creosote bushes. It would be fine hiking country.

The two campsites near the Visitor Center are full. Signs say the others are, too, but the Ranger says that was last night. There could be space now. We drive 35 miles to Castolon and find a good spot under cottonwood trees.

We have lunch then sit in the sun. I want to know who did what to whom in the novel I'm reading but it doesn't grip me.

I have a coughing fit. Haven't had one for a few days. I read more then have a fit starting with an explosion of saliva that lands on the book. I feel annoyed but don't tell myself a story about it. Feelings are a spontaneous response to stimuli. Emotions come later and are stories about feelings we've had before. 

Maybe I'm reacting to the dust out here. I go inside, lie down and do nothing for a while. I have unusually low energy today.

Felicity goes for a walk round the campsite. An Englishman with a VW camper has installed a flat plate on the roof as a platform for his tent. He has a ladder to get up there and tells Felicity no bear has ever climbed it. English men do some very odd things.

Next day – Felicity goes for a walk to the Rio Grande while I allow my formula to settle.

We drive to the Santa Elena Canyon, a spectacular cleft in the mountain through which the Rio Grande flows. The canyon walls are vertical. It doesn't look as if erosion could have been the cause but I don't know what geological event would have this result either.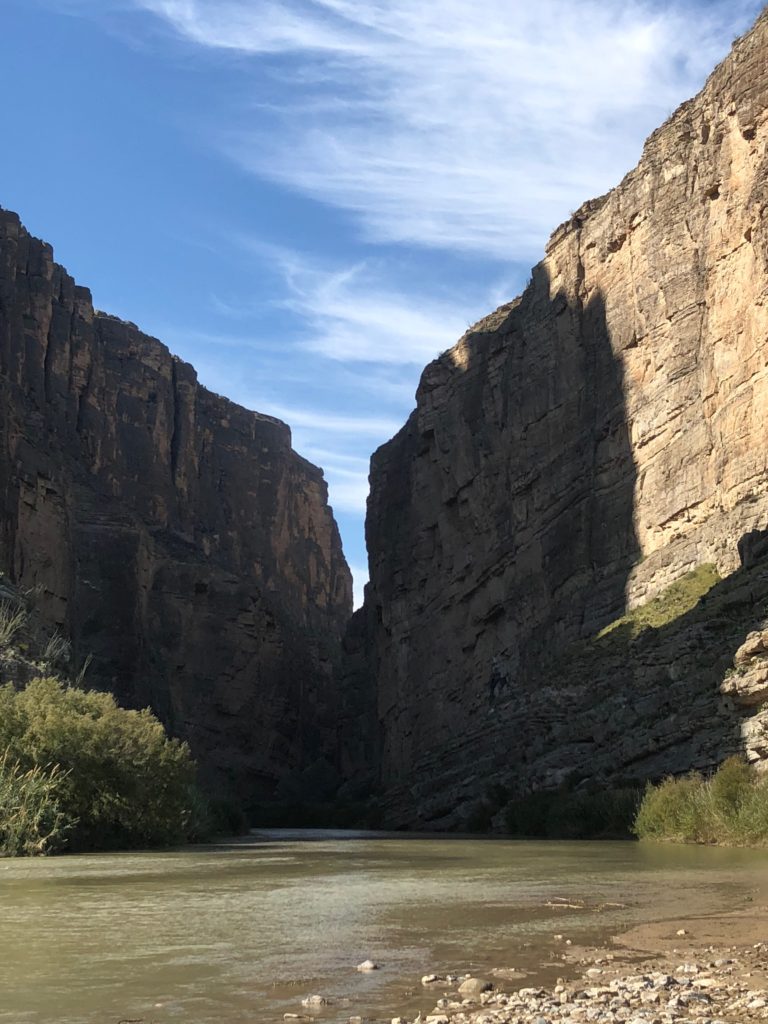 Then to Chisos Basin, a stiff climb through trees, the only forest we've seen anywhere around here, then an equally steep descent into the bowl. Bears and mountain lions live here but we don't see any. The views are spectacular. Neither of us has enough energy to go for a hike.

So we exit Big Bend and drive 70 miles north to Marathon where we camp for the night.  We decide we'll start for Corpus Christi tomorrow. I seem to remember my dad stopped there when they left the farm. I reread the autobiography he wrote after my mom died.

They did stop there and it's the scene of one of the seemingly infinite disappointments he remembered so vividly. He and his dad went fishing and got a good haul then moved to a different spot leaving their catch in a net at the harbor wall. An alligator garfish came and my dad could not get back to the net before the garfish ate them all.

It's interesting to reread the account now. He closes with his feelings about losing my mom. It is the ultimate disappointment. They finally got their little shop in the West Country of England then, within months, she died. He says nothing about mom's hopes or fears, or any other of her feelings. Did he ever ask about them? It's unlikely.

Next day – We drive east on Route 90 through range land where a very few cattle are visible. The ranches must be very large. Suddenly, I remember how my dad used to enjoy singing:

Home, home on the range
Where the deer and the antelope play
Where never is heard
A discouraging word
And the skies are not cloudy all day.

He had a good voice. I tried to sing it several times but it always sounded bad.

Windmills are dotted about, few of them working. A village we pass through advertises a hunters' feast to be held early next month.

The mountains are gone now. The land is flat all the way to the distant horizon in every direction. Gradually the scanty grass is replaced by low growing creosote shrubs. We pass a Border Patrol pickup dragging truck tires to smooth the dirt track alongside the highway. 

Felicity notices on the map that we'll reach Seminole Canyon State Park around lunch time and there are pictoglyphs. We stop. There's a 90 minute guided tour at 3. There's also a campsite with one space left. It would be quite late before we get to the one we were aiming for if we don't start until after 4:30 so we'll stay here tonight.

I haven't listened to Zen and MM for quite a while. I do that while Felicity goes on the tour but it doesn't grip me so I start reading "An Indigenous Peoples' History of the United States".

I imagined the indigenous people of North America to be hunter gatherers in transient small communities. That's what we're meant to think. But the population of what is now the US and Mexico at the end of the 15th century was around 40 million while the entire population of Europe to the Ural Mountains was around 50 million.

A city-state in the Mississippi Valley in the 12th century was home to tens of thousands. That's more than London then. Those communities had correspondingly sophisticated systems of government.

The irrigation system at Casa Grande, for example, where we visited had over 800 miles of trunk canals, the largest of them 20 miles long. They were up to 85 feet across and 20 feet deep. Many were lined with clay to prevent leaking. One of those canal systems alone carried enough water to irrigate ten thousand acres.

Native American society was far from primitive. But invaders with superior weapons established a new origin myth.