The man at the Visitor Center says you can see Japan's north island from the top of the lighthouse on a clear day. This is not one, though, and the lighthouse is closed so the lady shows us on a map how to get to the harbor, a beach and a campsite among redwoods.
First stop the lighthouse. But on the way back to the RV there's a small farmers' market with a single stall of veggies, two with jewelry and stuff made of rope and wood, a taco vendor who I would patronize if I could and a BBQ one where I would get lunch to go. Felicity selects a cinnamon Danish and coffee from the baked goods man.
The lighthouse is a three floor building on an island just offshore that can be accessed at low tide. It's shrouded in mist right now. The fog horn is not there but out on a jetty. On a bluff facing the island Bigfoot is making for a house, not with good intent.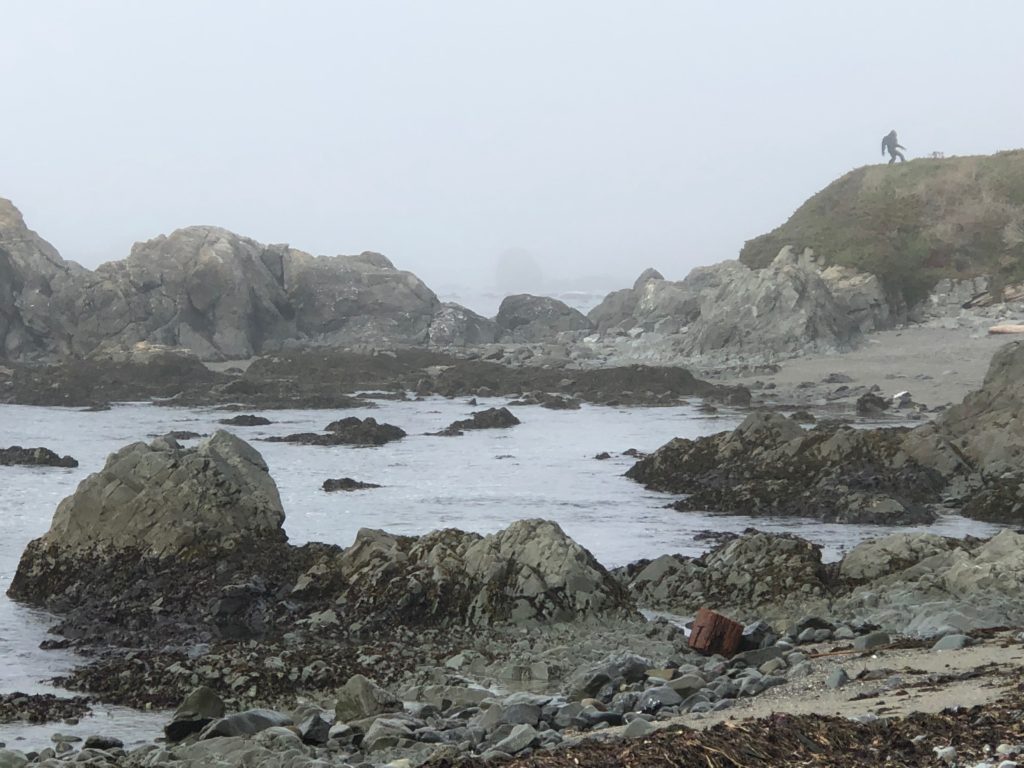 There are many working fishing boats in the harbor. Why is every one of them spotlessly clean?
At the beach Felicity is elated by the big waves. She read about sneaker waves, big ones that come much farther inshore than you expect and sweep you back with them. There's a sign warning that if you feel an earthquake tremor you should immediately go to high ground, which explains road signs that we're in a tsunami area. Plenty of earthquakes in this part of the world.
We drive to a place where Felicity can take a coastal hike. I feel it's better that I conserve my energy so I stay in the rv, do some Buddhist practice then listen to more of Zen And.
Now we go further and are soon in a forest of giant redwoods. There's no way to prepare for the experience. They're gigantic and have been alive so long. They know how things were before Columbus. They stay still with no urge to speak of what they've seen.
Our campsite is very peaceful. No cellphone service so we're off the grid. As Felicity prepares to go for a walk a gray fox trots past.
When Felicity returns she sits outside with a glass of white wine. It's a little chilly so I sit inside and, since it's still afternoon not yet dinner time I have a Deschutes Obsidian Stout. Very tasty. I know because I put my finger in the syringe then run it around my tongue. I can't lick my finger now because my tongue muscles have atrophied.
I drink slowly while continuing to listen to Zen And. He's talking about Phaedrus' puzzlement over quality. I see it as our measure of how close things are to their ideal version. Quality is mysterious only in that the scale has no numerical markings.
Our sense of the ideal is shared to a great extent and it changes as cultures evolve. We usually don't have words to describe our ideal forms adequately but we know when we see, hear or otherwise feel them.
The beer finished, I turn off the audio book and lie down to contemplate further. When Felicity comes in I'm fast asleep. She has dinner while I sleep on. At last I surface, partly. "Did you have dinner?" Thumb down. "You need to eat." I get out my sleeping bag. "Please eat something." I lie down and am unconscious again.
Next day – Felicity was worried that I'm about to need a wheelchair. I resolve to go back to having a beer only when it's almost time to sleep.
We drive to the Big Tree trail after breakfast. The one in question is not necessarily the biggest but it is close to the road. It's almost 300 feet tall despite its top having broken off and it was already tall when Muhammad was born. It's estimated to be 1,500 years old.
We walk the easy circuit through the giant trees. It's remarkably close to silent here, just the call of a few birds. The redwoods grow like very tightly bonded families, younger ones snuggled against the central one.
The first part of our journey onwards is over flat, low fertility land bordered on one side by ocean and on the other by scrubby hills. The second part is through hills densely covered with magnificent evergreens and with a few open areas of light brown grass. I wonder why they exist?
We set up at Leggett around 5:30 in a campsite among redwoods. Felicity learns that it's owned by an 82 year old English woman who bought it twenty years ago. Her staff tried to get her to take a week's vacation this summer but she said she'd go crazy if she didn't stay busy.
Felicity lights a camp fire and I sit with her for quite a while. "Shall I get you a beer?" Thumb down. I don't want to go to sleep again before eating and I don't want to sit outside with a bare belly, anyway. The fire isn't that hot.
Sitting by a camp fire without a beer or snacks is disappointing because I have a concept of how it should be. We must do this more often so I can work on shedding the concept and enjoying the experience just as it is.
Next day – It's a fine sunny day. We'll take a leisurely drive to Mendocino.
I've been measuring my muscle strength for four months now so it's worth looking at the changes. The results vary from day to day so I'll eyeball the averages. That will be okay because I just want to see trends.
Hmmm. My legs are losing strength rapidly.
R quads mid-Jun 85% mid-Oct 50%
L quads 80% -> 60%
R hamstring 80% -> 50%
L hamstring 80% -> 50%
R calves 85% -> 65%
L calves 70% -> 65%
My forearms have lost a lot of strength and my shoulders are also much weaker. Not so much change in the rest of my upper body.
R shoulder 65% -> 50%
L shoulder 60% -> 42%
R chest 45% -> 50%
L chest 40% -> 30%
R biceps 50% -> 43%
L biceps 45% > 43%
R forearm 70% -> 40%
L forearm 60% -> 35%
R triceps 60% -> 55%
L triceps 60% -> 60%
My abs are weaker but the rest of my core seems to be doing reasonably well.
R Abs 60% -> 45%
L Abs 60% -> 40%
R upper back 55% -> 50%
L upper back 50% -> 35%
R lower back 80% -> 80%
L lower back 65% -> 69%
R glutes 90% -> 90%
L glutes 85% -> 80%
I wonder to what extent my legs are weakening because their motor neurons are dying and to what extent because they're getting so little exercise?
It's not far to Mendocino. We stop at several overlooks and a beach. A dog here is very skilled at catching the Frisbee his people throw for him (but I only have video of that).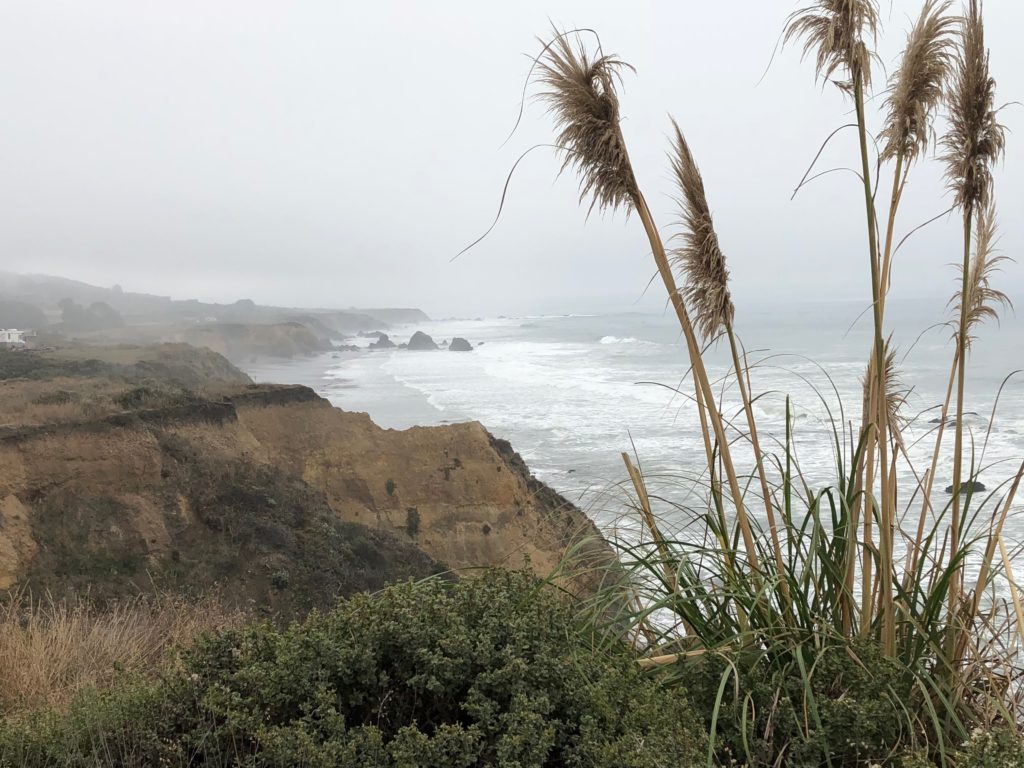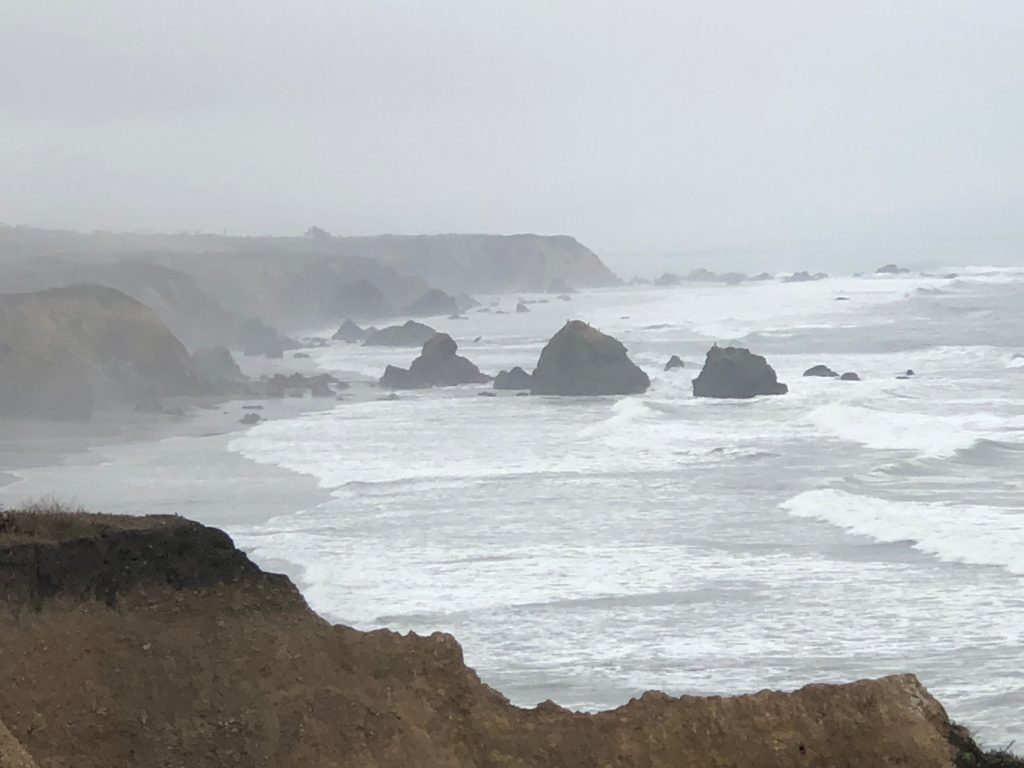 A mile or so south of Mendocino there's a state park just across the road from the beach. This is the place for us for tonight. There's no cellphone service, though, and while I'm content not to know the "news" I do miss virtual contact with my family and friends.
Felicity says my affinity for the redwoods is because neither of us can talk. I still sometimes talk in my dreams though. Do the redwoods? My instinct is they've always chosen silence.
Breakfast time. I grind up my nine Tibetan pills. Later I will take three Western supplements and later still my anti-drooling meds, the Western ALS medicine, the anti-depressant and baby aspirin. Tibetan and Western medicine are sciences in that both are based on experiment and observation. They both have imperfect theories, however, about how the body works. The Tibetan channels, winds and so forth don't make sense to most Westerners but it's also the case that while they are effective, Western medicine's theory about how anti-depressants work is wrong.

Felicity takes her painting gear to the beach. I drive around Mendocino and out to the headland where there's a fine view and cellular access. A pair of divers ask to "leverage my cellphone" and call someone to pick them up. Then three dudes who would have fit here perfectly in the '60s yell to ask if I can jump start their car. I drive over and they're soon back on the road.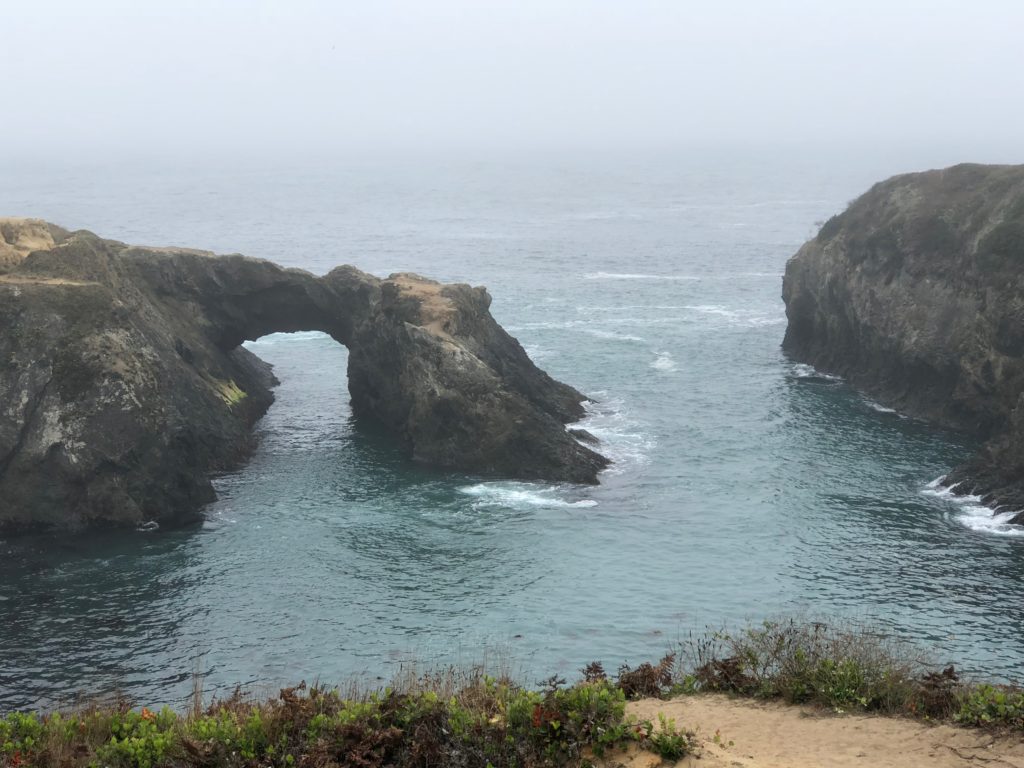 Now I check out the used bookstore. It's not as if I need more books but I get five, anyway. There's a great bonus, too; I get a dog fix. He's shy but he relaxes and is very happy to have his ears whirdled.

The coastal road south is even more winding than I remember but it's not all along the cliff face. I guess I remember it that way because of the one very sharp turn I took too fast in 1970 on what I hadn't noticed was a wet mud slick. The car slid straight toward a plunge into the ocean before the tires bit. I can still see and feel it happening.

The campsite we're aiming for is full but the exuberant Ranger, who must be resting between theatrical gigs, says there's a spot left in the overflow area. Felicity buys firewood and ignites a smoke storm that envelopes our neighbors downwind until one of them comes and sprays her smoldering logs with lighter fluid.

Our upwind neighbors are a very friendly woman who, with her sister, has an event catering business. She lives in town but comes here because she loves camping. She's here with her mom, her mom's female partner and two tiny dogs. The mom gives Felicity a bowl of shrimps cooked in garlic butter. One of the dogs wants to share.

I stay in the rv because it's cold and I'm coughing. Wood smoke would not be helpful. Our female neighbors wave to me with big smiles. I read more about logging in the northwest then switch to an excellent Henning Mankell mystery.

Next day – There's a farmer's market in Bodega so we stop to see what they have and get small gifts for people we will stay with as we continue our trip, I buy a California Delta Blues cd from the performer and Felicity enjoys an ice cream.

The hills further south are mostly cattle pastures. And it's sunny again! Mist is romantic but the sun feels so much better. We drive on and are soon with Doma and our dear friends in El Cerrito. How great to be with them again!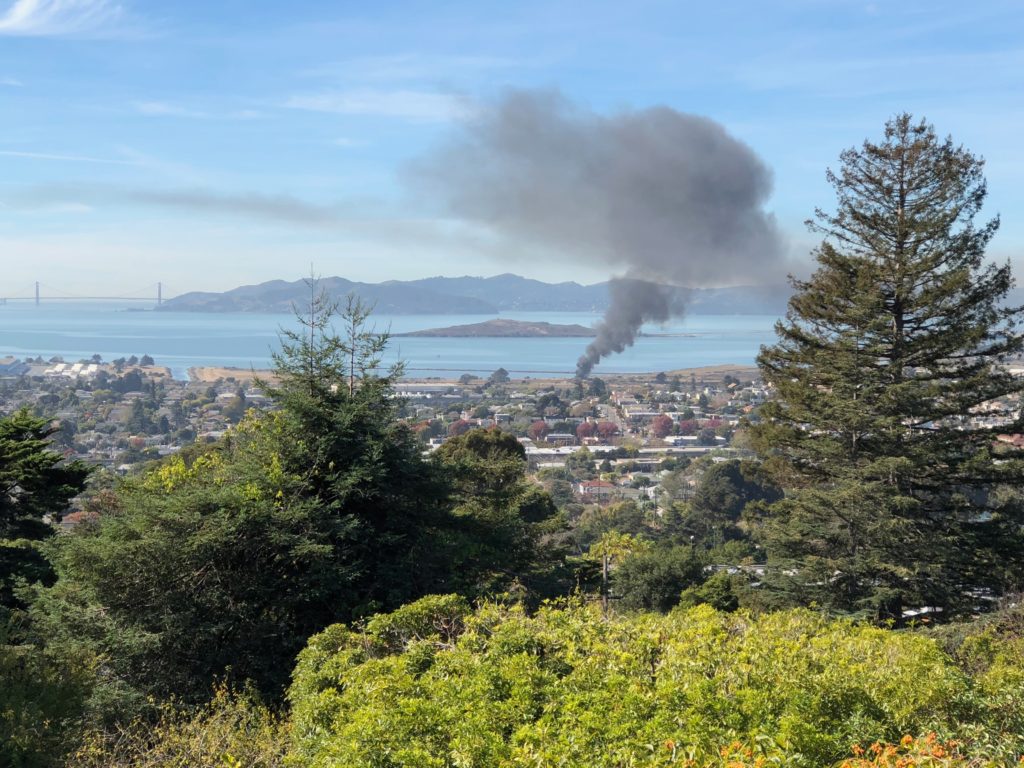 From the balcony, looking out over Oakland, we see a big fire that's unrelated to the devastating forest fires north of here.
Next few days – We're having a lovely time catching up. This could, of course, be the last time I can be with Doma, David and Ilana but it doesn't feel that way and there's no value in fearing that it may be so.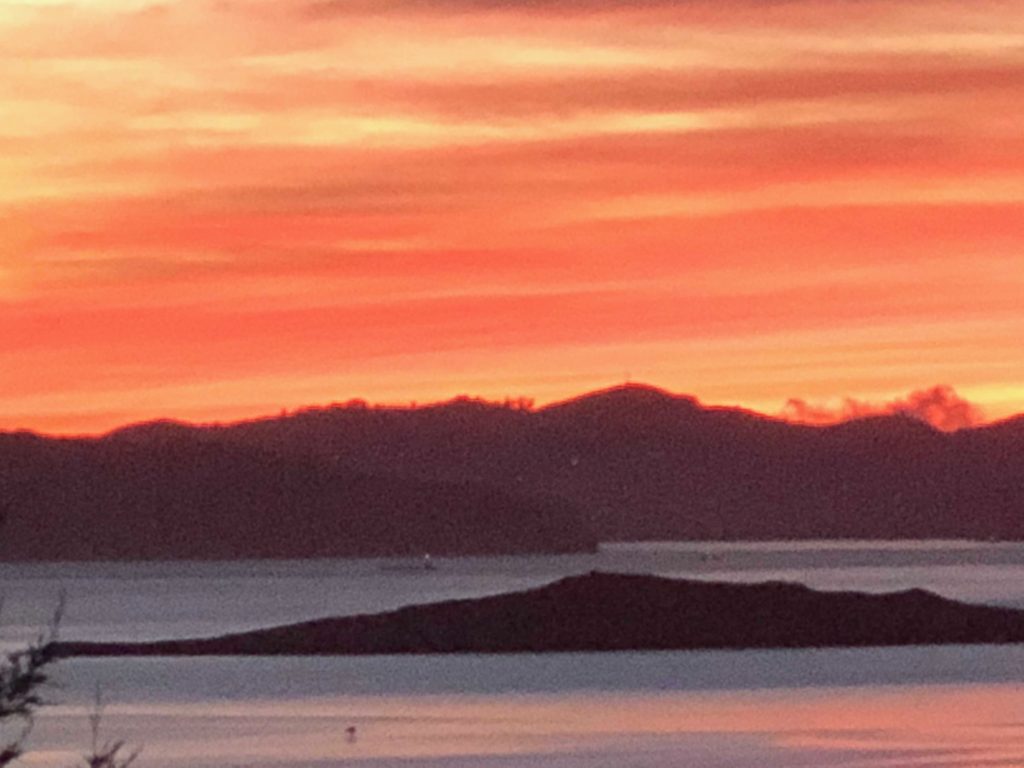 David found a truck repair shop where they're willing to install and calibrate the re-manufactured speedometer module that I had shipped here and we took the rv there this morning. I'll report its health after we're back on the road.