Income inequality is a good thing but, as is proverbial, one can have too much.
We like having more and because working makes that possible, we're motivated to work.  That's a good thing because, although having more won't necessarily make us happy, the way our society works requires us to work.
When there's too much income inequality, however, when a tiny minority has most of the money, the others can't keep buying enough and consumption drops.  Businesses start shedding workers, and money that would have been invested in production moves to secondary assets like stocks whose prices increase because of the new demand.
But enterprises underlying those secondary assets depend on the economy and because that is shrinking, those assets become increasingly over-valued.  When the discrepancy is recognized, the speculative bubble bursts.  Then all but the very rich are in trouble.
That happened in the Great Depression 80-odd years ago and, starting 8-ish years ago, it is happening again.  Our government contained the collapse more effectively this time although its effects continue, but we are now also experiencing a worsening systemic problem.
Our society depends on jobs to supply income, but jobs are disappearing.
What revived our economy from the Great Depression were economic policies that redistributed some of the wealth from the top.  Restoring buying power restored consumption, that restored investing in production, and that created more jobs — a virtuous spiral.   Those policies included Social Security, Medicare, high minimum wages, high marginal tax rates, and strong enforcement of financial regulations.  Eisenhower and Nixon supported and even extended parts of the system Roosevelt initiated that kept investment and consumption in balance.
Then economic policy reversed direction in the 1970s following dramatic cuts in the supply and corresponding increases in the price of oil.  The economy was wounded, according to the new theory, because there was not enough investment and too much consumption.  The indicated new policies included cutting the real value of the minimum wage, cutting welfare spending, cutting taxes on the wealthy, and deregulating the financial sector.  Inequality began to rise again.
That new policy direction was and still is embraced by both Democrats and Republican.  The political shift is detailed in this post but my aim here is to point not to a political but a fundamental change.
I included the leftmost chart below in my 2013 Economic Consequences of Inequality post.  We must also consider the one beside it from the World Wealth and Income Database.  Today's income inequality and under-employment was brought to us by leaders of both political parties, none of which see that we are experiencing a second industrial revolution as momentous as the first.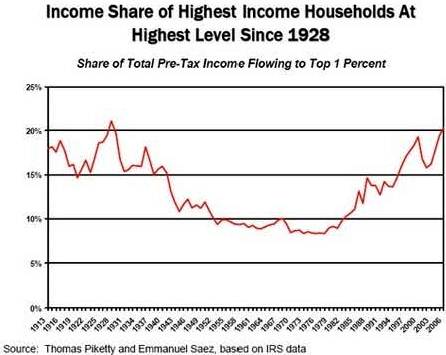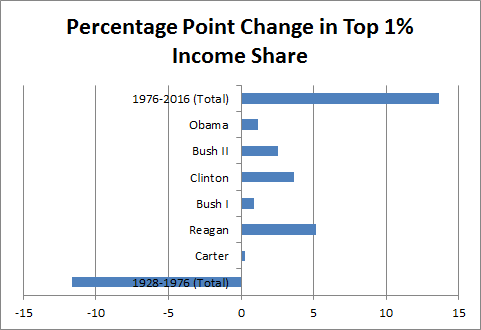 What has already happened is jobs previously done in America went where wages are lower.  What is happening at an increasing rate now is jobs done by humans are going to machines.
Economics researchers studying US Census Bureau data say half of current jobs (47%) can soon be done by machines and this study suggests 81% in the next few decades.  The schedule is arguable but the future of routine jobs is clear — they're going away.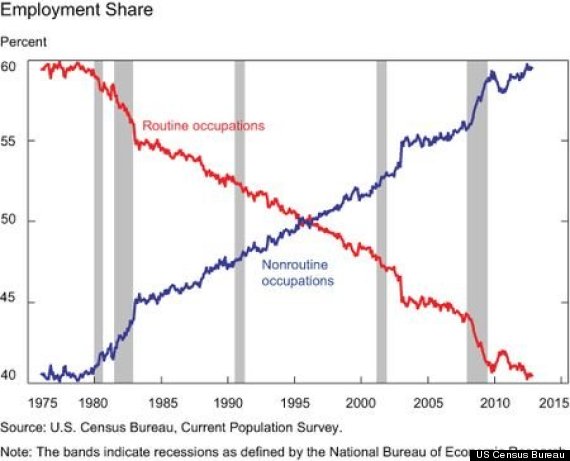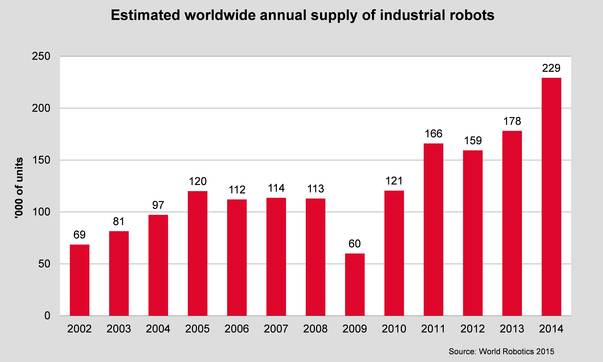 Researchers employing the quadrant chart tool I wrote about here assure us that non-routine jobs will remain beyond the reach of machines.
Watching our washing machine being repaired just now, I thought: "That's something no machine could do. "  But the problem was diagnosed by phone, the part to be replaced was mailed here and washers could be designed to be serviced by robots.  In Japan where many are old enough to need assisted living, much of the care is already provided by smart machines.  Our physical, cognitive and emotional health care needs will increasingly be served by machines.  Robot waiters will attend us and security guards will protect us.  And so on.
Robots could even replace the guys on the freezing mud flats outside my window harvesting clams but it will probably not be worth the investment.  And there will always be jobs for thinking folks like us, right?  In fact, our lives will become ever easier as machines take over all our routine and physical tasks.
Er… why do we imagine we can continue to out-think robots?   Could we not have told sagacious horses looking forward to similar benefits from the first industrial revolution that they never would learn to drive tractors?
Before that revolution 90% of Americans' jobs were in agriculture, 3% now.  It didn't happen suddenly.  Engines were used the same way as horses for fifty years before methods of farming changed at an increasing pace to exploit the new potential of engines.
We're now in the second half of the second industrial revolution.  Computers began to be used for routine tasks more than seventy years ago and I was managing development of a communications grid based on the same technology as the Internet 45 years ago.  The great majority of jobs presently done by humans will again disappear.
What will happen when there are only jobs for a very few?  There must be a new foundation for the economy if there are too few new jobs for humans.  There will be no choice but to redistribute part of the profits from owners of machines to others so they can pay for the machines' products and services.  There would otherwise be no profits.
Inevitable as it may be in the longer term, redistribution like that would, with good reason, be feared by the wealthy.  It could go too far.  The interim step, if the system dominated by "too big to fail" financial enterprises continues to collapse, will likely be a repeat of the Great Depression work programs.
We may at long last restore our transportation and other infrastructure on the way to an economic future whose structure we cannot yet discern.