Twenty young children were shot to death last week in Newtown CT where I lived for 35 years.  Setting aside the emotion, why do these things happen and what can we do?  The NRA says we should place armed guards in every school.  Others say we should ban guns, we need more religion, we should ban violent video games.   What do the statistics suggest?
The following table of UN data shows our results in the context of  some other countries for the past decade.  We average around 5 homicides (intentional killings) per one hundred thousand people per year.   Because there are more than 300 million of us that means we have around 15,000 homicides per year.  Because Canada's 35 million population is only about a tenth of ours and their homicide rate is one third of ours, they have only 550 homicides per year.  Our other neighbor, Mexico, has a population of 115 million.  Because their homicide rate was twice as high as ours at the start of the decade and is now over four times as high, they have over twice as many homicides as we do, 27,000 last year.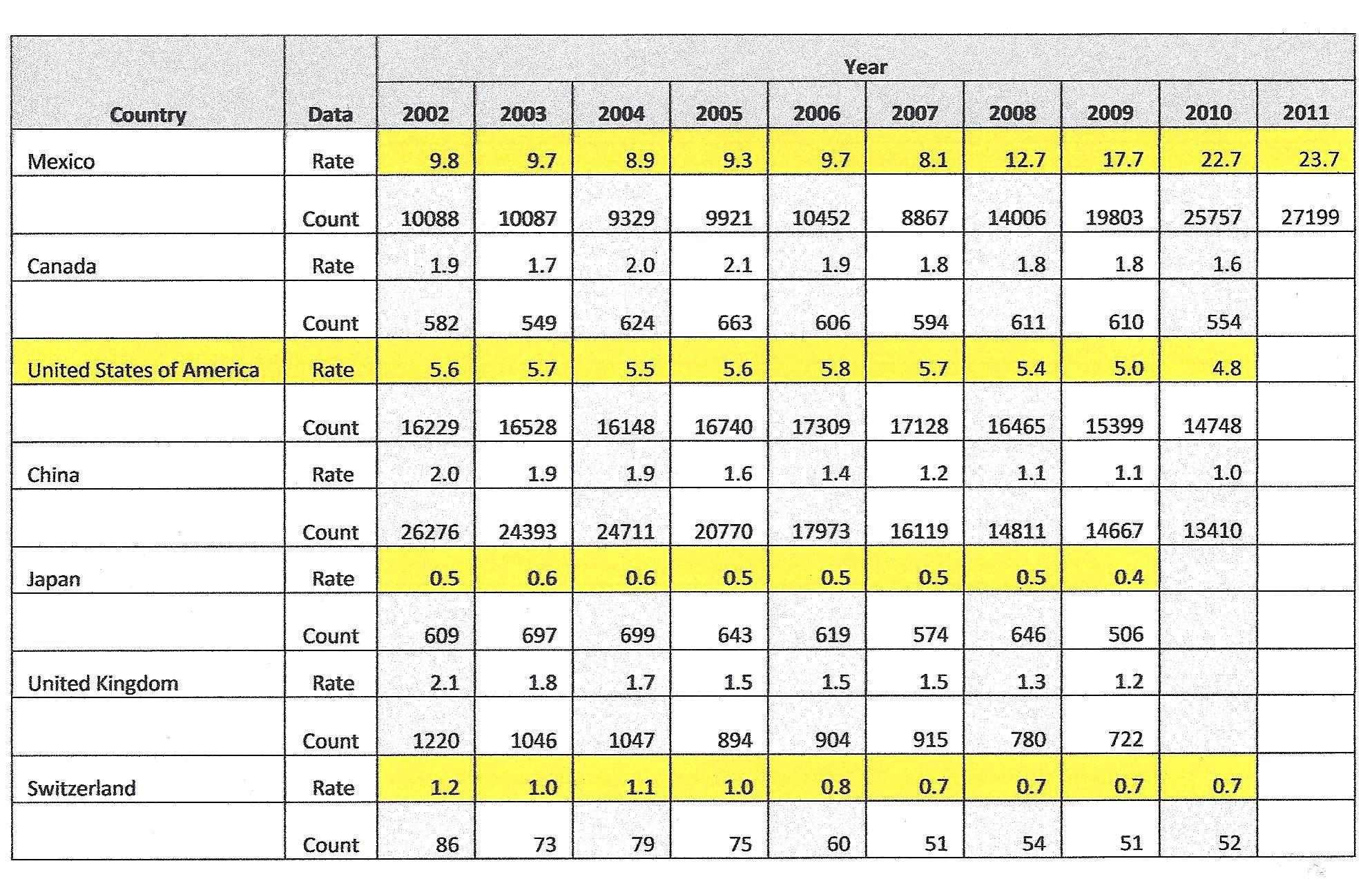 The rate in the UK was one third as high as ours, about the same as Canada's, at the start of the decade and is now only a quarter.  China's rate is about the same as the UK's and has dropped in the same way.  Switzerland has a much lower rate, around one seventh of ours.  Japan has by far the lowest.  It is stable at around one tenth of ours per capita.
How about homicides specifically by firearms?  Are the rates of  those homicides correlated with gun ownership, religious practice or video game spending?  The following table combines statistics from several well respected sources.  The data are not all from the same year (the range is 2007 to 2011) and the number who practice religion is self-reported census data so it should be taken with a grain of salt.  Nonetheless, the data are dependable enough to support some conclusions.  One thing that stands out is our very high rate of homicides by firearm, almost 300 times as high as the rate in Japan.

Our rate of firearm ownership is also by far the highest.  Our 270,000 thousand firearms in civilian possession means we have almost 90% as many firearms as people.  The most interesting statistic in this column is Switzerland's 46% rate.  Switzerland has no standing army, only a peoples' militia for its national defense, the vast majority of men between the ages of 20 and 30 undergo military training, including weapons training, and their weapons are kept at home as part of their military obligations.  Their gun ownership rate is half ours, their percentage of homicides by firearm is similar to ours, but their firearm homicide rate is one quarter of ours.  Even so, it is twice as high as Canada's and enormously higher than the rates in the UK and Japan.
These firearm-related statistics show that a higher rate of gun ownership is correlated with a higher percentage of homicides by firearm and that tighter gun control legislation, e.g., Switzerland's vs ours, leads to a relatively lower rate.  The first table shows that there is from country to country a much wider range of homicides by all causes.  The rate in Mexico, for example, is 40 to 50 times as high as in Japan while ours is 10 times as high.   Those big differences must result from a combination of situational and cultural factors.  Criminalization of our insatiable appetite for drugs, for example, which makes smuggling so profitable, is one cause of Mexico's violence.
Is religious instruction a way to reduce violence?  The statistics say otherwise.  Two thirds of Americans report themselves as religious practitioners, significantly more than other countries.  Only 29% of Japanese identify themselves as followers of a religion despite their very low homicide rate.
Violent video games and movies are also blamed but again the statistics say otherwise.  The nations with the lowest firearm homicide rates, Japan and the UK, are among the highest spenders on video games.
So what does the data suggest we should do?  While the data tells us we cannot eliminate homicide, we know we can eliminate the kind of homicide in my home town last week by banning civilian possession of automatic weapons, the only weapons making that kind of massacre possible.  As noted in my previous post, the writers of the 2nd Amendment gave us the right to bear the arms of their time, single shot firearms.  They did not intend for civilians to have grenades or automatic firearms.  We don't claim a right to bear grenades.  We should not claim a right to bear other such weaponry.
The second table shows a clear correlation between the number of firearms in civilian hands and the rate of homicides by firearms.  While Switzerland's overall homicide rate is lower than relatively peaceful China, Canada and the UK, a high percentage of them is by firearms.  Only Japan has a significantly lower overall homicide rate than Switzerland.  This says we could significantly cut our overall homicide rate by implementing tougher gun control as Switzerland does, and cut it even more with stricter control as in Japan.  More religion or less video games are not indicated.  Better mental healthcare is indicated although I have not assembled the stats.
Statistics alone can not show us how to cut our homicide rate tenfold or even further.  They give us a first answer to "why do these things happen and what can we do?" but shed no light on the root cause of homicide.  Why, for example, do so many of us feel the need for weapons?  My Swedish classmate Peter asks us about Buddhist practitioners who, when they go alone deep into the jungle to meditate, take a weapon.  "What if I'm attacked by a robber or a bear" they think?  They hope their meditation practice will in the end remove the cause of their fears.  They expect their fear of attack while meditating will make it less effective and hope a weapon in the meantime will help them focus.  More dramatically, my American friend Sean pretends to propose a Federal program to arm every schoolchild with an automatic weapon for self-defense.  We can (I hope)  all agree that would be a crazy response to our fears.  Maybe we can reflect and find some of our own crazy ideas that make us all vulnerable to causing violence.
But we can in any case see what to do to make an immediate big difference.  We must update our approach to gun control.  With well written and well enforced legislation we could eliminate the Newtown type of massacre altogether and cut our overall homicide rate by at least half.  There is no benefit to society in not doing that.