I was going to call these posts "Chaos in Nepal" but that implies chaos is unusual here.
Oct 2 – Doma's mom meets me at the airport in a taxi and we speed off to where I'll stay until classes start.  There's so little traffic!  That's because almost no gasoline is coming from India.
What damage was done by the earthquakes?  I see no damaged buildings on the way from the airport.  Most buildings in Kathmandu are relatively new reinforced concrete post and beam construction with three floors or less and most of them survived with at worst a few cracks in the single layer brick walls or the ground floor.  This undamaged one is getting an additional story.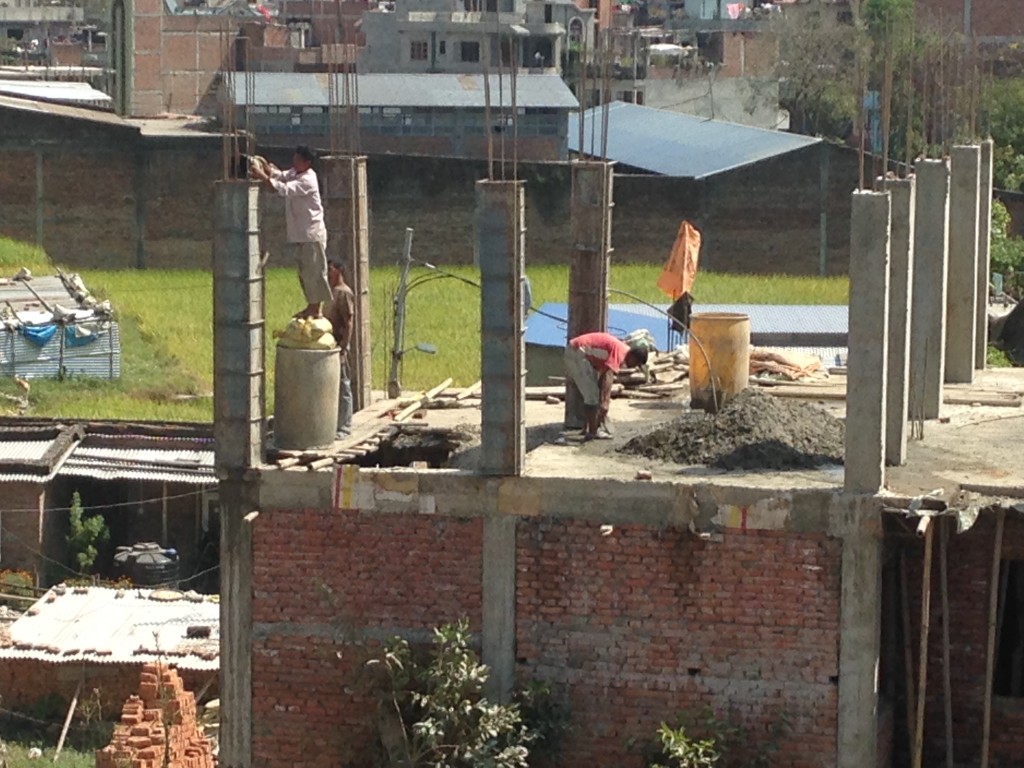 But it's very different in the villages higher up.  Most houses there have traditional wood frames and mud walls.  Almost every building in Doma's grandmother's village was destroyed.
I check in to the Tibetan-operated Ti-Se Guest House then walk over to the great stupa.  The top must be rebuilt but the buildings around all seem OK.  People are walking reverently round the stupa as usual, and the pigeons are being fed.
A blind Sherpa with his Tibetan style guitar in one of the side roads is singing that all of us are in the light while he is in darkness.  He seems accepting.
Oct 7 –  The kitchen is dark when I come downstairs for my dinner of steamed veg. momos (similar to Chinese dumplings) and Tibetan butter tea — it's not a conscious decision: I just don't eat meat while I'm here for Buddhist teachings.
I assume it's dark because hydro plants that accounted for 12% of Nepal's theoretical capacity were knocked out by the earthquakes and will not be repaired soon.  The rainy season only just ended and there's already no electricity 8 hours a day. There'll be none for 16 hours a day when the rivers run low a few months from now.
The young woman at the front desk says the generator will be started soon and takes my order, then we chat.  She recently got a psychology degree in India and very much wants to help women and children here.  Mental illness is very stigmatized in Nepal, though, so how to start?  She will try offering counseling to schoolchildren without pay for a few months to demonstrate the value.
She says Nepal is a mess that's growing rapidly worse, which makes it all the more urgent to help.   She is especially troubled that people now identify themselves by their religion and regard followers of other religions as enemies.
There has been no progress on the blockade. Private citizens can't buy gas at all now, taxis get 10 liters per week, microbuses 15 liters every other day.  The politicians are doing nothing but jostle for position in the next government.  They say they can't do anything because there isn't yet a government, they were only elected to develop the Constitution.  Meanwhile, the shortage of daily essentials is fast growing worse.  I'd be worried about rioting but Nepalis are all too used to suffering.