Turkey, bordered by water on three sides and high mountains in the east, has lowland only on the coast.  About one sixth of its land can support agriculture, another sixth grazing.  Mountain ridges form a belt just south of the Black Sea.  A ridge in the south borders a central massif in the west and joins the northern mountains in the east.  Narrow straits in the east give Turkey control of the only outlet from the Black Sea.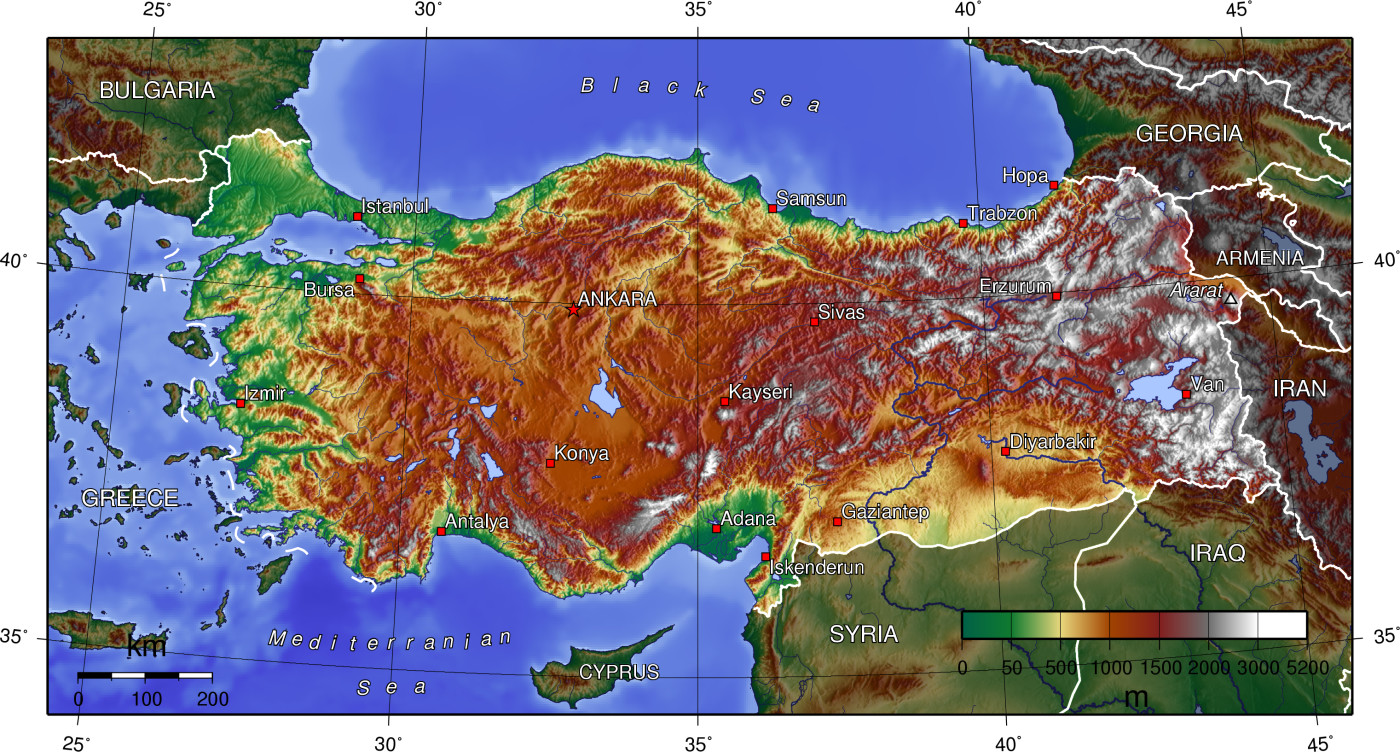 Control of the Turkish Straits is valuable because they provide Russia's only year-round ocean access.  Its navy is based on the Crimean Peninsula of Ukraine.  The Straits also offer the only maritime trade route for Romania, Ukraine, Georgia and their neighbors.  International treaties govern what warships can use the Straits and Turkey's rights to control the passage.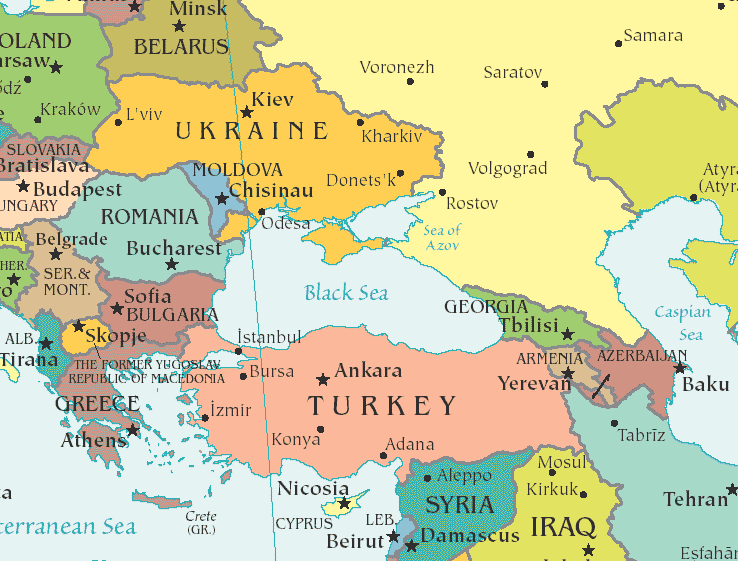 Turkey is where Silk Road routes linked Asian and European traders.  Trade for Chinese silk that began in the Han Dynasty (206 BC – 220 AD) expanded enormously enabling Islamic Empires to become the world's greatest economic power in the 7th-13th centuries when their trade network covered much of Asia, Africa and Europe.  Cultures carried via the Silk Road helped shape the civilizations of China, India, Iran, Arabia and Europe.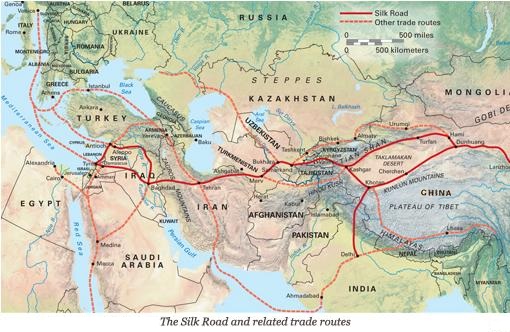 Turks from Mongolia, Kazakhstan and other 'stans began moving west long ago.  Some settled along the way.  Others went on to Anatolia, today's Turkey, to establish what became the Ottoman Empire (1299-1922).  Many of them continued to live as nomads or moved seasonally between upland and plain in eastern Anatolia but three quarters of the population now is urban.  Almost a fifth of Turkey's population are Kurds, an ethnic Iranian people, in eastern Anatolia.
The head of state  of the Ottoman Empire was also its religious leader.  Administrative, economic and political systems were guided by Islam, but non-Muslims had substantial religious freedom under the "millet" system that protected Christians in Zoroastrian Iran a thousand years earlier and was retained after the Islamic conquest.  Christians flourished under that system and sent missionaries via the Silk Road even to China and India.
The headman of a millet collected and distributed taxes and set laws for his people based on religion.  All Christians, for example, throughout the Empire were part of the Christian millet.  There was no citizenship based on location within the Empire, nor any ethnic separation.  People of every ethnic background in a millet had the same rights and privileges.  The law of the injured party's millet was applied to crimes by those from a different millet.
The Ottoman Empire peaked in the 16th and 17th centuries after advancing northwest through Greece and Ukraine and southeast into Iran, and gaining control of the Mediterranean and of trade with east Asia via the Indian ocean.  It lost territory piecemeal in the 18th and 19th centuries then, faced with losses on every side, allied with Germany in WW1.  The Empire was utterly destroyed and Turkey was occupied  by the victors.  They were driven out in 1922 and Turkey became independent the next year.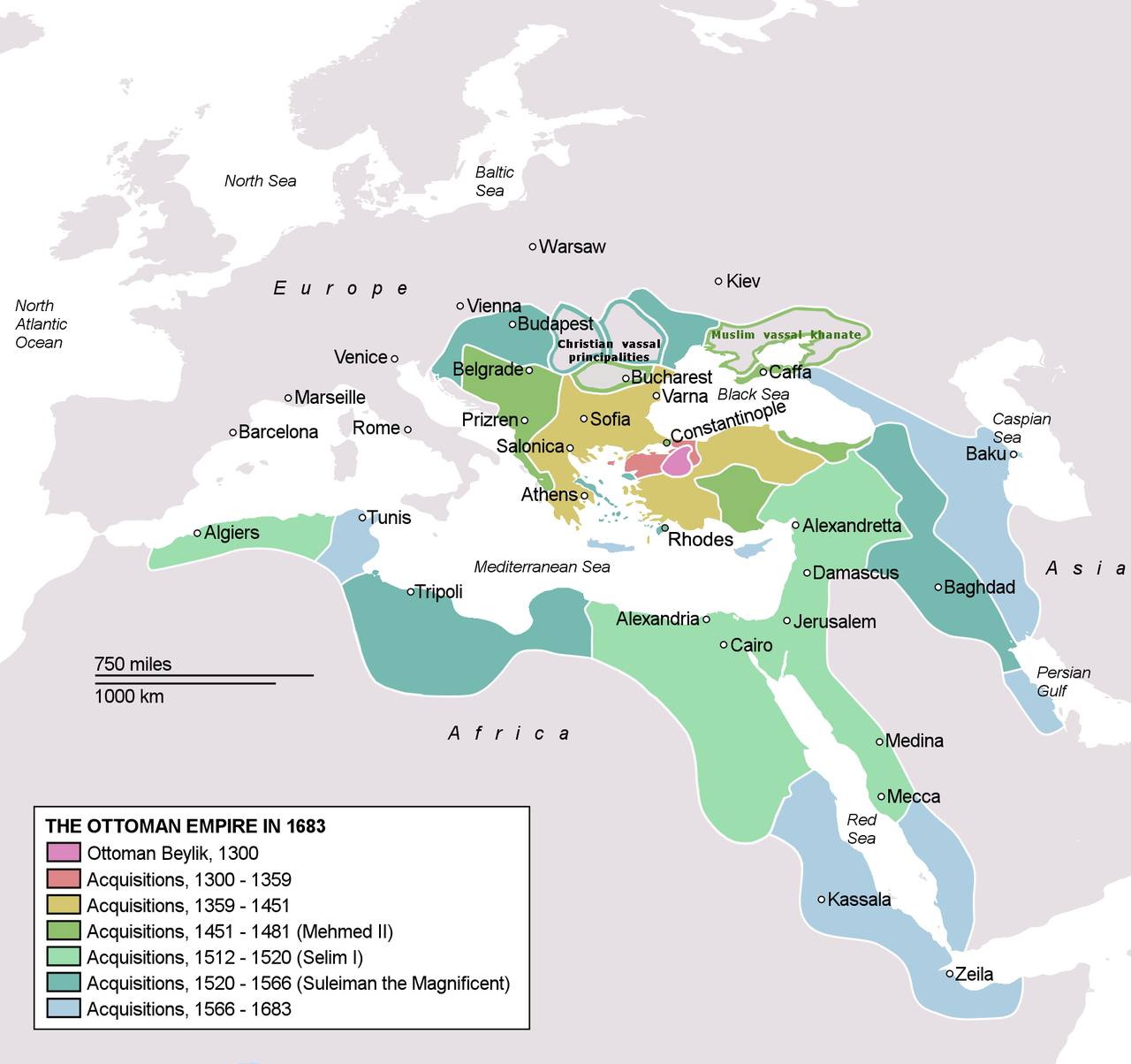 The new government was led by Mustafa Kemel Atatürk who replaced Islamic law with a secular civil code, gave women full political rights, and gave Turkey its alphabet along with many other reforms.  Ataturk means "Father of the Turks".  He is the one who gave Turks their identity, and he remains a strong force even though he died in 1938.
Ataturk established many political freedoms although his was the only political party.  His successor established multi-party elections at the end of WW2, in which Turkey was neutral.  When the Soviet Union tried in 1947 to establish bases in the straits between the Black Sea and the Mediterranean, the US guaranteed to defend Turkey and Greece militarily.
True multi-party democracy began in 1950 but it was interrupted by military coups in 1960, 1971 and 1980.  Turkey's military leaders saw themselves as responsible for protecting Ataturk's secular state by replacing governments when necessary as a short term corrective.
The 1950-60 government had relaxed Ataturk's restrictions on Islam.  Then, after short-lived economic growth, it took on huge debt that led to high inflation and dissent that it tried to quell with censorship.  The military took over and executed the Prime Minister.  Unstable civilian governments resumed in 1961, with another coup in 1971.  Violent clashes between ultra-nationalists and communists led to another military coup in 1980 and imposition of martial law throughout the country.
A one-party civilian government supervised closely by the military was established in 1983 and the economy boomed.  Kurdish separatists began an insurrection in 1984 which the government first tried to counter with local paramilitary militias.  In 1987, they placed the entire southeast under emergency legislation that stayed in force until 2002.  Political instability returned in the 1990s.  In 1997, the military forced the Prime Minister to resign, deeming his religious policies a threat to Turkey's secular nature.
The next government reformed the economy, established human rights laws and began positioning Turkey for membership in the European Union, then the economy faltered again.  Another new government formed in 2002 under Recep Tayyip Erdogan has remained in power.  It arrested military leaders in 2008 and 2010, accusing them of plotting to overthrow the government.
Erdogan's Justice and Development Party (AKP — Ak means "light" ) is oppressive, corrupt and may be aiming to reestablish an Islamic state.  A 2013 corruption scandal that led to arrests of his close allies provoked riots across the country.  Erdoğan claimed an attempted coup and blocked Twitter and YouTube when he was incriminated in a recording released on the Internet.  Media censorship, electoral fraud, and general disregard for law have branded him in many eyes as a dictator.  Western media are mostly supportive.
The challenges for Turkey are to establish a government that does not depend on military approval and is responsive to civil rights demands from all parts of society, especially Kurds in the east who feel closer to their fellows in Iraq and Iran.  Erdogan's strategy is the usual strongman approach.  Turkey may not in fact have a better future without its secular military leaders.
Turkey's relative advantage is that its geographic borders do make it a natural nation state unlike Iraq, Syria and others to its south whose territory was defined in the 19th and early 20th centuries by colonial powers with a ruler.
But what is a nation state?  State implies territory and nation implies culture, so a nation state implies a territory with a common culture.  Several states in this series of posts are multi-ethnic and/or multi-cultural.  They do not have the common culture that makes for a natural nation state and unlike the Ottoman Empire, they have no system to accommodate diversity.
The nation state idea arose from Romantic Age fantasies about racial heritage in early 19th century Europe.  States were replacing dynastic monarchies whose territory had often changed with the marriage of a king's daughter.  Many states came to embrace ideas about the unique and superior nature of the people within their "traditional" borders.  The concept evolved in the 20th century into the idea of a fatherland, and that led to genocide in some nation states along with a world war over territory.
A different concept of nationalism arose in the second half of the 19th century as the Ottoman Empire declined.  Europe's great nations were thriving as nation states, why not Arab nations, too?  In the early 20th century when much of the Arab world fell  to Europe's colonial empires, the idea grew stronger.  All Arabs wanted the colonial powers gone — many wanted to replace their form of rule with a federation of Arab governments.
When Arab independence came, mostly during or after WW2 and often with a ruler chosen by their imperial master, Egypt, Syria and Iraq made an abortive federation agreement, and there were other attempts, but local priorities and the drive for power always prevailed.
In fact, independent Turkey would never have allied closely with its Arab neighbors whether or not they united, nor would Turkey ally closely with Iran, and neither would Iran with the Arab world.  There's simply too little history of good self-government, or willingness to trust.
Unsurprisingly, most post-Ottoman states have been stable only under a dictator whose military power subdued ethnic and religious rivalry within an arbitrarily defined territory.
So, how does the future look for Turkey and its neighbors?  Turkey and Iran have good potential as nation states.  Recently independent Kurdistan may have, too, but it has no natural borders.  Syria and Iraq are on the brink of fragmentation.  The Islamic State has no territorial or ethnic history, but its leaders may be sufficiently brutal to thrive for a time.
It is hard for Westerners to see a good future for the people of this area because we can no longer imagine any system of government other than nation states.  We think dynastic monarchies in the Middle East just need to become secular democratic republics like ours.  But the Ottoman millet system, for example, worked better than most nation states.
Hamilton argued in Federalist Paper 25 that power-seeking leaders of US states would make war on each other if they had military capability.  These nation states are doing exactly that.  We should stop arming them to escalate battles we do not understand.
We must also recognize that centuries of abuse by Europe's colonial powers and now our own wars in Iraq and elsewhere have bred deep and inevitable mistrust of whatever help we may offer.