Spring had come at last.  It wasn't cold outside and it was good driving my convertible again, but it wasn't really warm so after a while I turned on the heater.
A mile or two down the road I noticed wisps of steam.  I drove on.  The steam grew thicker.  "It would be good to get an oil change, anyway," I thought.  "I'll take it to the shop now in case this is smoke."
The cabin was full of smoke as I turned into the lot so I shifted into neutral, turned off the ignition and cruised the rest of the way.  No flames were to be seen but as I opened the door I said to the mechanic standing outside the office, "Excuse me.  I think my car's on fire."
There never were any visible flames, perhaps because the fire truck came quickly, but sadly, the wiring harness was destroyed and the car was totaled.  Thinking about it all later, I decided not to get into such a situation again, and to get out of the car and call 911 if I ever did.
President Kennedy came to a similar conclusion soon after he succeeded President Eisenhower who in his January 17, 1961 farewell address warned (see page 15 of his annotated reading copy or watch him deliver the speech), "we must guard against the acquisition of unwarranted influence, whether sought or unsought, by the military-industrial complex."
In President Kennedy's September 25, 1961 address to the UN he said:  "Today, every inhabitant of this planet must contemplate the day when this planet may no longer be habitable.  Every man, woman and child lives under a nuclear sword of Damocles, hanging by the slenderest of threads, capable of being cut at any moment by accident or miscalculation or by madness."  (See the full speech here)
Then came the October 16–28, 1962 Cuban Missile Crisis.  One thing had led to another until, very soon, the missiles would have been on their way.  Hundred of millions would have been killed outright.  Life of any kind could have become impossible.
A year earlier Kennedy had said at the UN, "a nuclear disaster, spread by wind and water and fear, could well engulf the great and the small, the rich and the poor, the committed and the uncommitted alike.  Mankind must put an end to war–or war will put an end to mankind."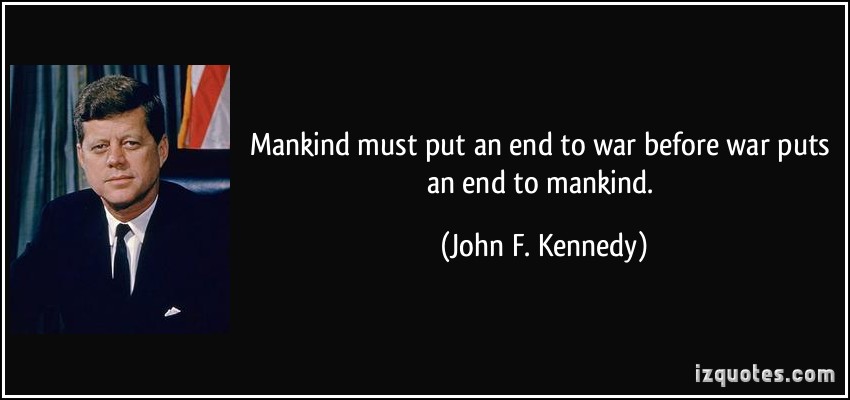 Perhaps the prospect of nuclear disaster still seemed theoretical in 1961.  It became utter conviction after October 1962.  The situation in which he found himself haunted Kennedy from then on.  He strove, in secret dialog with Soviet premier Khrushchev, to wind down the arms race and end the Cold War.
Those of us who lived through the 1960s have not forgotten that lesson.  Well, many of us at least have not.  So it is bewildering and piercingly sad that presidential candidates saying things like the following could now be applauded:
Candidate Cruz: "We will carpet bomb [ISIS] into oblivion.  I don't know if sand can glow in the dark, but we're going to find out."
Candidate Rubio "will destroy terrorists overseas by authorizing whatever tools our commanders need."
Candidate Trump:  "ISIS is making a tremendous amount of money because of the oil that they took away …  I would bomb the shit out of them."
That's why we cannot ignore such things as President Obama's approval of a plan to deploy a new generation of nuclear weapons, over a trillion dollars worth of them.
Perhaps we will not elect a President this year who is eager to launch such weapons.  But the way to bet is, one day we will.
I want my grandchildren and every other child to live long and happily.  That will not happen if we continue to manufacture and distribute weapons of mass destruction.