September 6, 2018 — We drove west from Gettysburg through fine farm country and beautiful mountain forests, passed the sign for California and stopped in Washington. All in Pennsylvania. Tomorrow we'll do some exploration in Pittsburgh which is just down the road. 
September 7 and 8, 2018 – I hadn't yet started writing daily notes or taking pictures so these two days are lost 🙁
September 9, 2018 — On our way to Toledo, Ohio we stopped off by chance at the village of Zoar, a German village. 
The Lutheran Church treated dissenters harshly in early 1800s Germany and those in the south suffered greatly also in the Napoleonic wars. When in 1816 the king allowed emigration, 300 villagers from there who practiced a semi-mystical form of Christianity with a great emphasis on individual piety left for America.
Helped by a loan from Quakers they bought 5,500 acres in Ohio but their first winter was devastating so, unable to survive independently, they formed a community where all worked for the common good and there was no private property. 
Three years later they forbade married couples from living together. Their religion required celibacy but the practical issue was they needed the women as well as the men for work in the fields. Pregnancy and children were unaffordable. Marriages were allowed a few years later but the children were raised in nurseries and saw their parents only in church. They were schooled in German.
The community established a flour mill, iron furnace, tin shop, wagon factory and other businesses and developed steadily until its elected leader died in 1853. Although nobody with the same charisma and administrative abilities emerged to replace him, they kept going for another 45 years.
By then the third generation had seen how others were living and they wanted freedom and their own things. So the community's assets were divided up and distributed to all and Zoar became a village surrounded by farms just like any other.
I was struck by how German it all was. The quality of the buildings and cabinetry is very fine, simple designs executed with precision. The children were taught in German.
The Civil War was a great challenge for the community because they were pacifists. With no better choice, they paid other young men to fight for the North instead of their own.
I thought about WW1. Schooled in England and knowing my dad lived in Ohio until he graduated from High School, that America had gained independence from British rule and Americans speak English, it seemed odd that it took so long for them to join the battle against Germany. How ignorant we are if we don't travel.
September 10, 2018 — Tonight we're in Munising on Michigan's upper peninsula on the south shore of Lake Superior.  
Driving just over 1,000 miles so far has turned out to be quite relaxing. I feel the same as I used to before ALS, not conscious of my weakness. If anything I feel better, apart from the dribbling and coughing, because I set the cruise control to 55. The engine and drive train are 23 years old and they have a heavy load to propel so it's good to be gentle and I can relax along with them. Here's our home for the next couple of months: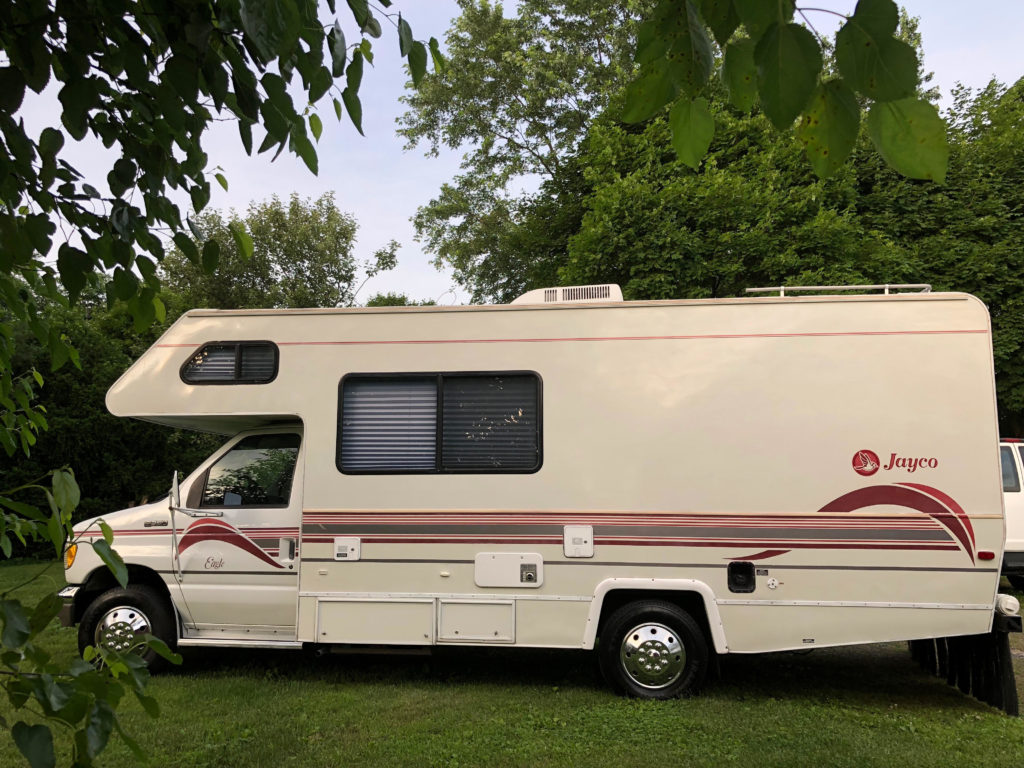 Upper Michigan feels like Cape Cod recast on a giant scale and before people came. There are some settlements, of course, along with abandoned properties along the way. A big hand lettered sign just off the highway read: "WIFE COME HOME. WILL SELL HOUSE". Beside it was another sign: "OBEY WIFE OR ELSE".
Why do I say it's like Cape Cod? Because we always try to fit our new experiences into existing concepts.
I'd never thought much about ice breakers. We toured one today, the biggest ever, built in 1943 to keep Detroit's and other factories supplied most of the year. It had a crew of 75.
It has six giant 10 cylinder diesel engines that drive electric motors which drive the propellers. The ice on the Great Lakes tends to be a couple of feet thick and it can easily be many times thicker after storms break it up and pile it in layers. Decoupling the diesels from the drive train lets them stay at the same high rpm despite varying pressure at the bow, the same idea as railroad engines.
It's obvious but I also hadn't thought about what ice breakers actually do, open lanes just wide enough for merchant ships and keep running back and forth to keep them open. This ice breaker was built too wide for the canals between here and the ocean so it could not be captured during the war.
I notice I get pleasure from roadside billboards advertising meatloaf dinners, egg, bacon and home fry breakfasts, footlong spicy Italian subs for lunch, and so on. It doesn't matter that I can never eat any of them again.
Up here pasties are popular. I love pasties, but… Smoked fish is also available all along the shore. I do hope to puree some of that. The fragrance of smoked fish will surely rise up my throat.
We'll stay here tomorrow and go on a boat ride to view rock formations and waterfalls.
I've been able to sleep all night with the BIPAP breathing machine the last couple of nights. The mask compresses my mouth so it's hard to avoid biting the inside but I do breathe better.
I think the botox injection I had shortly before we started this trip is beginning to cut the amount of saliva I produce.
So all's well. We're having a good time 🙂