I was excited 35 years ago to see the rewards for structuring data into quadrant charts.  That was for me!  And management consulting with those charts was fun, but I saw how misleading they can be and at last returned to product and business development.
The chart tool began as a guide for business and product strategy, the idea being that you're in trouble in the bottom left where your competitive advantages are few and small.  You must develop more and stronger advantages to soar to the profitable heavens on the top right.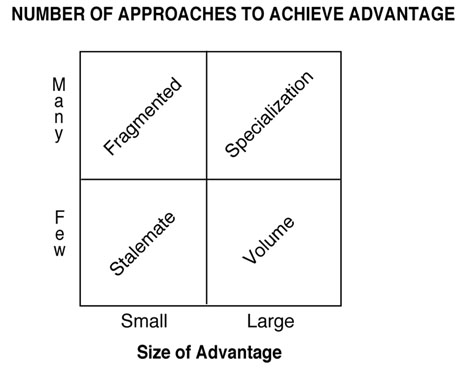 Learning how to use and not abuse that tool has continued to be useful.  What provoked this post is research from 1981 to 2014 that is well illustrated by this animation but misleadingly presented in chart in the Findings & Insights summary linked to on this page.
The religion-based labeling is accurate but, in the two-dimensional chart context where the goal is to move from bottom left to top right, it is misleading.
And in this article by a different researcher the data is naively misinterpreted to suggest that capitalism transforms national values toward the political left.
So this is an example of tool abuse.  The data points are real, the research is valuable and the animation of changes over time is meaningful.  But the complex underlying reality is distorted by a static chart labeled in this way.
The World Values Survey (WVS) researchers describe the two dimensions as follows:
Traditional values emphasize religion, parent-child ties, deference to authority, traditional family values and national pride
Secular-rational values place less emphasis on religion, traditional family values and authority
Survival values emphasize economic and physical security, are relatively ethnocentric and feature low levels of trust and tolerance
Self-expression values emphasize environmental protection, tolerance, and participation in economic and political decisions
The researchers say the data show that as a country moves from poor to rich, it also tends to move from traditional to secular-rational.  The move is a tendency not inevitable because values are also highly correlated with long-established cultures.
And there is movement in both directions over time.  The USA, for example, is in 1989 a little toward the traditional end and quite far toward self-expression, then it grows more traditional over the next decade, less so in the next, then steadily less traditional and less concerned with self-expression.
The writer claiming that capitalism transforms national values so nations labeled Islamic will, if they embrace capitalism, naturally move toward Protestant heaven, confuses correlation with causation.
His explicit blunder is conceptualizing nations as people to which Maslow's "Hierarchy of Needs" apply.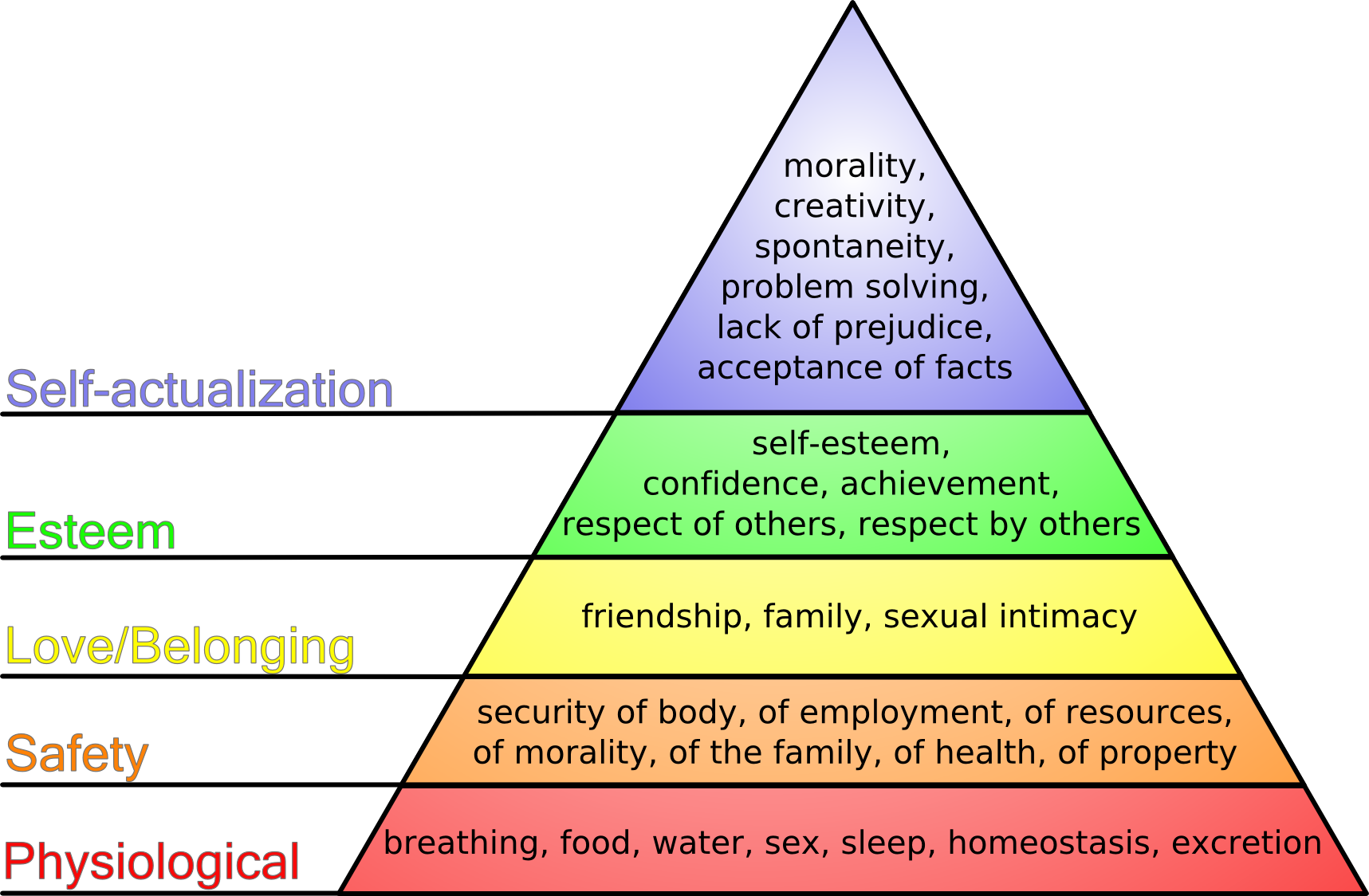 Maslow illustrates how, if we have no food, all we care about is getting our next meal, but once we have that, we start caring about how to get the next meal and the one after that, and if we secure a reasonably dependable supply of basic needs we put effort into friendships, then start working for the respect of others, and finally devote effort to self-actualization.
Here's a simpler way to see what Maslow was driving at (hat tip to Lexy):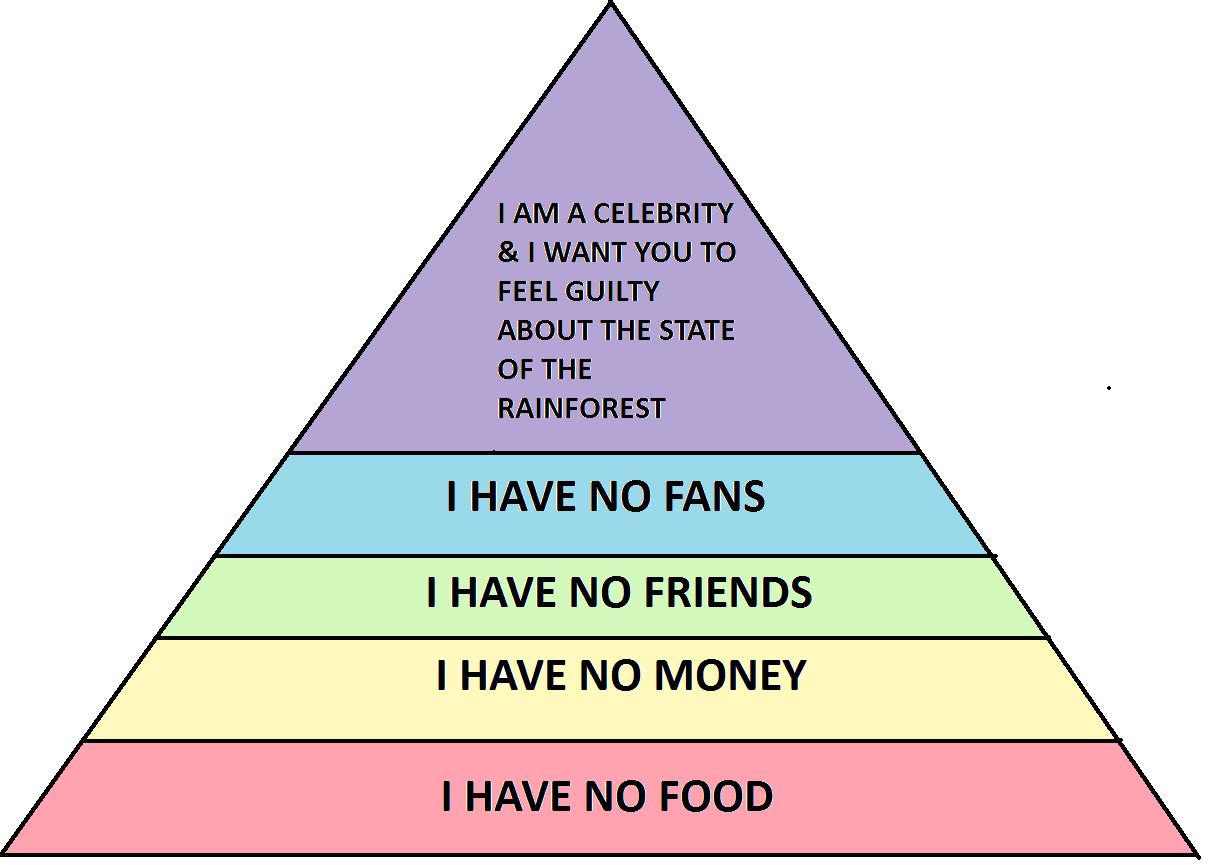 What Maslow's hierarchy does not show is how circumstances impact the motivation of nations.  It can't because nations are not people.  They are made up of people whose situations can be very diverse.
This comment on the naive article (click on the link and wait for it to scroll down) summarizes what the research actually illuminates:  "Economic and political systems, and culture/psychology interact with each other in both directions … autonomous individuals create capitalism, safety creates capitalism, peace creates capitalism."
The top left is not unalloyed heaven because "increasing empathy and mutual respect [and] the breakdown in social capital go hand in hand with secularization and the domination of the market."
And good governance is a prerequisite: "the state monopoly of coercion helped create the safety required for the large social networks of trust, and individual autonomy."
According to the US Census Bureau, 15%, i.e., 47 million Americans are living in poverty meaning "a lack of those goods and services commonly taken for granted by members of mainstream society."  That includes more than one in five of all chil­dren under age 18.
The WVS research, excellent as it is, can tell us nothing about the value those 47 million Americans place on traditional vs secular-rational values.
And we would be utterly mistaken to imagine they over-value self-expression relative to survival.