Oct 26 – I'm downstairs as usual this evening in the restaurant at Ti-Se Guest House, my Tibetan Buddhist home during my classes.   Tibetan butter tea is already purifying (hah!) my bloodstream and my veg momos have just arrived.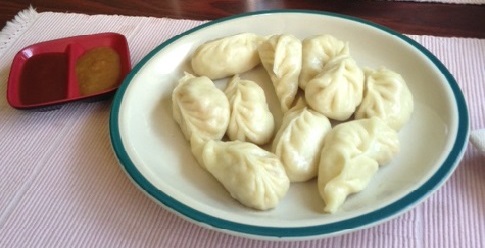 The momos are perfect!  As I savor them, five young Nepalis come in with an elderly Korean man and two middle-aged Korean women.  The young Nepalis start talking enthusiastically about a Christian seminar they've been attending.  After listening to them with a smile for five or ten minutes, the kind-looking Korean man ceremoniously places a $100 bill in front of each of them.
The conversation continues.  I'm not really listening but I hear mention of David from South Carolina.   Maybe he is one of the three groups of Americans who were here for breakfast on different days last week. They were from the South.
The first group was obsessed with football results back home.  Very loudly obsessed.  I was distressed by their sense of entitlement about dominating the room.
It was only when one responded truculently to being asked what he would do after breakfast by saying he would go to his room and read his bible that their purpose became apparent.  Perhaps they were being careful?  Nepal's new Constitution makes it illegal to attempt to convert anyone to another religion.
I was pleased they were not around the next day.  Breakfast was peaceful again.  But later that week there was a new group.  Their breakfast conversation was all about the logistics of their plan to spread the gospel here.  They spoke quite loudly making no effort to hide why they are here.
And at the end of the week a third group appeared.  I didn't pay much attention to them because the presence of Christian missionaries no longer seemed surprising.  It did seem odd that they would all have chosen to stay in a Tibetan Buddhist guesthouse, though.
I asked my Nepali classmate about Christian missionaries.  A few used to come alone or in pairs but more come now, often in groups.  They give money, especially to the poorest who are happy to call themselves Christians to get money.  Nepali culture strongly encourages behaving respectfully to anyone who might give you something .
Then as I walked to my class yesterday morning I realized that Nepalis roaring down the narrow passageways on motorbikes honking at pedestrians also have that sense of entitlement.  My embarrassment about the behavior of my fellow Americans was misjudged.  Furthermore, I recognized the mote in my own eye — prejudice about missionaries.
Where does that prejudice come from?  There's a story I tell myself.  It's about people who tell others what to believe.  "This man seized on a concept about his own existence" I say to myself, "and now he's trying to get others to believe it, too, to make himself feel more safe."
It is wrong to use power over others.  It's a form of violence.  But my story about "the kind of people who" means I see a concept of missionaries not real ones.  I make a judgment about them for which I have no evidence and which will in any case, simply because it is a judgment, cause me to act badly.
And last night I encountered my own sense of entitlement.  A mosquito was buzzing round my head as I lay in bed.  From lifelong habit, I felt entitled to kill it.  But I'm a Buddhist now.  I've vowed never to do violence even to insects.
I tried to think it through.  The mosquito had to bite me to get its food and that would cause me discomfort.  It would be impossible for me to drive it away and even if I could, it would go on to bite someone else.  My choice, then, was either to end the mosquito's life or suffer short-lived discomfort.
What I should do was obvious, and I had anyway committed myself to that choice.  But even after I saw the decision clearly, I still kept having to arrest my lunging hand as it tried to end the annoyance.  At last I went to sleep.  Surprisingly, there was no sign of biting when I woke this morning.
Sad to say, I just ate the last momo and the Tibetan tea is finished.  The Korean man went to his room a while ago.  All the others just left with elaborate good byes.  I go to the front desk and ask the young woman if the missionary groups are associated with each other.  They're not.  The Korean man was giving a week long training class to Christian Nepalis who will spread the gospel.  The loud Americans have gone on a trek.  She doesn't know what the others are doing now but they all booked separately.
Why can't we just all agree, I think to myself, to give up violence, stealing and lying?  Why do we have to have all this divisive extra stuff?  Then I remember what I'm struggling to learn in these classes, such complicated visualizations, chanting and whatnot.
It's easy enough to know that killing and so forth is negative but it's very hard to stop doing such things.  That's why we need training programs.