Oct 27 – Violent protests in southern Nepal continue along with the blockade.  The border can only be policed at major road crossings so men are still bringing food in by bicycle the same way they always do, but fuel tankers and trucks with raw materials can and are being blocked.
Only about 10% of the usual gasoline is coming in.  Black market gasoline bought for 100 rupees per liter and brought in small containers from India sells for anywhere up to 1,000 in Kathmandu.
Occasional trucks come in with cooking gas.  People queue for days on rumors of a delivery. [photo: Nepal Mountain News]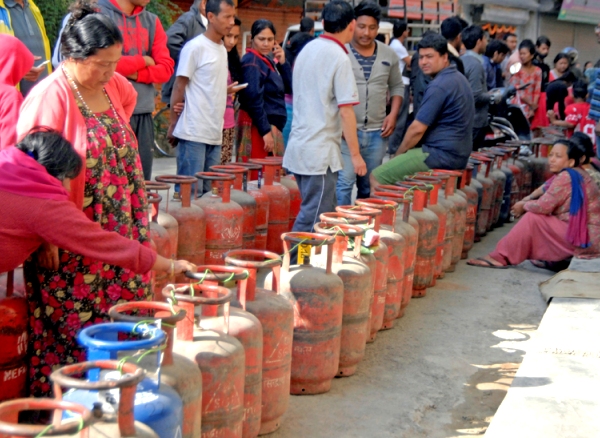 But a neighbor of my friend Nagendra showed him how, if you are well connected,  you can drive to the back of the depot and get as many tanks as you want.
A few black market tanks brought in from India by bicycle are selling for 8,000 rupees or more versus the usual 1,450.  Everyone assumes the illustration below shows the source of all the others.
Industrial activity ceased almost three months ago.  Factory workers aren't getting paid, customs revenue is down 27% this quarter, VAT is down 16% and bank lending has stopped.
Life is growing a lot harder for all but the wealthy or well-connected few.  Doma's grandmother has no cooking gas left and must pay heavily for wood from the jungle.  Yubhan Tamang in the picture below in the kitchen at Bir Hospital, one of the busiest in Nepal, has been cooking with firewood for around 300 patients daily for a month and a half. [Photo: Gopen Rai]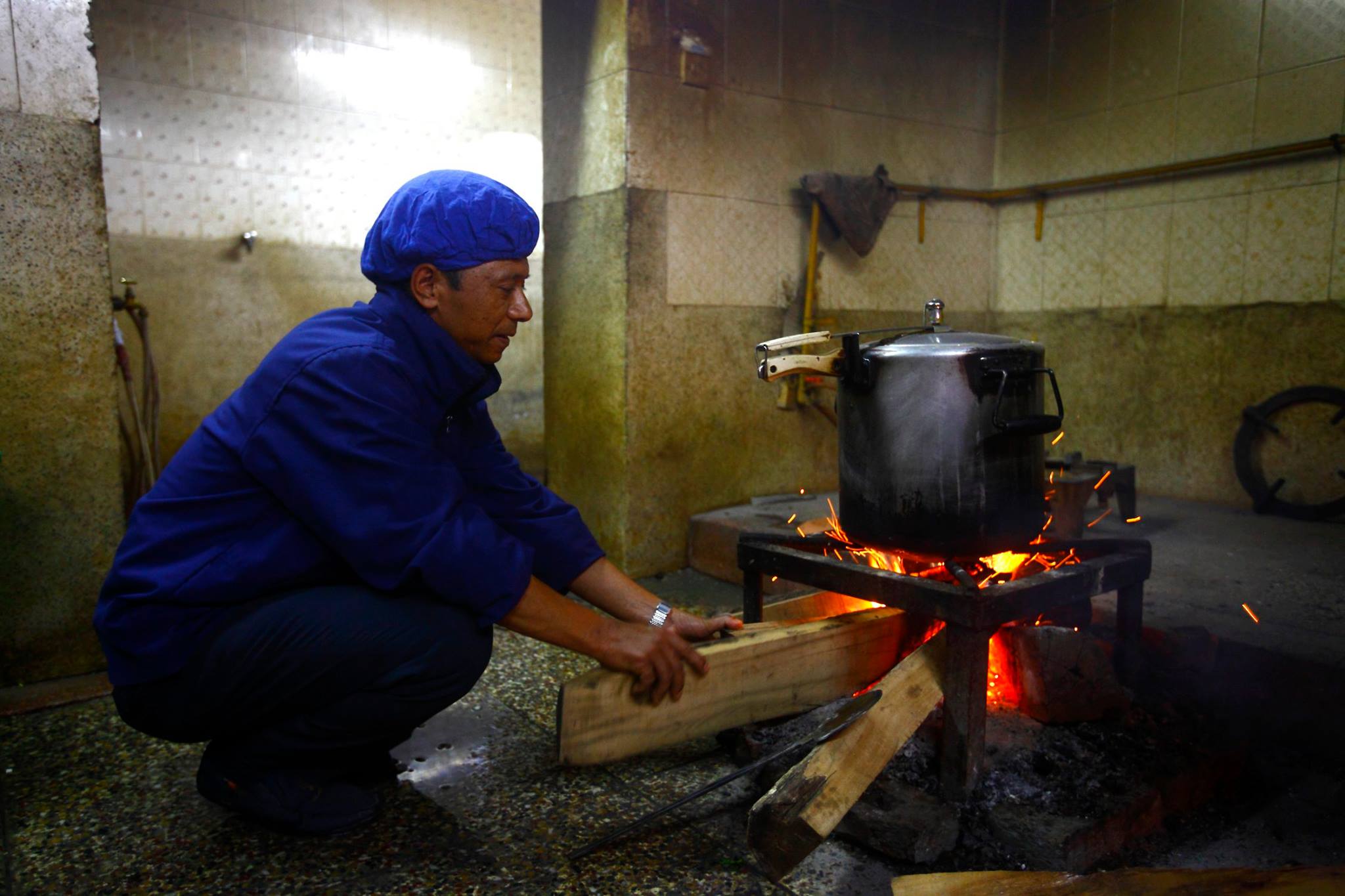 This is the time of Nepal's great annual festival.  Visiting friends and family is a big part of the celebration but people are not doing it this year because they would have to be offered food and hot drinks.
The economy will be devastated if the blockade and strike continue.  Some private sector leaders are calling for the government to issue a White Paper at least saying what they propose to do.
China has made Nepal a gift of several tanker loads of gasoline, seeking to increase their already growing influence here.  They will stop at the border where Nepal's political leaders insist the gasoline must be transferred into Nepalese tankers.  Only small tankers can be used because the roads on this side of the border are so poor.
Many Nepalis have fallen for the government's claim that embracing China's friendship will propel Nepal rapidly into great prosperity, the end of all problems.  Geography in the form of the Himalayas makes that unlikely.  70% of Nepal's international trade is with India.  The US is its second biggest trade partner at 7% and China is 6th at 2%.  The explanation?  Transportation costs.
China will not make the investment to supply Nepal with large amounts of gasoline on a regular basis unless the cost of gasoline from India is raised to equal its cost from China.  If India's gasoline is cheaper, China's will have no market.
Nepal could equalize the costs by increasing  customs duties on gasoline from India.  That would have the side-effect of benefiting the politicians.  It would also seriously hurt the people.  I'm not betting against it because it's impossible to overestimate the systemic corruption here.